38% Dalits & Adivasis have no ration card,16 % no Aadhar card, and 70% pregnant women & % 50% children are without access to nutrition: Jharkand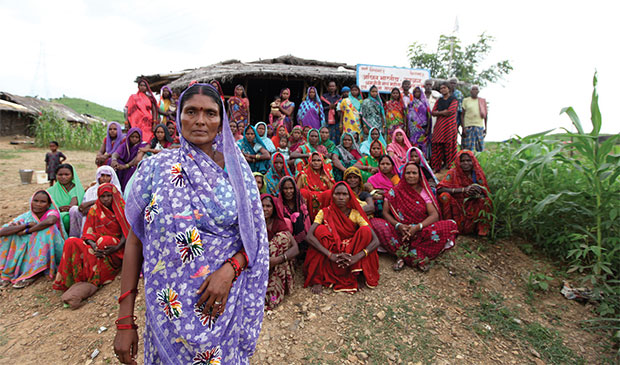 Representation image
Although the National Food Security Act was enacted by central government in 2013, Jharkhand took over two years to begin it's implementation, that too after several people's movements and organizations questioned the government why it was not ensuring available statutory rights to prevent hunger, in the state. When it was finally launched in 2015 the chief minister promised that 86% of the population would benefit from it.
Lok Manch, a platform consisting of about 100 organisations floated for and by the Dalits, Adivasis and other marginalised communities from all over the country did a baseline survey from June to August 2016, covering 1640 villages in eight districts of Jharkhand (West Singhbhum, Dumka, Godda, Sahibgang, Pakur, Hazaribagh, Lohardaga, Simdega) and tried to find out the extent and nature of implementation of the Act with a special focus on Dalit and Adivasi communities. Following are some the important findings:

Only 37% households have a caste or tribal certificate out of the 60,269 responses. This certificate is needed to get educational scholarships for the children and other welfare schemes for the family. But the procedural harassments are such that many incumbents give up half way. The district-level administration which is manned by mostly non-dalit, non-tribal officials do not manifest any concern towards the dalit and tribal families. In accordance with the spirit of the PESA Act, it is the Gram Sabha which is most competent to issue these identity certificates, this power has not yet been actualized in Jharkhand. Certainly a case of violation of people's rights.
16% of people in interior and forest villages do not have Aadhaar Card. That is, 45,800 persons out of 2,79,032 population do not have this magic card which means they cannot avail of any of the welfare measures. Because one has to produce Aadhaar card to get the Ration Card without which they cannot get their rations and that means they have to starve. To deny entitlements to the poor on the basis of an identity card is unjust. And because they do not have Aadhaar card 14% of them cannot get their Voter ID card either. Thus they cannot exercise their right to vote at the time of local or national elections. Again a deprivation of another basic, fundamental right.
75% of the elderly and 70% of widows are deprived of pension. The most affected are the Dalit and Adivasi communities. It is sad that the most vulnerable sections of society, the elders and the widows, are not cared for.
38% do not possess Ration Cards. Of the 55,419 responses received about 21,000 families do not have ration cards. Those who had the old card were told it is no more valid, but new cards have not been issued to them. To complicate the problem further, the state government has suddenly decided to digitalise the PDS. In a situation where majority of villages do not have electric connection which is required for computers to function and well-trained personnel are needed to operate the system, the poor in interior villages are deprived of their right to food. Neither the politicians nor bureaucrats seem concerned.
70% of pregnant and lactating mothers are deprived of financial assistance. The FSA provides one free meal and Rs. 6000 as maternity financial assistance. About 35% of them do not receive the free meal. Only 8.4% have received the full Rs. 6000. We all know how important it is to care for pregnant and lactating mothers. But alas more than two-third of them are left to become anemic. How then can we expect that the babies they give birth to will be healthy ?
50% of children below 5 yrs and 36% of school–going children are not receiving the one free meal assured to them by the Act. One need not be a health expert to acknowledge how crucial it is for children to have nutritious food to grow healthily in body and mind before they become adults. The law provides some checking mechanisms such as 'Grievance Redressal Cells', but the survey found out that they either do not exist or they are non-functional. No wonder the rural children cannot compete with the urban middle class children in higher level education. And it looks the govt and the ruling class wish to maintain it that way.
Only 39% of households have drinking water facility and only 22% have toilet facility. Of the 61,079 households surveyed only about one-third have drinking water and only about one-fifth have toilet facilities. It should not come as a surprise therefore that very preventable diseases like malaria, typhoid, diarrhea are torturing the poor in rural areas. That so many people, especially women and children die every year is not the concern of the ruling elite.
These are the critical findings of the survey conducted by activists involved in these eight districts of Jharkhand. It points out the GREAT DIVIDE between the minority urban middle class and the majority rural poor.
Will the gravity of the situation tap the conscience of those in power and position?
[the figures quoted above are taken from the summary report "Right to Food: Broken Promises in Tribal Land" by Dr. Joseph Xavier, published in INDIAN CURRENTS, October 3-9, 2016]