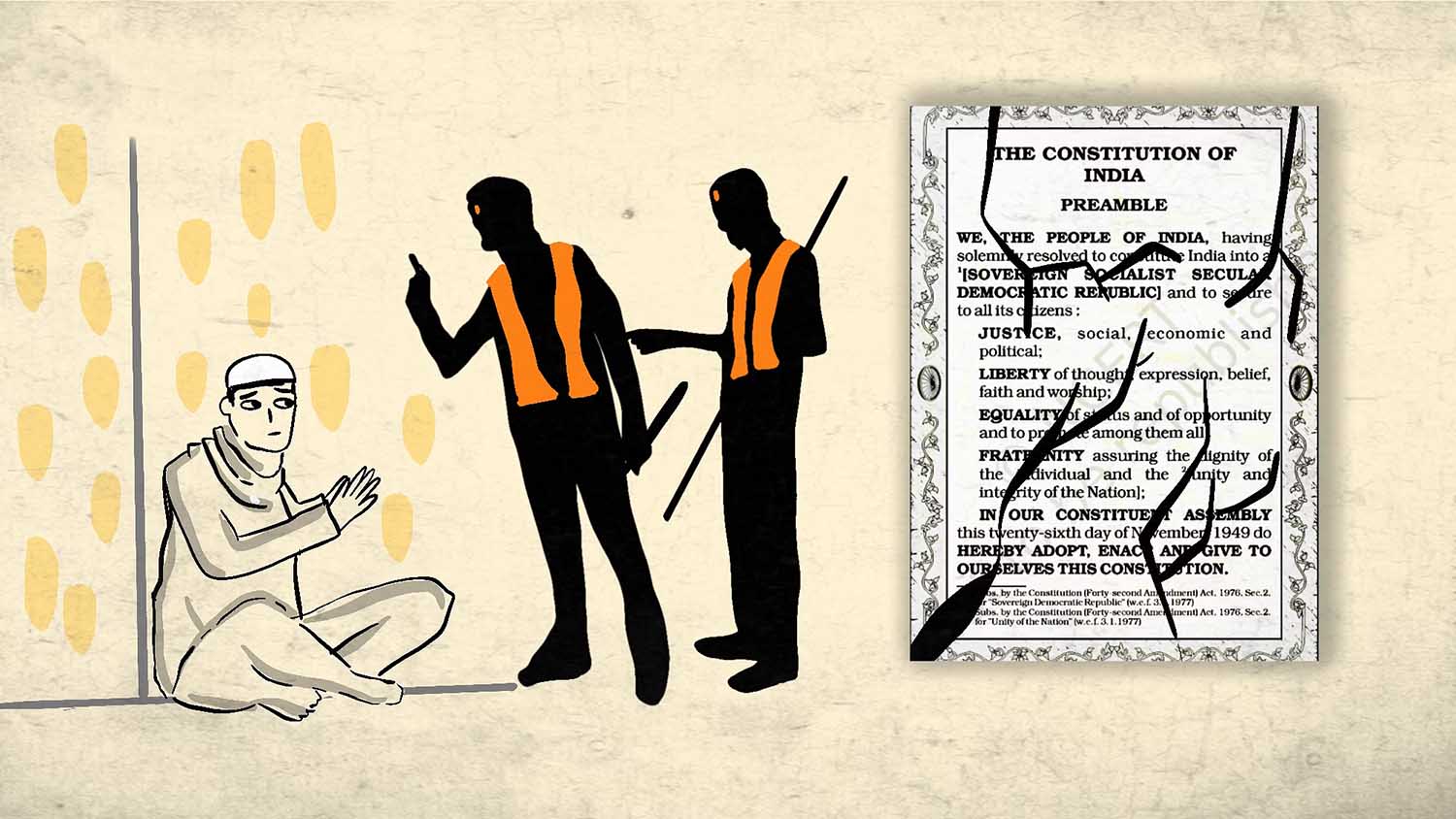 Image courtesy: Erum Gour/The Quint
Calling for economic boycott is commonplace among the right wing groups and their agents who spread these calls for economic boycott of the Muslim community while speaking at public events. Such public events are brazenly anti-minority with no garb or semblance of neutrality. These right wing speakers are on a spree and the most common theme for their speeches is the imaginary phenomena of "love Jihad", "Land Jihad", forced religious conversions and fear mongering among Hindus to boycott Muslims on the economic front.
Earlier, such incidents were seen as isolated incidents. The bangle seller in Madhya Pradesh who was allegedly using a Hindu name, the dosa seller in Mathura (UP) whose stalls name was 'Shrinath Dosa', the scrap dealer in Ujjain (MP) who was forced to chant 'Jai Shree Ram', the calls for boycotting Muslim mehndi -walas during Karva Chauth. All these incidents, albeit affecting the livelihoods of these persons from Muslim community, the pessimist refused to view this as a concerted effort to economically oppress the community. It required a proper 'connecting of dots' to paint the big picture and demonstrate how this was culminating into an economic crisis for the community.
However, looking at the current atmosphere where the calls for economic boycott are being made so openly, the plight of the community is laid bare. Yet, there has been no promise of a better life for the community from any political party in the opposition.
ON January 30, T Raja Singh at the 'Hindu Jan Aakrosh Morcha' held in Mumbai, called upon his Hindu brothers to not buy anything from Muslim vendors and to boycott buying of Halal products. The economic boycott does not stop at this. It is manifested in numerous ways. It does not just stop at 'don't buy fruits and vegetables from a Muslim man', it goes further to warning women to check if their Uber/Ola driver is a Muslim as also checking whether your tailor or shopkeeper selling you bangles is a Muslim.
The real economic impact
The direct impact of such blatant calls for boycott of Muslims hurts the community widely. It is not that such boycott calls are a recent phenomenon. The fact that Muslim community has largely been on the precipice of poor economic outcomes has been proven in various research studies and the sustained economic boycott will only push them in a downward spiral.
As per a study conducted by Gallup, a UAE based public opinion research firm, in 2010-11, interviewing 6,000 Indians, Muslims (51%) are less likely than Hindus (63%) or others (66%) to be satisfied with their standard of living. Muslims were also found to be saying that they find it "difficult" or "very difficult" living on their present household income. Muslims (23%) were also slightly more inclined than Hindus (18%) and others (12%) to say there were times in the past year when they did not have enough money to buy the food that they or their families needed. The data found that Positive experiences were less common among Muslims which was deduced from questions like "do you feel well rested?" "were you treated with respect yesterday?" "did you smile or laugh yesterday?" and "did you learn or do something interesting yesterday?". The complete data can be accessed here.
The Census 2011 data showed that almost a quarter of India's 370,000 beggars are Muslim. The Sachar Committee report had found that despite the Muslim community being majorly self-employed, their access to credit facilities was limited.
A report released in 2018 titled "Vision 2025- Socio-Economic Inequalities, Why does India's economic growth need an inclusive agenda" [authored by economist Amir Ullah Khan and historian Abdul Azim Akhtar], found that most Muslim asserted that their socio-economic condition had not improved in the last 10 years. As per the survey, in terms of monthly per capita expenditure, Muslims were at the lowest rung, below SCs and STs in urban areas and slightly above STs in rural areas, reported Times of India.
Analysing the Indian Human Development Survey (IHDS) of 2004-05 and 2011-12, Christophe Jaffrelot , Kalaiyarasan A wrote for Indian Express that in West Bengal as well as Gujarat Muslims earn only 63 per cent of what Hindus earn in both states and in Haryana Muslims earned only 33 percent of what Hindus earned, (partly because of the poor condition of Muslim-dominated districts like Mewat and, in contrast, the affluence of the adjacent Hindu-dominated district of Gurgaon). It was also observed that in most of the states, Muslims earn less than Hindu Dalits.
In 2019, the same duo, writing for the publication, analysed the NSSO report (PLFS-2018) and the NSS-EUS (2011-12), examined the socioeconomic status of Muslim youth vis-à-vis other social groups in India. They noted that the percentage of youth who are currently enrolled in educational institutions is the lowest among Muslims. "The activities of vigilante groups could possibly have led young Muslims to withdraw into their shell," the article says.
Another means of implementing such a boycott is banning Muslim traders from temple fairs. This was reported increasingly in Dakshin Kannada at Champa Shashti festival of Kukke Sri Subrahmanya temple (November 2022), Sullia Sri Channakeshava Temple, Mangaluru (January, 2023), Sri Mahalingeshwara temple, Kavuru (January 2023) Panchalingeshwara temple fair in Vittal town in Dakshina Kannada district (January 2023).
Blatant calls for economic boycott
In March last year, Bharatiya Janata Party (BJP) general secretary Chikkamagaravalli Thimme Gowda Raavu a.k.a CT Ravi had said, "Halal is an economic Jehad. It means that it is used like a Jehad so that Muslims should not do business with others. It has been imposed. When they think that Halal meat should be used, what is wrong in saying that it should not be used?" He had also spread misinformation about Halal meat stating that Halal meat offered to 'their [Muslim] God' is dear to them (Muslims) "but for Hindus, it is somebody's leftover". He further said, "Halal has been designed in a planned way so that the products should be purchased only from Muslims and not others." He asked the media, "When Muslims refuse to buy meat from Hindus, why should you insist on Hindus to buy from them? What right do people have to even ask this?". Taking a leaf out of this, right wing groups had reportedly put up posters asking Hindu vendors to boycott halal meat during Ugadi in Karnataka which was celebrated on April 2 last year and even carried out a door to door campaign to increase awareness.
Articles 21, 14 and 15 are all guarantees that every person has the right to life, equality and non-discrimination. Article 19 ensures freedom of movement and the right to undertake economic activity. While Article 14 says that the State shall not deny to any person equality before the law or the equal protection of the laws within the territory of India, Article 15 prohibits discrimination on grounds only of religion, race, caste, sex, place of birth. Further under article 15(2), no citizen shall be subject to any restriction or condition with regards to access to shops or the used of roads and places of public resort maintained out of state funds or made for the use of general public, merely on the basis of religion, race, caste, sex, place of birth or any of them.
In North-east Delhi's Brahmpuri, a poster was pasted and widely shared on social media in January, calling on Hindu landlords in the area not to sell their houses to Muslim buyers. The street where these posters were found has a mixed population of Hindus and Muslims and the residents collectively filed a complaint with the Police against this poster.
A right wing leader emerging from Uttarakhand, Radha Semwal Dhoni had , last month, recorded a video where she pointed cameras at Muslim vendors and asked them their names and their Aadhar card as well. She claims that they represent themselves as Hindus and that they have come from Lucknow. In the video she says that the vendors lie and spit on the vegetables and sell these in her area (where she lives). She asks them, "why do you come here? Why don't you carry an Aadhar card? Do you want to sell us vegetables that have been spat on?" to this, one of the vendors says, "it's not true, we are not spitting on vegetables".
On March 12, Kajal Singhala, a so-called "activist" from Gujarat was called to Mira Road area of Mumbai by the Hindu Janakrosh morcha (event organised by Sakal Hindu Samaj) where she delivered a vitriolic hate speech. Among the many vicious and demeaning things she said, she spread disinformation about Muslim vendors selling fruits and vegetables effectively propagating economic boycott of the community and urging women to only buy from Hindus, creating a fearful atmosphere around buying goods from Muslims.
To think that nobody pays attention to such hate speech and they do not deserve to be given that much importance is naivety. The repercussions of these undisguised forms of hatred that push the community towards further marginalisation are far reaching. It is also the future generations of the community that stand to be disadvantaged due to the current hate brigade that is out to strip the community off its dignity, livelihood and eventually its existence.
Related:
Review of 2022: A year of discrimination & violence experienced by India's religious minorities
Provocative poster in Delhi's Brahmpuri calls on Hindu landlords to not sell to Muslim buyers
Temple fairs and the saga of economic boycott: Dakshina Kannada
Mumbai: BJP leaders attend far right Hindutva rally where calls for economic boycott of Muslims, violence against them are made