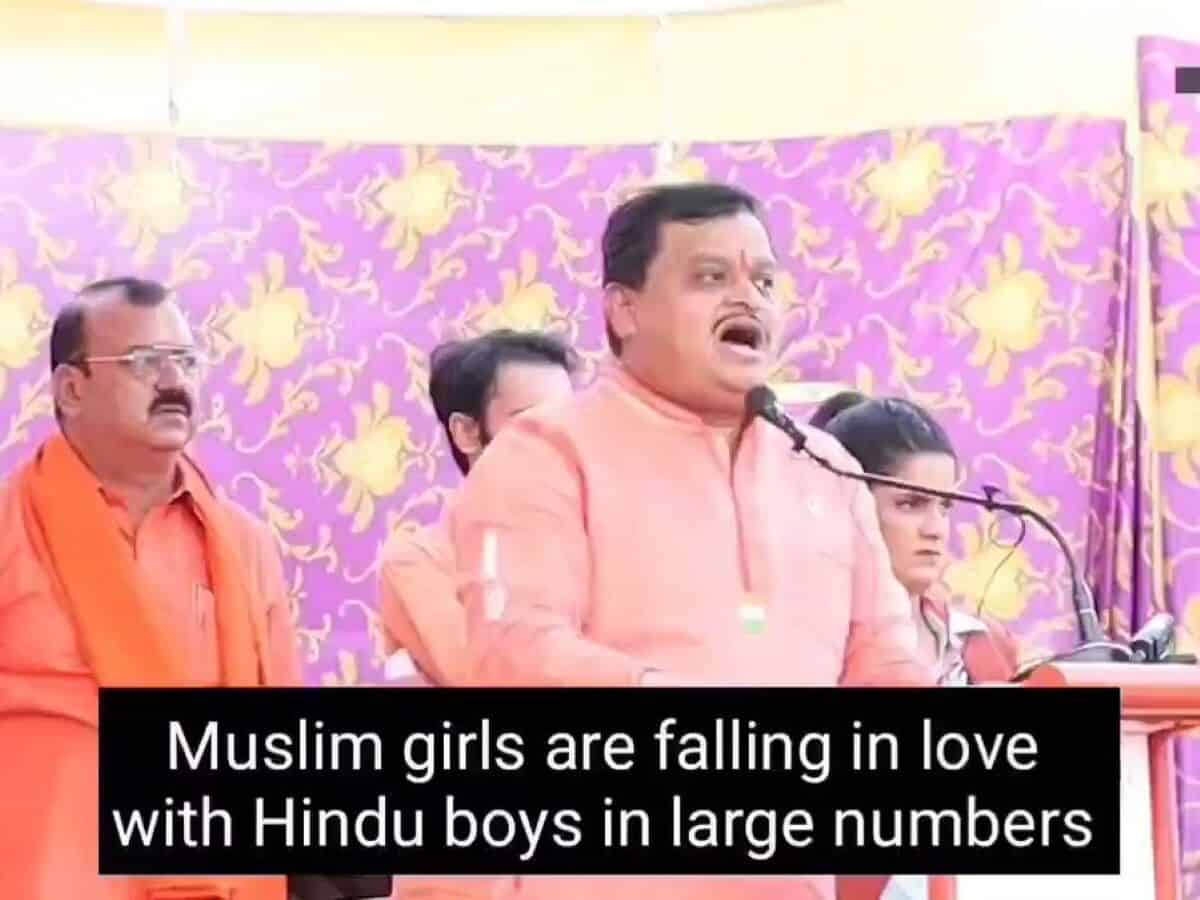 Suresh Chavhanke is back in the news for making communally charged remarks. This time, while speaking at a rally held on September 4 in Badarpur, Haryana, the Sudarshan TV editor-in-chief urged Muslim women to marry Hindu men instead of Muslim men.
A video of the speech went viral on social media. In the video, even as his supporters chant "Jai Shri Ram", Chavhanke can be seen and heard saying, "I'll tell you 10 benefits today keeping Hindus as witness, keeping Bhagwan (God) as witness on camera, in the video, I promise that if you get married to Hindu boys and become Hindu, then you won't have to face talaq. You won't have to become a baby making factory, you won't have to give birth to 40-40 children."
Continuing the communal diatribe, he says, "I am not in favour of one baby, but more than giving birth to 2-4 babies, you won't be even in 50 degree temperature, you won't have to stay in a bamboo tent… you will be given complete security at home… the brothers, paternal uncles and maternal uncles you are scared of, you won't have to face that fear here, because in Hindu religion older brother's wife is like mother and younger brother's wife is like daughter and son's wife is also daughter, when there is such pure relationship in a family, in such house you have 100% security guarantee."
And finally, in another burst of Islamophobia, he said, "The children you will give birth to, those children will stay as they are, there won't be any cuts (circumcision). The way Ishwar (God) has sent them, they will stay that way. This is also guaranteed. Those kids you will give birth to, they will be gentlemen, will talk about humanity, you won't have to raise them to believe anyone as kafir or enemy or become a terrorist."
Sudarshan News editor Suresh Chavhanke continues his anti-Muslim hate propaganda unabated acting with impunity. pic.twitter.com/i7QIn5QVfX

— SWAG Report (@SwagReport) September 6, 2022
This is not the first time when Suresh Chavhanke has made the news for his Islamophobic remarks. In at least three instances, courts have sought Action Taken Reports (ATR) in cases filed against Chavhanke who is notorious for his spewing venom against minorities using his TV channel and also on public platforms.
He was in the spotlight of the Supreme Court for when a case was filed against his obnoxious and inflammatory show on the topic of "UPSC Jihad" where he made contentious claims that Muslim aspirants were favoured for entry into the Union Public Service Commission (UPSC) to the disadvantage of Hindu candidates. The apex court had held the show to be offensive and having the potential to spread communal tensions.
One time he landed himself in trouble by making comments in a show where under the garb of covering Palestine-Israel conflict he tried to provoke Muslims by showing a graphical depiction bombs destroying a mosque and showing missiles targeting Madina. In another instance, in an event organized by Hindu Yuva Vahini at Govindpuri Metro Station in December 2021, he was seen administering an oath to a group of people to "die for and kill" to make India a "Hindu Rashtra" or a "Hindu Nation".
Chavhanke has repeatedly made statements that are communal, divisive, incendiary and amount to hate speeches, with the knowledge that such incendiary remarks would have the propensity to stoke communal tensions and also instigate violence.
In October 2021, he tweeted a video clip of a street play on so-called "Love Jihad", purposely enacted at a larger public gathering. Sudarshan News TV praised it, especially for calling Muslims "termites" and "viruses". Sudharshan suggested that such anti-Muslim plays must be encouraged and enacted at garbha venues and Durga puja pandals in the future. It stated that this will "help preserve the sanctity of Sanatan" and will also save "sisters and daughters from love jihad."
A month before that, Chavhanke had targetted film actor Shahrukh Khan for his Muslim identity. Chavhanke repackaged old conspiracy theories claiming that Shahrukh Khan is close to Pakistan Prime Minister Imran Khan, or that he favours Pakistani cricket players, etc. Chavhanke's communal words have in the past been exposed by SabrangIndia's sister organisation, Citizens for Justice and Peace (CJP), which has taken action against different media houses and new agencies who were engaging in hate speech.
In September 2020, CJP had moved the News Broadcasting Standards Authority (NBSA) – now known as News Broadcasting & Digital Standards Authority (NBDSA) against Sudarshan News for airing a communally inflammatory promotional video for its show exploring a "controversy" on "infiltration" of Muslims in public services, while demeaningly terming it 'UPSC Jihad'. The complaint was forwarded to the Union I&B Ministry by the authority since Sudarshan TV is not a member of the National Broadcasters Association (NBA).

Related:
Will Suresh Chavhanke ban this leaflet by Bhagat Singh simply because it's written in Urdu?
Courts seek Action Taken Reports from Police in cases against hate monger Suresh Chavhanke
Suresh Chavhanke back on the derailed "UPSC Jihad" fake news train?
Hate Watch: Street play on "Love Jihad" gets Sudharshan TV excited
Suresh Chavhanke's communal campaign now targets SRK!