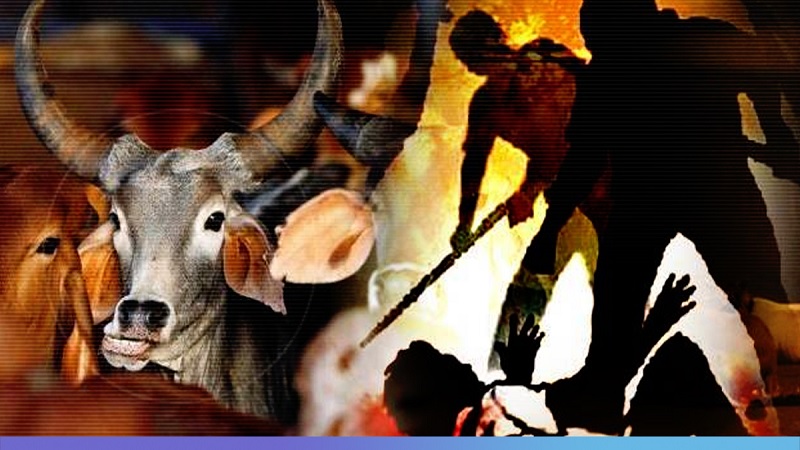 Image Courtesy: thelogicalindian.com
On Wednesday morning and armed mob allegedly attacked a Muslim family in the Mewati locality of Aurangabad in Mathura suspecting them of selling beef. The attackers hailed from a local cow vigilante group called Gau Raksha Dal.
Villager Aas Mohammed told the Times of India, "I was sleeping on my terrace when I heard screams at around 7:30 A.M. Nearly 20-25 people carrying country made pistols were knocking on the door of my neighbour Pappu Qureshi and then thrashed him and his family members." He says the mob also fired into the air, allegedly to create panic.
Police say that the vigilantes claimed they had inputs of "beef sale" and came to inspect the same without informing the police. However, police deny any violence. MP Singh who is the Superintendent of Police (SP) for the city told TOI, that the mob tried to enter Qureshi's house but when the locals surrounded them, the mob fled after firing into the air.
A First Information Report (FIR) has been filed against 14 people (including 2 unknown persons) under IPC sections 147 (rioting), 148 (rioting, armed with deadly weapon), 149 (part of unlawful assembly with common object), 307 (attempt to murder), 336 (endangering life or personal safety), 34 (common intention) and section 7 of the Criminal Law (Amendment) Act at the Sadar Police Station.
It is noteworthy that in September 2021, the State Government of Uttar Pradesh under its Notification dated September 10, 2021 had notified 22 wards of Mathura Vrindavan Nagar Nigam as 'Holy Place of Pilgrimage'. The notification had banned the sale of liquor and meat within a 10 square kilometers radius around Krishna Janmabhoomi in Vrindavan, Mathura.
On September 11, 2021 another consequential Order was passed by the Food Processing Officer, Food Safety and Drugs Administration, Mathura according to which the registration of shops selling meat and non-vegetarian restaurants were suspended with immediate effect.
Then, Shahida, a social worker, had filed a Writ Petition, later on styled as Public Interest Litigation (PIL), in High Court of Allahabad against the State Government's decision to ban the sale of meat and liquor. In her representation she had sought relief against complete ban on running meat, fish, egg shops etc., and also sought relief against suspension of the license of shops, non-veg hotels etc., with immediate effect.
She had also sought directions for permitting easy transportation of such restricted materials from outside for weddings and other ceremonial functions. The representation also prayed that the local police should not harass the people involved in transporting the restricted materials from outside into the said 22 notified wards.
Since Shahida's representation was not considered by the District Magistrate, Mathura, she had moved to the High Court of Allahabad for redressal of her grievance. But on March 28, 2022, the Allahabad High Court dismissed the Writ Petition. However, in a display of appreciation for India's pluralism the court observed, "India is a country of great diversity. It is absolutely essential if we wish to keep our country united to have tolerance and respect for all communities and sects."
The High Court bench of Justices Pritinker Diwaker and Ashutosh Srivastava restricted itself from dwelling into the validity of the Notification and Order of the UP Government as the Petition filed does not challenge the same.
Related:
Allahabad HC bats for tolerance, but refuses to strike down meat and liquor sale ban