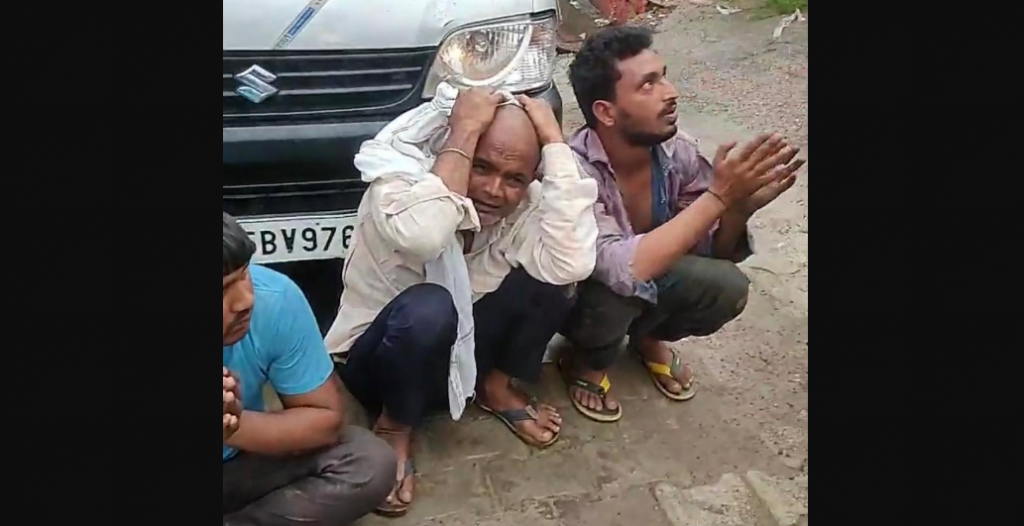 Image: https://maktoobmedia.com
Reports are coming in of communal tension in Mathura, Uttar Pradesh, after two Muslim men were thrashed by self-appoint right wing cow vigilantes. The victims were targeted because the 'gau rakshak' or vigilante cow protection groups suspected that they were allegedly ferrying banned bovine meat. Now the local police have fined the two victims, who were lucky to escape alive, when police intervened. According to the Mathura police the meat that was seized has also been sent for forensic examination.
थाना गोविन्दनगर पर पंजीकृत अभियोग के सम्बन्ध में अपर पुलिस अधीक्षक नगर, मथुरा द्वारा दी गयी बाइट। pic.twitter.com/SEMBIRVmNI

— MATHURA POLICE (@mathurapolice) September 28, 2021
The local police have not yet clarified if any action has been taken against those accused of assaulting these men. According to news reports, after the police rescued the victims from further attacks by the lynch mob, they were taken to hospital and later arrested along with Bahadur, the driver. The victims were identified as Ayub (40) and Mausim (23), whose attack was streamed online by right-wing groups. The men were kicked and slapped repeatedly by a big mob of about 15 people. Ayub, according to media reports "runs a licensed meat shop at Raya locality" and was transporting meat there accompanied by Mausim. Ayub, Mausim and Bahadur, were later arrested and accused of 'defiling the place of worship' and alleged 'cow slaughter' stated news reports. They are charged under sections 295 (Injuring or defiling place of worship) and 429 (mischief by killing or maiming cattle) of the IPC, and under the Prevention of Cow Slaughter Act.
Can anyone dare to carry 160 kg banned meat in UP?
Mathura SP (City) MP Singh told the media, "About 160 kg meat has been seized and its samples sent for testing. The accused have been sent to judicial custody. The accused did not have a transit permit nor a refrigerator for transporting perishables, both of which are mandatory."
According to Sitaram Sharma, who is identified as 'Gau Raksha Dal, Mathura district president', his 'sources' had informed that the victims were allegedly carrying beef. "Our informer had told us that meat was being transported from Agra to Mathura, which is illegal," he is quoted saying. His associate Ravi Kant Sharma the 'president' of Gau Rakshak Dal, said, "After following them from the Yamuna Expressway exit, we stopped them at Mahavir Colony and handed them over to the police." As expected the vigilante did not mention that Ayub and Mausim had been assaulted. Sitaram Sharma, told the Times of India that the cow protection vigilante had not named the driver as he was a Hindu. While it is yet to be established if the trader was carrying over a 100 kg of banned meat, it is clear that the days ahead are going to be challenging for him.
Recently the Allahabad Court had asked that Cow Protection be declared a Fundamental Right for Hindus. The HC had denied bail to a man accused of cow slaughter in a detailed order propagating cow protection and pushing for making cow protection a fundamental right for Hindus. The single-judge bench of Justice Shekhar Kumar Yadav denied bail to one Javed, who was accused under Sections 3, 5 and 8 of the Prevention of Cow Slaughter Act.
The counsel for the applicant submitted that the charges against him were false and that he was not at the place of incident and was falsely implicated by the police. He also stated that no cow either dead or alive was recovered from him, hence, he should be granted bail. Meanwhile, the state counsel opposed the bail stating that the applicant, along with other accused were found with some dead cows slaughtered, and they ran away from the scene on being discovered.
The court, in its initial observations, stressed upon the cultural importance of cows and how cows as an animal are sacred in Indian culture. The court also spoke of the beneficial properties of cow urine and how cow provides us with milk. The court then said that Punjab Kesari Maharaja Ranjit Singh had in his reign made cow slaughter an offence punishable with death. The court also claimed that scientists believe that cows are the only animals that exhale oxygen! Interestingly, the same claim was made by former Uttarakhand Chief Minister Trivendra Singh Rawat a couple of years ago, but was summarily trounced by scientists saying that no animal can exhale oxygen.
Related:
Court reminds hate mongers, India is not a Taliban State
Remember the teenager named Junaid Khan?
Rajasthan: Boy killed after being hit by cow vigilantes' vehicle