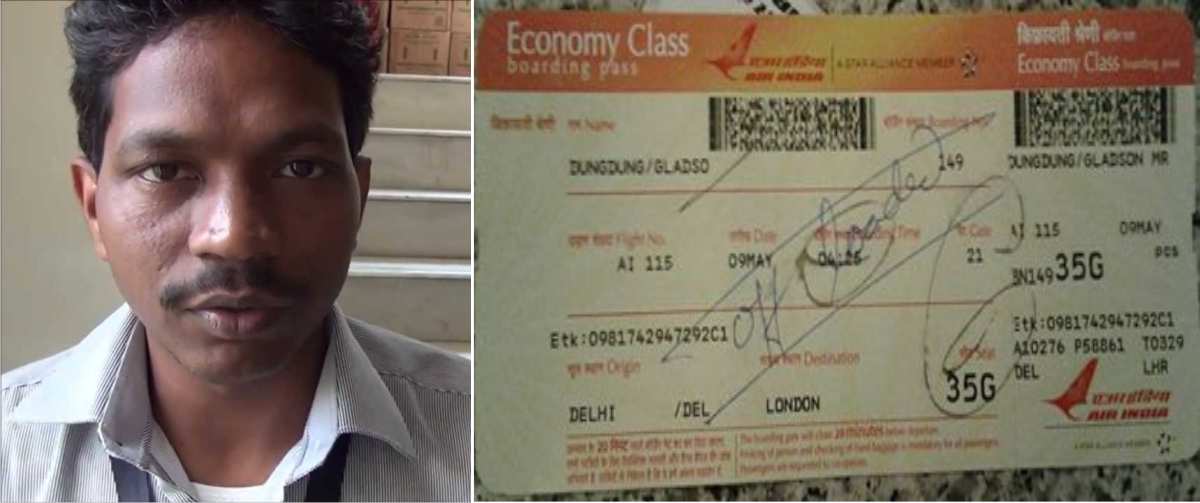 Gladson Dungdung, a tribal rights activist and author from Jharkhand, was "offloaded" at Delhi airport from a flight to London in United Kingdom, where he was scheduled to take part in a workshop on environmental politics at the University of Sussex later this week. Dungdung is general secretary of Jharkhand Human Rights movement and author most recently of Mission Saranda: A War for Natural Resources in India, was sent back by immigration officials early on Monday morning.
"The immigration official said I cannot board the flight, though I had a valid academic visa for six months," said Dungdung. "When I asked why, immigration officials said my passport showed it had been impounded. I explained that my passport had been impounded in January 2014 but it was returned to me after verification a few weeks later. My passport shows that I had even travelled to United Kingdom in 2014 and Denmark in 2015 for conferences. Then, why was I being stopped now, I asked them."
Dungdung was scheduled to fly on Air India flight 115 to London to attend a workshop on environmental politics and history of South Asia on May 10 at the University of Sussex's Centre for World Environmental History. He had a return ticket for May 14 to New Delhi.
"I had reached Delhi from Ranchi on Sunday and reached the airport at 4 am this morning," said Dungdung. "At first, the immigration official made me wait an hour without explaining anything. Later, after I told him that I work in the field of human rights, the official left me waiting and consulted other officials. They told me I will not be allowed to board. My luggage was then offloaded from the flight."
Immigration officials had confiscated his passport. "Defaulters like Vijay Mallaya are not offloaded from flights but those who speak of human rights are being targeted by government," he said, referring to a previous incident in which Greenpeace's senior campaigner Priya Pillai was not allowed to board a flight to London in January 2015 when she was scheduled to address British legislators on the violation of human rights in Mahan, a coal mining area in Madhya Pradesh.
"If the government is going to curtail free speech, they should state it openly as a policy. This way they are subjecting ordinary citizens to mental harassment and to financial costs," said Dungdung, who was forced to return to Ranchi, Jharkhand, on Monday afternoon.
Not the first time
Dungdung has written extensively about the effects of counter insurgency operations on tribal villagers and was a member of the assessment and Monitoring authority under the Planning commission from 2011 to 2013. His passport issued in 2010 had earlier been impounded after he had returned from Germany and Thailand after speaking at conferences organized by INGOs Adivasi Koordination and Asia Indigenous People's Pact in October 2013.
"I had received two notices from Ranchi Passport Office in 2013, one saying that I must contact their office, and a second dated the same day, saying my passport had already been impounded," recounted Dungdung. At the time, Dungdung had alleged that this was being done because he had spoken against government's land acquisition policy in tribal areas, and because he had refused to comply when local police officials had asked him to pay a bribe during the process of passport verification.
He had got his passport back after six months. After his latest book on mining and counter-insurgency operations in Saranda forest in Jharkhand's West Singhbhum was published in July 2015, he had traveled for the launch of his book in the United Kingdom in November 2015, and to attend a conference in Denmark in October 2015, he said.
The ministry of external affairs has not responded to media queries so far.
Says Gladson Dungdung"

This morning, I was offloaded by the AirIndia from Delhi-London Flight AI 115, I was going to attend the Workshop on Environmental History and Politics of South Asia to be held in the University of Sussex, UK on May 10th. The reason given to me is that my passport had been impounded in 2013, therefore, they will send it back to RTO, Ranchi for verification.

The fact is that my passport was impounded in 2013 and returned to me after proper verification in 2014. Thereafter, I had attended couple of international conferences in Denmark and London in 2014 and 2015 subsequently but there was no issue at all.

Therefore, I m sure that this is a clear impact of my book "Mission Saranda: A War for Natural Resources in India". Defaulters of millions of rupees like Mr. Vijay Malaya are not offloaded but allowed to escape the law, but activists like me are bound to be offloaded.

My fight for the Adivasis' ownership rights over the natural resources, Adivasi identiry, human Rights, ecology and against unjust development processes will continue till they take away my right to life forever. Jai Adivasi!

The Modi government has achieved notoriety for its treatment of dissenting voices whether it is in the realm of those opposing the ideology of the Rashtriya Swayamsevak Sangh (RSS) or those fighting the battle for preservation of natural resources (jungal zameen—forest and land).

Priya Pillai of Greenpeace India was similarly disallowed from travel and prevented from flying at the airport. IE EDIT. Greenpeace in fact has been harassed at many levels including by the Tamil Nadu state government. The Courts have however stood by the civil and political rights of citizens
See also
1. Modi government cracks down on green NGOs
2. Strategy to Quash Dissent Published on Economic and Political Weekly (http://www.epw.in) Vol – L No. 17, April 25, 2015
3. Travel restrictions on activist Priya Pillai finally revoked