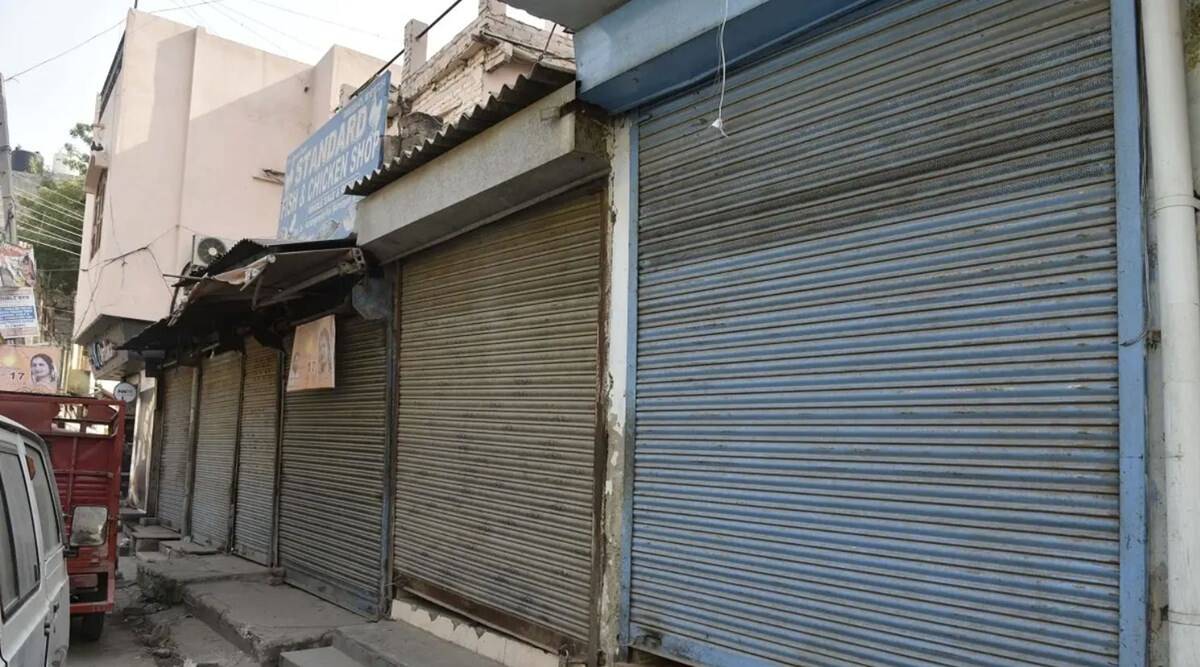 Representation Image
"Jai Sri ram… Stop the sale of meat! Bharat Mata ki Jai…." a group of Bajrang Dal in Gadwara (Madhya Pradesh) decided to begin observing Navratri, by demanding that meat shops be closed. This procession, in Madhya Pradesh, is against the sale of meat on the nine days of Chaitra Navratri festival that begins today, April 2. Those who observe this festival, abstain from consuming non vegetarian foods, and eat only those fruits and vegetables allowed during these days of 'fasting. The foods that are not allowed include certain flours and Grains, normal table salt, foods prepared using onion or garlic, some legumes, lentils, rice flour, cornflour, eggs, meat, fish etc. However, right wing groups have banded together to demand a ban on meat because this is yet another way to target minority communities, specifically Muslims.
The Bajrang Dal has reportedly threatened that "if the government doesn't prohibit the sale of meat," they themselves will "evict the shopkeepers."
**Navratri celebrations start**

"Stop the sale of meat!"

Bajrang Dal in Gadwara (MP) takes out a procession against sale of meat on Navratri. "If the government doesn't prohibit the sale of meat, Bajrang Dal would be forced to evict the shopkeepers," the statement reads. pic.twitter.com/sj6DmTb3yC

— Alishan Jafri (@alishan_jafri) April 2, 2022
These warnings have already begun to speed up in Karnataka last month under the garb of the Hijab controversy. In Karnataka Ministers like Shashikala Jolle has openly backed Bajrangdal campaign against Halal meat saying "our pro Hindu organisations are right.There needs to be awareness about jhatka cut everywhere, as this [hala meat is offered to the 'others' god."
#Karnataka Muzrai Minister Shashikala Jolle backs campaign of #Bajrangdal against #Halal meat.*I feel what our pro #hindu organs are doing-it is right.There needs to be awareness about jhatka cut everywhere.Issue arises since it is offered to other god.We are behind backing them* pic.twitter.com/Dt6TifSfxW

— Imran Khan (@KeypadGuerilla) April 2, 2022
Now the targeted hate has spread to other parts of the country as the Navratri week has commenced, and here the demand is a ban on all meat, to begin with during the nine days of Navratri.
In Ghaziabad, this is done officially, as the Ghaziabad Nagar Nigam has banned the sale of raw meat from April 2 to April 10. According to the officials this "meat ban during the festival is a routine order." According to a report in the Indian Express, meat shops will be shut in both urban and rural areas. The report cited the order that read, "It has been directed by the mayor to maintain cleanliness in temples, and to close meat shops during the period. It has been directed that cleanliness be maintained in respective zones, in temples and to ensure meat shops remain closed."
In March Nand Kishor Gurjar the re-elected MLA of Loni decided to target those who sell meat, "I want the officials to understand, not a single meat shop should be visible in Loni… There is Ram Rajya [rule of Hindu god Ram] here in Loni. Have you ever seen a meat shop in Ram Rajya? Just consume milk and ghee, and if you don't have a cow I will send you one". Most meat shops here are owned by Muslims, though the customers come from across the religious spectrum.
According to a report in Navbharat Times, this week the administration's Food Safety Department has even formed six teams to monitor the compliance of the ban. Ghaziabad Mayor Asha Sharma, told the media that such an order "is issued every year and the ban only exists during Navratri. The sale of raw meat will remain prohibited in these five zones. The communication has been given to all Nagar Nigam departments concerned."
Food Safety Officer NN Jha told the media that the inspecting teams have already closed more than 20 meat shops in different areas as they defied the ban. According to NBT, Jha said that even after Navratri, people running meat shops would have to take special care that meat is not sold "in the open".
In October 2021, multiple calls for a meat ban were given, and protests demanding the ban were held by right wing groups in parts of Haryana and Uttar Pradesh.
This one is from Saharanpur. Members of rightwing Hindutva outfits occupied the Nawabganj chowk and blocked the traffic. Their demand: complete ban on meat during Navratri. Heavy police deployment averted a flashpoint.
PS: Similar reports from many other cities. See below #thread https://t.co/5DAaXHEwj7 pic.twitter.com/ThNLPLXtz6

— Alishan Jafri (@alishan_jafri) October 9, 2021
These RW vigilantes also 'raided' shops selling meat, forcing them to shut down. This seasonal harassment peaks during suc festive seasons and are spearheaded by RW groups such as Sanyukt Hindu Sangharsh Samiti (SHSS), who in 2021 had written to Gurugram's deputy commissioner before Navratri seeking that all meat shops be directed to close for nine-days and that "illegally-run meat shops" be shut down permanently.
In March 2021, divisive food politics got an "official stamp" when the Municipal Corporation of Gurugram (MCG) announced that all meat shops in the city would be closed on Tuesdays. The No-Meat-Tuesday decision was reportedly the first of its kind. It may not be the last.
Related
Bajrang Dal smells an opportunity in stirring the halal pot, pastes boycott posters
'Halal food is economic jehad': BJP gen sec CT Ravi cooks up fresh hate
Why is iD dosa batter giving communal trolls indigestion?
Four arrested for issuing 'notice' to bakery to remove halal info, had called it 'discriminatory'
Hate-monger Sangeet Som's Sena bristles at hate video
Tripura: Muslim man lynched on suspicion of cattle theft