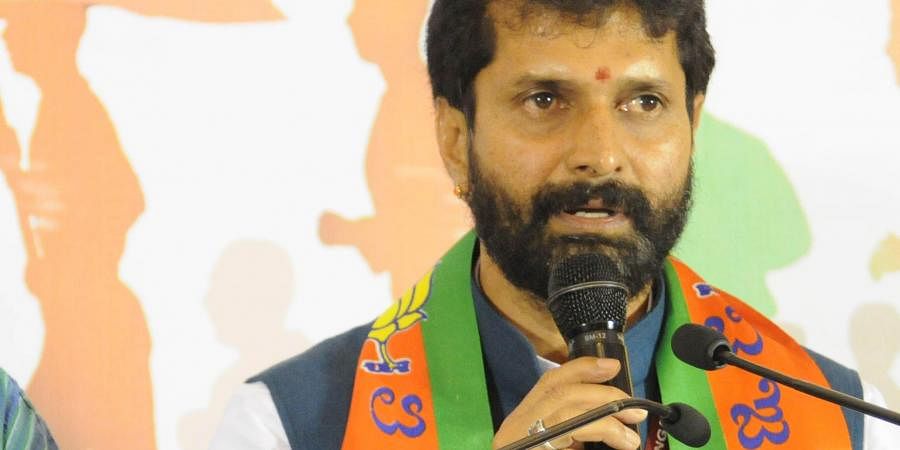 Many, especially those affiliated with the Bharatiya Janata Party (BJP) have seen the "desh ke gaddaro ko goli maro!" (shoot the traitors) remark by partyman Chikkamagaravalli Thimme Gowda Ravi as his reaction to the alleged "security breach" on the Prime Minister's route in Punjab on Wednesday, December 5. The National general Secretary of the BJP is also a four-time MLA from Chikmagalur. But he is no ordinary partyman, as he is also the party appointed in charge of poll-bound Goa, apart from Maharashtra & Tamil Nadu, and has chosen to fuel various conspiracy theories now in poll-bound Punjab.
The 'goli maro' slogan was first made famous by his fellow partyman Anurag Thakur and Parvesh Verma in January 2020, who had first used the slogan in a public meeting, "Desh ke gaddaron ko, goli maaro s***on ko" was a virtual war cry against people protesting the Citizenship Amendment Act (CAA). Since then, the hateful slogan has taken a life of its own, often chanted by right-wing mobs. It was used as recently as December 2021 by right-wing groups protesting namaz by Muslims in Gurugram.
It is well documented that CT Ravi, is a regular at such hate filled speeches against minorities, he is also publicly misogynist and shares regressive opinions on women. He has become more vocal once the BJP-led government took charge at the Centre, and he too got visibility due to the controversies he generated.
CT Ravi called for the "Gujarat model" in 2014
On July 27, 2014, CT Ravi, then a member of the BJP's national executive, and general secretary of the party's Karnataka unit, tweeted his opinion on the communal riots of Saharanpur in Uttar Pradesh saying, "Only the Gujarat model, that worked from 2002 in containing their rioting elements, can work. Apply across Bharat." According to an Outlook report, the original tweet was deleted from his timeline.
According to CT Ravi's "explanation" to the media after the controversy gathered steam, his tweet referred "only to the Gujarat measures that helped stop the riots completely". He had been at that time quoted by the New Indian Express and other publications as saying, "After the Godhra riots, no riots were reported from there. I was only suggesting similar measures be taken to contain communal violence across the country, including Saharanpur."
Saharanpur in western Uttar Pradesh had witnessed a violent clash in 2014 between groups of Muslims and Sikhs. Three persons died and many were injured in the violence that broke out over an alleged land dispute. However, in 2020, in thanksgiving to the compassion shown by the Sikh community during the Delhi riots, the Muslim community from Saharanpur gave away their claim on the land given to them as part of settlement post Saharanpur riots. However, CT Ravi it appears is once again using communally loaded comments aimed at poll bound UP, and Punjab.
Vote for CM @myogiadityanath for a RIOTS FREE Uttar Pradesh ! pic.twitter.com/SGqkeTSg61

— C T Ravi ?? ಸಿ ಟಿ ರವಿ (@CTRavi_BJP) January 1, 2022
Ironically, it was Delhi-based lawyer Shehzad Poonawalla who was then associated with the Congress party and is now with the BJP who petitioned the National Human Rights Commission (NHRC), accusing CT Ravi of "using social media to fan communal passions." He responded to the complaint filed by Poonawalla, saying "I am ready to testify. I can't help those who see everything with jaundiced eyes." The two are now colleagues and CT Ravi amplifies Poonawalla's tweets.
AAP is a SHAAP ! https://t.co/KNRqDI9Jep

— C T Ravi ?? ಸಿ ಟಿ ರವಿ (@CTRavi_BJP) December 30, 2021
Accusing Punjab CM, citizens, Congress of endangering PM's life
CT Ravi directly accused Punjab Chief Minister Charanjit Channi saying he "betrayed Bharata Mata to please Sonia Mata." Punjab will soon go to polls and CT Ravi has accused the Congress of "anti-National" acts, and stated that "Indians will never forget & forgive" it. He also said, "What happened in Bathinda today is unforgivable by any stretch of imagination. Indians will never forgive those who are responsible for such a serious lapse of security."
"Thank your CM for allowing me to return alive to Bhatinda airport".

This is what PM @narendramodi told the security personnel in Bhatinda airport.

CM @CHARANJITCHANNI betrayed Bharata Mata to please Sonia Mata.

Indians will never forget & forgive this heinous act by CONgress.

— C T Ravi ?? ಸಿ ಟಿ ರವಿ (@CTRavi_BJP) January 5, 2022
"Is the "secret meeting" of CONgress leader @RahulGandhi have any connection with what happened to PM Modi's convoy in Punjab today?" he asked in another loaded Tweet.
Any doubt that the Chinese Gandhis were behind today's incident in Punjab? pic.twitter.com/KvtKEANqiD

— C T Ravi ?? ಸಿ ಟಿ ರವಿ (@CTRavi_BJP) January 5, 2022
#DHSpeakOut | #Karnataka #CTRavi #BJP #KarnatakaPolitics pic.twitter.com/c2hZ5KgsLC

— Deccan Herald (@DeccanHerald) January 6, 2022
CT Ravi's opinion on women is well known too
According to him "Western influence, micro families" are to blame if "modern women want to stay single". On World Mental Health Day, Karnataka minister K Sudhakar had said, "lots of modern women in India want to stay single. Even if they get married, they don't want to give birth. They want surrogacy. So there is a paradigm shift in our thinking, which is not good." Sudhakar made headlines for such a misogynistic remark instantly and CT Ravi decided to add his two bits on the subject and said, "Not every woman is like this. It is happening because of western influence and micro families. In India, we still have faith in family unlike countries such as USA and UK."
Following the flak he got K Sudhakar was forced to issue a clarification saying, "It is unfortunate that a small part of my address out of the nineteen and a half minutes long speech during the World Mental Health Day programme at NIMHANS on Sunday was taken out of context and thereby, the larger point I was trying to make at the prestigious National Institute of Mental Health and Neurosciences was lost." However, it is not known if CT Ravi apologised.
Related:
BREAKING: BJP Gen Secy publicly tweets "Shoot the traitors"
2021: A year of unprecedented communal hate crimes
"Shoot the traitors" slogans raised in Gurugram
Hate Speech: The worst words of 2021, we hope do not spill over into 2022
Hate Watch: Communal "shoot the traitors" slogans raised against Christians in Delhi
3 BJP workers arrested in Bengal for 'goli maaro' chants, why none arrested in Delhi, asks Mamata Banerjee