Hari Om is a rockstar among criminals. He, Hari Om was part of the mob that killed Mohammad Akhlaq in Dadri. Then he was arrested and sent to jail. In jail, he reportedly built a network of criminals. Hari Om then obtained bail in the mob lynching case. On bail, he and his gang members pull off robberies in Ghaziabad. When the UP police finally found him, he opened fire at them. At the end of the "encounter", the police managed to catch him alive. Now he will go back to jail. This brings us to the moot question once again:
Was the meat inside Mohammad Akhlaq's fridge beef, buffalo or mutton?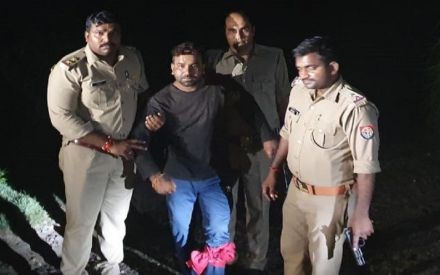 When those accused of the lynching of Mohammad Akhlaque had then been out on bail, some of them had even attended a pre-Lok Sabha election event addressed by Uttar Pradesh Chief Minister Yogi Adityanath at Bishada village in March 2019. According to a report in The Hindu, BJP MLA Tejpal Singh Nagar had facilitated the recruitment of the 15 youngsters along with NTPC officials on October 9.(2017). Political patronage of the criminals got them a job in a public sector undertaking even! The New Indian Express tentatively reported that, "in perhaps an unkindly turn of events, the (15) accused persons in the lynching of Mohammad Akhlaq in Dadri, Uttar Pradesh, have reportedly got jobs in public sector undertaking and power utility major NTPC Limited. What's more, they have reportedly landed the jobs with the help of a BJP MLA."

Who says that some crimes at least, do not pay?

When Hari Om was finally arrested recently, the Times of India reported that the officer added that Hari Om had been active in crime over the past one year and is named in at least four cases of robberies in Ghaziabad's Masuri police station. "He was involved in snatchings. He told us he had met several men in jail who brought him into the world of crime," said the police official.
Before the lynching, Hari Om was also named in three cases of criminal intimidation, rioting and obscenity in public place.

The Telegraph reported that, "Hari Om is wanted in 11 criminal cases, including murder, attempt to murder, arms act, robbery in Greater Noida and Ghaziabad. Early on Monday, he opened fire at a police team when he was intercepted for checking. The cops also opened fire in retaliation in which he was injured in his left leg and slumped to the ground," said a Noida police official.
Hari Om was arrested and the police seized a country-made gun and a motorcycle from him.
This 30-year-old, identified as Hari Om, a resident of Bishada, is currently out on bail after he was arrested in Mohammed Akhlaq's murder case.