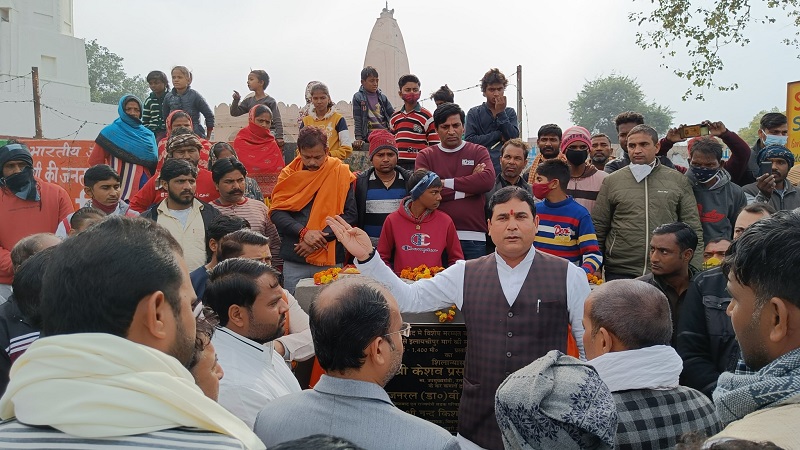 Image Courtesy:Twitter
Nand Kishor Gurjar, Bharatiya Janata Party's (BJP) Member of Legislative Assembly (MLA) who represents Loni, Ghaziabad, is well known along the Delhi-Uttar Pradesh border. It is he who personally walks up and down the township, verbally abusing Muslims, forcing them to down the shutters of their shops if the product sold was chicken or goat meat.
Recently though, he got into some hot water with the Election Commission of India for saying, "Na Ali, Na Bahubali, Loni mei sirf Bajrang Bali" (Translation: (No Ali, No Bahubali, Only Bajrang Bali in Loni), while addressing his supporters in the run up to the Assembly elections. Previously too, Gurjar has been accused by the farmers who were protesting at the Ghazipur-Delhi border of trying to create communal unrest during the peaceful protest in January 2021. But Gurjar did not let all those allegations stop him from adding to his hate portfolio. His focus was purportedly on the upcoming Assembly elections, and his hate tactics kept him in the limelight. Gurjar was once again given the party ticket to contest elections from his safe seat.
However, as he continued his hateful diatribe allegedly even as his electoral campaign kicked off, he may have forgotten that the Election Commission of India's (ECI) Model Code of Conduct is in effect in Uttar Pradesh. This set of guidelines issued by the EC has to be followed by political parties and candidates during elections, and it includes provisions applicable to speeches made during campaigns. Gurjar's overconfidence as the area 'strongman' perhaps made him forget that he cannot get away with spreading communal hate at the moment.
Uttar Pradesh Assembly election 2022 will be held from February 10 onwards in seven phases and the counting of votes will be on March 10. In the 2017 Assembly polls the BJP and its allies had won 312 of the state's 403 constituencies. This time, the Uttar Pradesh Assembly polls are projected to be a four-cornered contest between the ruling BJP, Akhilesh Yadav-led Samajwadi Party (SP), Mayawati-led Bahujan Samaj Party (BSP) and the Congress.
What did EC say?
The Election Commission has now issued a notice to Nand Kishor Gurjar after he allegedly spread communal hatred during his campaign for the upcoming Assembly election. According to news reports, he was addressing his supporters soon after the announcement of his candidacy, and said, "Na Ali, Na Bahubali, Loni mei sirf Bajrang Bali" (No Ali, No Bahubali, Only Bajrang Bali in Loni). The EC has now asked Gurjar to submit a written response by Wednesday January 19, and to explain why he used such a divisive slogan.
But Gurjar has justified his words saying he spoke about Ali to mean "Mohammad Ali Jinnah" who he claims "launched a genocide, partitioned the country" and that a "Bahubali was given a ticket by Akhilesh" in his area. And that he was "a bajrang bali (hanuman) devotee" and the slogan was his religious belief. He claimed "it has nothing to do with any religion, it is wrong to take it [the slogan], otherwise."
Gurjar's supporters have, however, begun to make sure his communal slogan reaches far and wide. And he himself has been going door to door, without a face mask, to spread his message.
केंद्र एवं प्रदेश सरकार की जनकल्याणकारी योजनाओं से लाभान्वित लाभर्थियों से भेंटकर उन्हें सम्मानित किया और पार्टी की रीति और नीति से अवगत कराया। जनता में भाजपा को लेकर भारी उत्साह है क्योंकि #भाजपा_है_तो_भरोसा_है #transformingloni#mlaloni #दमदार_लोनी_चमकदार_लोनी pic.twitter.com/HtiCZ9S7MQ

— Nand Kishor Gurjar (@nkgurjar4bjp) January 11, 2022
#लोनी में ना अली ना बाहुबली लोनी में सिर्फ़ ओर सिर्फ़ बजरंगबली (मिशन2022?)#भाजपा_है_तो_विश्वास_है #लोनी के लिए कहो दिल से नंदकिशोर गुर्जर फिर से #mlaloni @nkgurjar4bjp pic.twitter.com/CWE1y0HpJZ

— Nagesh_Gujjar mla 0004 (@nageshgujjar04) January 16, 2022
He got away in 2021
In December 2021, Nand Kishor Gurjar was on the move forcing Muslim businessmen to down shutters of chicken meat shops. "Murga will not be sold in Loni, go sell it in Delhi, run away or else there will be no bail," he had allegedly said. This is not the first time he has done it either.
In January 2021, when thousands of farmers were staging their protest at Ghazipur-Delhi border, there was some unexpected unrest that could have ended in violence. According to the farmers their protest was threatened by some goons, allegedly backed by Gurjar, attempting to create trouble at the site. None other than farmer leader Rakesh Tikait had then said, "I saw the BJP MLA [allegedly identified by the farmers as Loni MLA Nand Kishor Gurjar] who had come here to attack our elders, my sardar brothers. I could not let that happen, they have all come here on my call, I am responsible for them. This is wrong, the people have chosen them, the people cannot be harmed. I had told the government that I would surrender, but it is my responsibility to make sure all these farmers are safe. I knew what could happen if the police took them if they left from here on their tractors trolleys. I knew when they reached Hapur and beyond, BJP and RSS workers would begin pelting stones on them. I cannot let that happen. The farmer was never scared, the farmer will never be scared. Those who incited violence on (January 26 must be investigated by the government. Tell people the truth."
Rakesh Tikait had been on a protest fast that night and had stood vigil with his supporters, to guard the venue when the miscreants were allegedly spotted. He had even refused to drink water his supporters offered after the supply to the Ghazipur protest site had been cut off allegedly by the administration. "I will drink water when the farmers send it from their homes," he had declared in an emotional video that went viral across Uttar Pradesh and amongst the Jaat community Khap Panchayats, and community WhatsApp groups long before it was telecast on television around midnight. However, Gurjar, and his supporters had managed to escape the law then.
He got away in 2020 too
While he reportedly continued 'lording' over his constituency, Gurjar had been in the news even before that for allegedly forcing meat shops to shut down, and was also accused of physically assaulting businessmen. "Jai Mata Di. No meat shop will be tolerated in Loni during Navratri," Gurjar had declared. He roamed his constituency without a face mask even though Covid precautions had been ordered, and had himself filmed as he forced a scared meat seller down the shop's shutters. He justified it saying the area was under a fly path 'bones' etc were dangerous as they could lure birds to circle and threaten bird hits and a potential aircraft crash.
The same year, on Eid ul Adha, also known as Bakr Eid, was due to be celebrated when Gurjar, had said, "People who want to sacrifice (animals) on Eid should sacrifice their children." He further resorted to misinformation as well by saying that meat spread coronavirus and hence "people should not be allowed to sacrifice animals," and also, "I will not let people consume meat and alcohol in Loni," while adding that even Sanatan Dharma used to sacrifice animals but now that has been replaced with coconuts.
What does Gurjar's political CV look like?
In the 2017 Assembly election Gurjar had defeated Bahujan Samaj Party (BSP) candidate Zakir Ali and Rashtriya Lok Dal (RLD) candidate Madan Bhaiya. In the data available during that election, his details included criminal cases he has been accused of such as: criminal intimidation (IPC Section-506), robbery (IPC Section-392), resistance or obstruction to lawful apprehension of another person (IPC Section-225), attempting to commit offences punishable with imprisonment for life or other imprisonment (IPC Section-511), Injuring or defiling place of worship with intent to insult the religion of any class (IPC Section-295), mischief by fire or explosive substance with intent to destroy house, etc. (IPC Section-436), voluntarily causing hurt to deter public servant from his duty (IPC Section-332), rioting, armed with deadly weapon (IPC Section-148) and endangering life or personal safety of others (IPC Section-336) among others. A full list can be read here. However, he has 'powered on ' as it were, as he has never been convicted.
Related:
Is hatemonger Pinky Chaudhary hoping for a political debut?
His tears have refuelled the revolution, we will win: farmers at Ghazipur border
Ghaziabad: BJP MLA forcibly closes meat shops
Bakrid and the forced controversy around animal sacrifice