Sudha Bharadwaj, born in 1961, has been associated with the trade union movement in Chhattisgarh for more than 25 years. She is the general secretary of the Chhattisgarh unit of the People's Union for Civil Liberties (PUCL), and a member of Women against Sexual Violence and State Repression (WSS).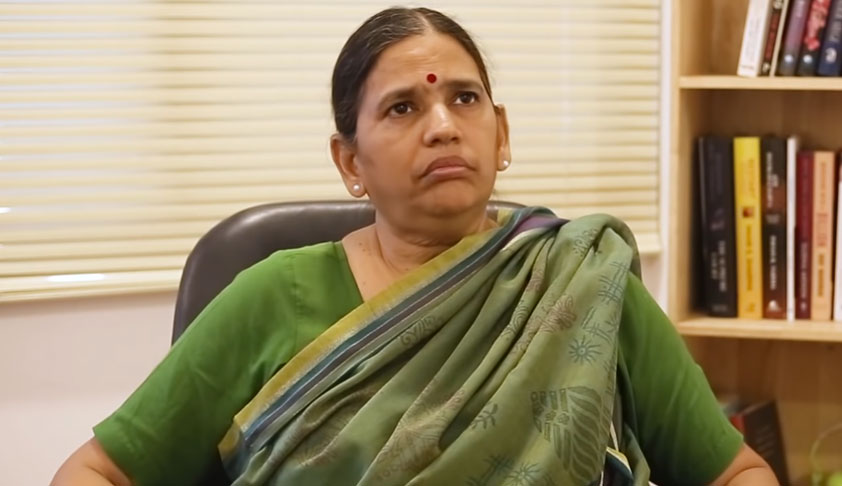 After living and working in Bilaspur for several years, Sudha had recently moved to Delhi and was teaching at at National Law University Delhi as a Visiting Professor, where she taught a seminar course on tribal rights and land acquisition, and a part of the regular course on law and poverty. As part of the programme of the Delhi Judicial Academy, she addressed the presiding officers of labour courts from Sri Lanka. Shock gripped parts of the country when this relentless defender of human rights was faced with sudden raids yesterday by the Pune Police, and an attempt until late at night to arrest her. However, currently she is under house arrest until August 30 on the orders of CJM after which a petition will be heard in her case in the Delhi High Court.

Sudha Bharadwaj's early days
Bhardwaj had the opportunity to grow up in a politically charged and motivated environment, as her early days were spent in JNU along with her mother, renowned academician Krishna Bhardwaj, who was a professor of Economics. She had closely witnessed the vibrant student political movements at JNU. However, she was radically politicised at IIT, Kanpur where she later went on to pursue Mathematics. She was actively involved in political activities on campus. She experienced exclusion as a woman in a largely male-dominated campus and also as an alleged "commie". She became a part of the NSS and was keen on teaching. Her repeated rural visits through NSS exposed her to the harsh realities of caste and rural India.

The journey to Chhattisgarh and work with Shankar Guha Neogi
After her MS in Mathematics, she decided to move to Chattisgarh and started working with mine workers. She started organising under the banner of the trade union, 'Chhattisgarh Mukti Morcha'. She worked very closely with Shankar Guha Niyogi and organised women under the 'Mahila Mukti Morcha', the union's women's wing. She relentless organised women in the union and struggled to bring them to the helm of the leadership within the union. She worked towards creating an equal playing field between the male and female members of the union, as it was equally important for women's political participation. The union did not merely address the economic question, it also focused on education, health and anti-liquor campaigns.
She believes that working with the mining trade union in Chhattisgarh was an important process of humanising and de-classing for her as someone who hailed from a privileged background and had shifted base to work for the rights of labourers.

The Bhilai movement
As Shankar Guha Neogi got assassinated in 1991, in 1992 there was a police firing in which 17 workers were killed in Bhilai. Hundreds of workers were put in jail, along with their leaders. The workers faced repression for demanding their basic rights, such as eights hours of work, minimum wages, wage slips and attendance cards, and the fact that they were organising.In the Bhilai movement, four thousand workers had been thrown out of work. The employers refused to negotiate, and Neogi was murdered, leading to the massive strike.

Organising the women
Sudha Bharadwaj, on the lines of Neogi, believed that one did not just work with the workers, but had to be involved in all aspects of their lives. Here, she felt that women experienced different kinds of issues that were not adequately addressed, nor discussed. Some women's husbands would refuse to use contraceptives, leading to unwanted pregnancies or abortions. Most of them would be over-burdened with housework. Here, she emphasised the role of the women workers in the movement.

The need for a Law degree
Being the only 'educated', or literate person in Bhilai, it was painful for Sudha to approach lawyers every time to argue the workers' cases. At this, her comrades suggested that she take up legal studies herself. Much later, in 2000, Sudha completed her law degree and started representing the workers herself. The first cases she fought were those of the workers and she practiced in lower courts between 2000 and 2006.
While working for trade unions, and later, after becoming a lawyer, she realised not just the workers, but the farmers also required legal representation, given the cases of land acquisition. It was then that she thought of setting up the group Janhit, to fight for community forests rights, for Adivasis, in cases of Public Interest Litigations (PIL), environmental cases, and the like.
When she was asked about the extent to which the law could provide justice in a state that was anti-poor, anti-tribal, anti women and the like, she had responded, "See actually we shouldn't look at it as just laws, right? There are two kinds of law, one kind of law is the law which we have struggled to create, to represent our aspirations, whether it is labour law, whether forests rights law… we have struggled to create it. It was a response to movements. It was a response to the push which came from below…But there is another kind of law, which is the status quo law which is to preserve law and order."
As a human rights lawyer she appeared in cases of habeas corpus and fake encounters of Adivasis in the Chhattisgarh High Court, and also approached the National Human Rights Commission (NHRC) in the defence of many other human rights defenders. Recently, the NHRC had sought her assistance in investigating a case in the Kondasawali village (Sukma, Chhattisgarh). In all these cases, she "acted with the professional integrity and courage expected of a human rights lawyer." It is this integrity and appeal that has become a thorn in the eyes of an establishment bent on bringing her down. However, in her own words, "If you try to be safe and in the middle, you will never succeed".

Related:
Pune Police forcibly detains activist Sudha Bhardwaj
State Crushing Dissent Again!