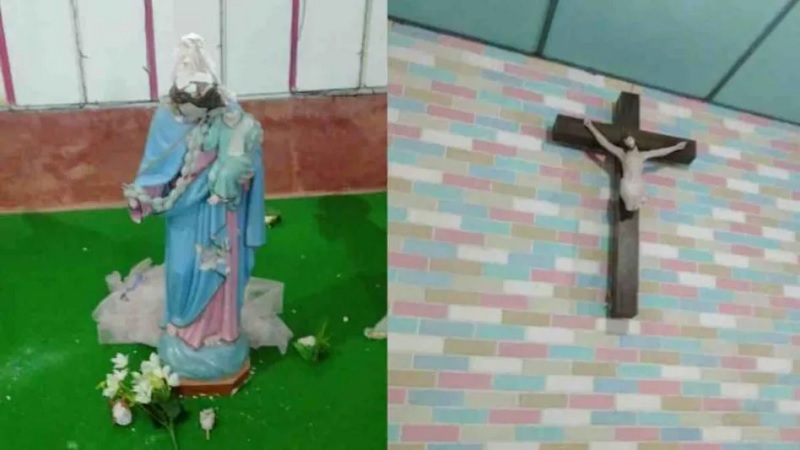 Image Courtesy: indiatodayne.in
In a shocking incident, a Catholic church located in Daram village of the North Garo Hills area of Meghalaya was allegedly vandalised by miscreants last week. According to NE Now, the vandals severed heads of the statues of Mother Mary, Baby Jesus and St Joseph.
Shillong Times reports that this is one of the oldest churches in a remote part of the district. It further reports that the vandals allegedly tried to damage the holy crucifix placed on the upper portion of the Church wall, above the altar, where the holy Eucharistic is celebrated. However, they ended up destroying the leg of the idol.
The incident allegedly took place on August 22. The First Information Report (FIR) was filed at Resubelpara police station on August 26, and a case has been registered. According to the publication, there was a delay in reporting the crime as members of the church were attending a convention in the town of Tura.
Shailendra Bamaniya, IPS, Superintendent of Police North Garo Hills, told News 18, "The incident happened around 24th August, however, they gave us a complaint on 26th August and the case has been registered."
Investigations are on, but no arrests have been made so far. While it is not known yet if this was a hate crime, Shillong Times reports that a mentally challenged person was allegedly involved in a similar attack in the past, and is one of the suspects in this case as well.
Related:
Had a happy Christmas weekend? Have a look at how communal mobs celebrated theirs
Karnataka: Another Church vandalised, this time in Chikkaballapur
Hate Watch: Communal "shoot the traitors" slogans raised against Christians in Delhi
Over 300 attacks on Christians reported this year