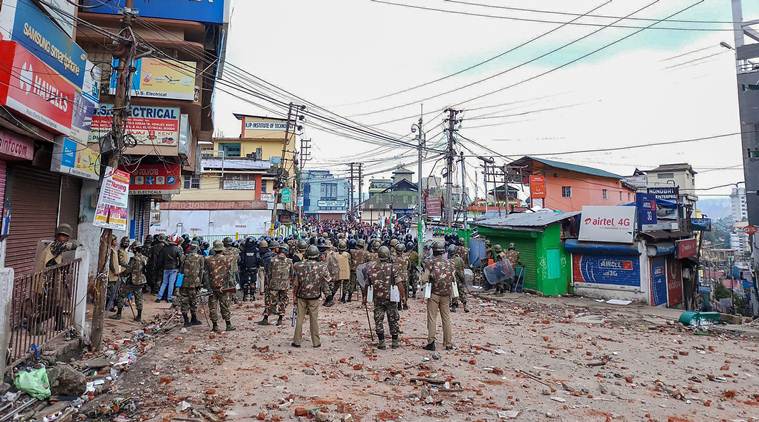 The Meghalaya Police have arrested four men in connection with a series of stabbings of non-tribals in Shillong's Bara Bazar area. On February 29, Rupchand Dewan, a vegetable vendor originally hailing from Assam's Barpeta district was stabbed to death in the incident. Another vegetable vendor Jaddu Choudhury from Silchar was also stabbed, but survived.
Many of the vendors who hawk their wares in this market are ethnic Bengalis belonging to both Hindu and Muslim communities. The stabbing spree was a part of a series of retaliatory attacks against non-tribal people in Meghalaya after Lurshai Hynniewta, a resident of Khliehshnong Sohra, was killed in clashes that broke out in Ichamati village located in the East Khasi Hills district of Meghalaya between members of the Khasi Students Union (KSU) and non-tribals. The violence took place at a rally against the Citizenship Amendment Act (CAA) where KSU, that opposes the CAA demanded the implementation of Inner Line Permit (ILP) at Ichamati.
Following the clashes a curfew had been imposed in the region. A total of 12 people have been arrested in connection with the case so far.
In 1979, when the "anti-foreigner" sentiment swept across Assam, a parallel movement against Bengalis began in Meghalaya. The derogatory word Dkhar was used for ethnic Bengalis, who were mainly Hindu settlers. Violence broke out in October 1979 after two Khasi boys allegedly desecrated an image of a Bengali Hindu deity. Bengali owned businesses and shops were subsequently shut down forcible and over 20,000 Bengalis were forced to flee the state.
Even today, Bengalis are viewed as outsiders and ethnocentric groups fear their influx will spoil the demography of the state.
Related:
Turmoil in the North East: Ethnic divide widens in Meghalaya
Turmoil in the North East: The demand for Bangalistan
Turmoil in the North East: A Bru Story
Turmoil in the North East: The Naga Pact and its ramifications