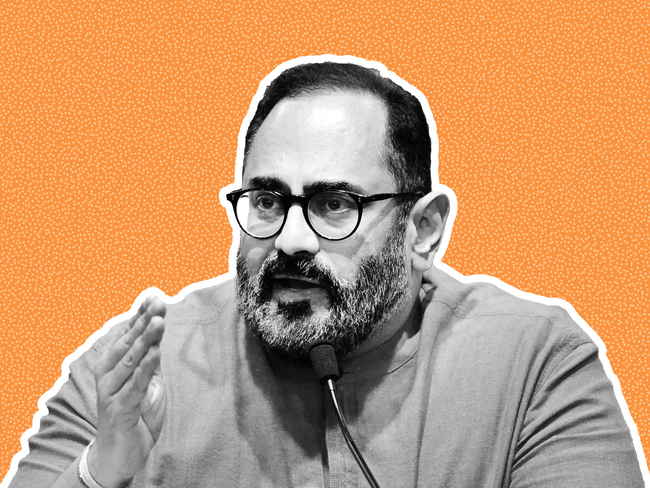 Image courtesy: The Economic Times
The Union Ministry of Electronics and Information Technology (MEITy) issued a notification on October 28 amending the Information Technology (Intermediary Guidelines and Digital Media Ethics Code) Rules, 2021 seeking to introduce a Grievance Appellate Committee (GAC) to protect the "rights of Digital Nagriks".
Minister of State Rajeev Chandrasekhar stated that this move came in the backdrop of complaints regarding the action/inaction on the part of the intermediaries on user grievances regarding objectionable content or suspension of their accounts. He further said that the intermediaries now will be expected to ensure that there is no uploading of content that intentionally communicates any misinformation or information that is patently false or untrue hence entrusting an important responsibility on intermediaries. This amendment raises concerns over increased scrutiny of the intermediaries and over-regulation by the government in their functioning thus becoming a tool for social media censorship.
This amendment means that users who are not satisfied with the response of the intermediaries can reach out to the said Committee in appeal. The amendment makes it the prerogative of the intermediaries to resolve the complaints received from users within 15 days and if the complaint is regarding any content being obscene or threatening the unity, integrity, defence, security or sovereignty of India, then the same needs to be redressed within 72 hours of the complaint. If the response is not received within this time or if a satisfactory response is not received, the user can approach the Committee in appeal.
While the intermediaries will not face any punitive action for non-compliance, Chandrasekhar said, "We are not getting to the business of punity, but there is an opinion that there should be punitive penalties for those platforms not following rules.. it is an area we have steered clear of but that is not to say it is not on our mind".
The Amendment
The changes effectively brought about by the amendment are as follows:
(a) Currently, intermediaries are only required to inform users about not uploading certain categories of harmful/unlawful content. These amendments impose a legal obligation on intermediaries to take reasonable efforts to prevent users from uploading such content. The new provision will ensure that the intermediary's obligation is not a mere formality.
(b) For effective communication of the rules and regulations of the intermediary, it is important that the communication is done in regional Indian languages as well.
(c) The grounds in rule 3(1)(b)(ii) have been rationalized by removing the words 'defamatory' and 'libellous'. Whether any content is defamatory or libellous will be determined through judicial review.
(d) Some of the content categories in rule 3(1)(b) have been rephrased to deal particularly with misinformation, and content that could incite violence between different religious/caste groups.
(e) The amendment requires intermediaries to respect the rights guaranteed to users under the Constitution, including a reasonable expectation of due diligence, privacy and transparency.
(f) Grievance Appellate Committee(s) will be established to allow users to appeal against the inaction of, or decisions taken by intermediaries on user complaints. However, users will always have the right to approach courts for any remedy.
Censorship concerns
The Internet Freedom Foundation issued a statement in response to this amendment saying, "Given that the GAC would hear appeals against the decisions of social media platforms to remove content or not, it will incentivize platforms to remove/suppress/label any speech unpalatable to the government, or those exerting political pressure. In fact, since the GAC is empowered to hear appeals from users whose content has been taken down by a social media intermediary for violation of its community guidelines or terms of use, the government will also be in a position to force social media platforms to display content that the platforms have found to violate their norms."
It further stated, "Opaque and arbitrary methods of choosing appeals for their review, the lack of trust in an all Executive body, the ability of the government to influence content moderation decisions in a non-transparent manner are just some of the concerns arising from the IT Amendment Rules, 2022."
Freedom of speech
Going in appeal directly to the central government against a private body that facilitates freedom of speech and expression is a direct impingement of freedom of speech and allows direct executive control over a space that is meant to be a free space for expression. Certainly, social media gives a platform to people to express themselves and anti-social elements tend to misuse the space to spread hatred and propagate their agenda as well but regulation by a central body means censorship and shunting of voices that go against the government or anything that displeases the government will not find any space on these platforms.
Speaking to Scroll, Nikhil Pahwa, founder of MediaNama said, "This amendment has given the government god-mode status when it comes to content on social media a year-and-a-half away from the Lok Sabha elections."
Internet Freedom Foundation policy director Prateek Waghre pointed out while speaking to Scroll,, "The aggregation of individual decisions won't be able to address underlying problems since they are neither repeatable nor broadly applicable, given the complexities involved."
Finality of GAC
The decision of the GAC is to be final since it is mandatory for the intermediary to comply with the orders passed by the Committee. The qualifications of the members of these committees is also amiss in this clause and the manner of functioning has also not been specified thus giving a free hand to these committees to deal with the appeals.
By compelling the intermediaries to act on complaints in an expedited manner, the government is encouraging blind censorship as the platforms will take down content complained against by just any user that find a content offensive or unpalatable to his interests, fearing government action and short stipulated time period provided for responding to these complaints.
In July, Twitter filed a plea before the Karnataka High Court challenging the legality of takedown orders issued by the Centre in January. Twitter has argued that the orders are procedurally and substantially deficient of the Section 69A requirements and that they demonstrate excessive use of powers and are disproportionate.
In January 2021, the government asked social media companies to remove access to content regarding the farmers agitation that carried a controversial hashtag regarding the prime minister, saying it was a threat to public order. As per reports, the accounts and tweets that were ordered to be blocked have been submitted to the court by Twitter in a sealed envelope, since Section 69 (A) orders are supposed to be kept confidential. In September, the Central Government filed its statement of objections stating that Twitter being an intermediary platform did not have the authority to define free speech and to decide what content would pose a threat to national security or public order issues.
IT Rules matter subjudice
In May 2022, the Supreme Court stayed proceedings before various high courts on the batch of petitions challenging the IT Rules. Digital new media portals including The Wire, Quint and LivelLaw had approached different high courts on the ground that the IT rules impinge upon right to freedom of speech. No significant developments have taken place in this case yet.
Is social media regulation required?
Protection of freedom of speech and expression on social media platforms is a double edged sword since regulation of content by government exclusively could lead to censorship and leaving the matter to self—regulation gives a free hand to these companies who have not been able to curb misinformation and hate speech yet. The ideal situation would be a balanced approach towards regulation where both parties are involved in ensuring that hate speech and misinformation does not spread on these platforms and also to develop better technology and for companies to invest in more resources to regulate their content. The government should have an oversight mechanism over the functioning of such reviews that the companies ought to undertake at specific intervals for reviewing the complaints received by them and the content that goes up on their platforms.
Handling individual complaints as stipulated under the new amendment, by centrally formed committees is an arduous mechanism which will not be able to reform social media platforms into safe spaces for users. While regulation is required, absolute regulation by the government will only stand to impinge freedom of speech.
The amendment to IT Rules may be read here:
Related:
Facebook's plans to curb online hate during Indian elections: Too little too late?
Victory! Youtube acts on CJP's complaint, blocks hateful videos
Most troubling abuse of YouTube in India involves targeting of Muslims by backers of the BJP: NYU Stern Report