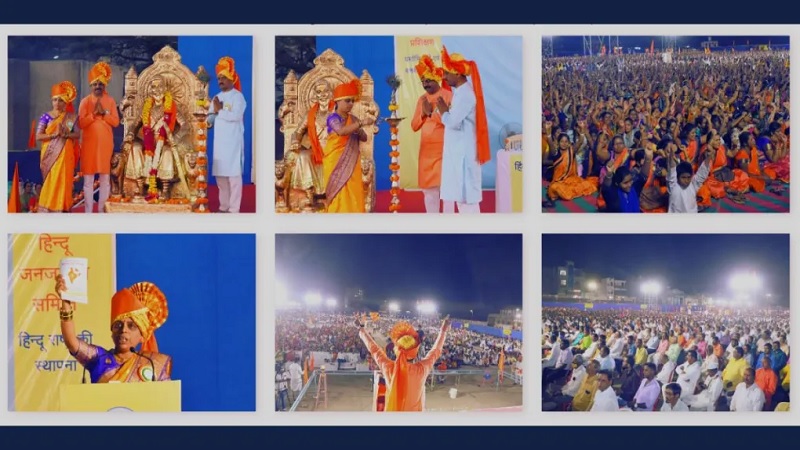 In its endeavour to prevent events propagating hate speech, Citizens for Justice Peace has once again sent a preemptive memorandum to authorities regarding the proposed event being organized by Hindu Janajagruti Samiti on February 21 in Ratnagiri, Maharashtra, and raised some concerns about it. Hindu Janajagruti Samiti is the same organisation that has been giving a platform to hate speech offenders to make hate speech by organising events demanding the establishment of a Hindu nation, boycott of Halal meat, 'love jihad', religious conversion and cow slaughter.
Through this memorandum, CJP has brought to the notice of District Collector, Ratnagiri as well as Superintendent of Police (SP), Ratnagiri that a Hindu Rashtra Jagruti Sabha event is going to be held in Dapoli, Ratnagiri wherein hate speeches will be delivered, and calls for establishing a Hindu nation will be made, presumable bytargeting and hurting religious sentiments of minorities.
Raising concerns about the same, CJP, in its memorandum has highlighted previous hate speeches delivered at events organized by the HJS as well as the hate offenders associated with the organisation.
CJP has, in the memorandum, highlighted that "The HJS runs a campaign advocating for the passing of anti-Love Jihad laws in Maharashtra. Extremist Right-wing Hindu groups have been using the term "love-Jihad" loosely now, wielded by an aggressive majoritarianism, woven into a dominant caste Hindu narrative of religious extremism, Islamophobia, and communal hatred. It has also been provided on their website that HJS has been conducting regular workshops to make Hindus "aware" of the consequences of autonomous and free choice marriages, derogatively and provocatively termed 'Love Jihad.'".
In the past, many notorious hate offenders and hate speakers, such as T. Raja, Pramod Muthalik, Meenakshi Sharan, H.H. SambhajiraoBhide, Kalicharan Maharaj and Suresh Chavhanke, have been associated with HJS, and participated in their activities. An event had been organized by the HJS last year where notorious hate offender SambhajiBhide had advocated for the boycott of Halal Products.
The memo also points out that on February 3, 2023, the Supreme Court issued directions with respect to an event which was scheduled to be held in Mumbai on February 5 by Sakal Hindu Samaj. The court had taken an undertaking from government of Maharashtra that if permission for this event is granted "it will be subject to the condition that nobody will make any hate speech and in defiance of law or disturbing the public order." The court also gave directions that it shall be the duty of the police officers to invoke section 151 of CrPC for preventive action in case the need for the same arises.
Accordingly, CJP has urged theRatnagiri Police to take preventive measures to stop this event from taking place and take any other action deemed necessary in this regard.
The full memorandum sent to Ratnagiri Police may be read here:
In addition to this, CJP has also urged Shri Vinayak Bhaurao Raut, Shiv Sena, Ratnagiri-Sindhudurg, Maharashtra to do all that he can in his power, "especially bringing to the notice of Ratnagiri police to take preventive action in this regard by following due process of law. We anticipate that a push from the elected representative of Ratnagiri, a Member of Lok Sabha and a prominent public figure who has always spoken in support of human rights will bolster this endeavour to protect the society from such hateful public events."
The full memorandum sent to Shri Vinayak Bhaurao Raut may be read here:
Related:
CJP seeks preventive action against Sakal Hindu Samaj proposed event in Baramati
CJP writes to SupriyaSule seeking intervention to stop hate speech event
CJP'S CRIMINAL COMPLAINT AGAINST SHANKAR GAIKAR'S HATE SPEECH AT SHAURYA SANCHALAN
MAHARASHTRA: SHANKAR GAIKAR GIVES ANTI-MUSLIM SPEECH AT SHAURYA PATH SANCHALAN EVENT
CJP COMPLAINT TO DGP, MAHARASHTRA AND NCM AGAINST MISLEADING AND ISLAMOPHOBIC SPEECH BY KALICHARAN