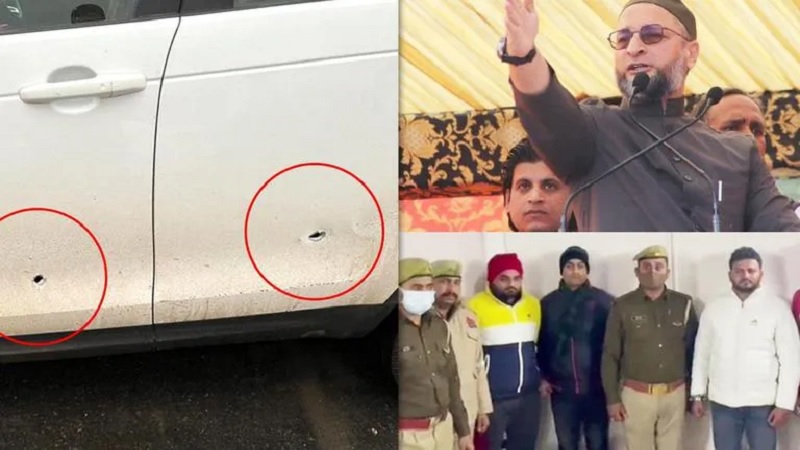 Image Courtesy:republicworld.com
Two people have been arrested for firing at Member of Parliament and All India Majlis-e-Ittehadul Muslimeen (AIMIM) chief Asaduddin Owaisi's convoy in poll-bound Uttar Pradesh. Owaisi had shared in public when his convoy was shot at on Thursday when it was near the Chhajarsi toll plaza. Owaisi shared images of three bullet marks on his car, and highlighted the law and order situation in Uttar Pradesh for "the well-planned attack." Asaduddin Owaisi has also sought time to meet the Lok Sabha Speaker today, Friday, February 4 to discuss the attack.
कुछ देर पहले छिजारसी टोल गेट पर मेरी गाड़ी पर गोलियाँ चलाई गयी। 4 राउंड फ़ायर हुए। 3-4 लोग थे, सब के सब भाग गए और हथियार वहीं छोड़ गए। मेरी गाड़ी पंक्चर हो गयी, लेकिन मैं दूसरी गाड़ी में बैठ कर वहाँ से निकल गया। हम सब महफ़ूज़ हैं। अलहमदु'लिलाह। pic.twitter.com/Q55qJbYRih

— Asaduddin Owaisi (@asadowaisi) February 3, 2022
The two persons arrested and accused of targeting Owaisi's car told the police that "were planning to attack the leader for some time," reported India Today. The accused, Sachin and Shubham, were planning the attack "for some time" and were regularly attending "almost every public rally by Owaisi and were also present at the site of his poll rally in Meerut on Thursday." reported IT. The accused were tracking Owaisi and attacked when the vehicle stopped at the toll gate.
The men arrested have reportedly told the police that they were "hurt by the anti-Hindu comments". An illegal 9mm pistol was recovered from one of them. Owaisi stated that he was attacked when returning from Meerut. He said, "I had a roadshow in Meerut and Kithau. When I was returning, bullets were fired at my car. Somehow my car managed to escape. I have seen two people. One was wearing a red hoodie while the other was wearing a white jacket. The tyre of my car punctured and after 2-3 km, I changed the car. I talked to the additional SP who said one is arrested and arms were recovered. There are three bullet marks on my car. The SP said the forensic team will investigate."
He further told mediapersons, "It is the responsibility of the Chief Minister Yogi Adityanath-led Uttar Pradesh government as well as the central government to look into the matter. I will also meet the Lok Sabha Speaker on this matter. Attack on a sitting MP is a very serious matter. I believe it is a well-planned attempt to hurt me. The incident took place near the toll plaza, which means the attackers were already doing recce. It is not the first time that there is an attack on me. The Election Commission should take notice of it since I was campaigning for the polls,".
According to news reports, AIMIM leader Imtiaz Jaleel, when speaking on the motion of thanks to the President's address in Lok Sabha, raised the issue of firing on Owaisi's car on Thursday. He took to social media to announce that units of AIMIM across the country will hold peaceful protests on Friday against the incident.
All AIMIM units across the country will be registering a peaceful protest on Friday and will be submitting memorandum to respective DMs/Commissioners seeking thorough investigation into attacks on Asad Owaisi. Also seeking highest security at his public meetings in UP.

— Imtiaz Jaleel (@imtiaz_jaleel) February 3, 2022
While his critiques have been active since yesterday to dismiss this open attack on Owaisi in poll-bound Uttar Pradesh as a 'stunt' or not serious enough, it is crucial to note that this attack comes in the wake of calls given to "behead" Asaduddin Owaisi, by repeat hate offender Bhupinder Tomar alias Pinky Chaudhary, who had said, "As long as the warriors and volunteers of Hindu Raksha Dal work together as a unit and follow the path of Hindutva, they will behead you (Owaisi)," and, "Teri Gardan kaat kar mera naam badhaenge, (They will make my brand/name grow once they behead you)." Chaudhary's hate speech and direct call for violence was met with cheering from his Hindutva soaked audience.
Prayagraj 'Sant Sammelan' called for "Hindu rashtra"
Days ago, a finale 'Sant Sammelan' was held in Prayagraj and calls were given to declare India a "Hindu rashtra" as well as hate speeches against Muslims flew free. This 'Sant Sammelan', was reportedly organised by those who organised Dharma Sansad. This too was to bear a similar name, but was changed to 'Sant Sammelan' after protests and the fact that calling it Dharma Sansad will raise multiple concerns and maybe hamper the event itself. The seers' apart from demanding that India be declared "Hindu nation" claimed "patriotic Muslims" were to be 'brought back home' to the Hindu fold.
Recently Union Home Minister Amit Shah claimed "goonda raj" will return to Uttar Pradesh if the Akhilesh Yadav led Samajwadi Party (SP) comes to power in the Assembly polls. Referring to the SP government of the past, Shah asked, "Wasn't there a goonda raj? Didn't the bahubalis (strongmen) trouble people? Weren't the sisters and daughters humiliated?"
However, it is in Adityanath's Uttar Pradesh where anti-Muslim, anti-Christian, anti-Dalit, and anti-women attacks are being reported regularly. On Thursday, January 3, the Uttar Pradesh Chief Minister also claimed, "Since 2017, no riots or terrorist activities have taken place in the state." And yet the government is investing even more in security. "We are building an Anti-Terrorism Squad Centre at sensitive places in view of national security," he said. He attacked his opponents and appeared to be accusing them of Muslim appeasement when he said, "They only indulged in 'Bandar baat' in the name of development and the Akhilesh Yadav government's development was seen only in the boundary walls of 'kabristan'." Adityanath also 'compared' his inclumbent regime to that of the SP in 2016-2017 with BJP and claimed that "NCRB data showed cases of 'dacoity' came down by 58 per cent, loot by 64 per cent, murder by 23 per cent, kidnapping by 53 per cent, dowry killing by 8 per cent, and rape by 43 per cent," adding, "We introduced the anti-conversion law and the Uttar Pradesh Recovery of Damages to Public and Private Property law." He also said "155 hardcore criminals were killed in encounters," and, "As many as 48,038 people were arrested under the Gangster Act, while the National Security Act was invoked against 694 criminals."
However a recent People's Union for Civil Liberties (PUCL) draft listing all human rights violations in Uttar Pradesh shows that 40 percent of India's human rights abuses in 2021 occurred in Uttar Pradesh. The PUCL said, "UP is at the forefront of violence against women. In the case of Dalit atrocities, 25.8 percent of all Dalit atrocities in India are from Uttar Pradesh, which is the highest. During the current rule of the BJP's 'Yogi government', cases of fake encounters increased unexpectedly, which raised deep concern amongst human rights organisations all over the world."
Related:
Will Bulandshahr gangrape-murder case take the Hathras route?
Is Prayagraj's 'Sant Sammelan' just another edition of Haridwar's infamous Dharma Sansad?
Uttar Pradesh: Why were communal slogans raised in Ghaziabad?
Is hatemonger Pinky Chaudhary hoping for a political debut?