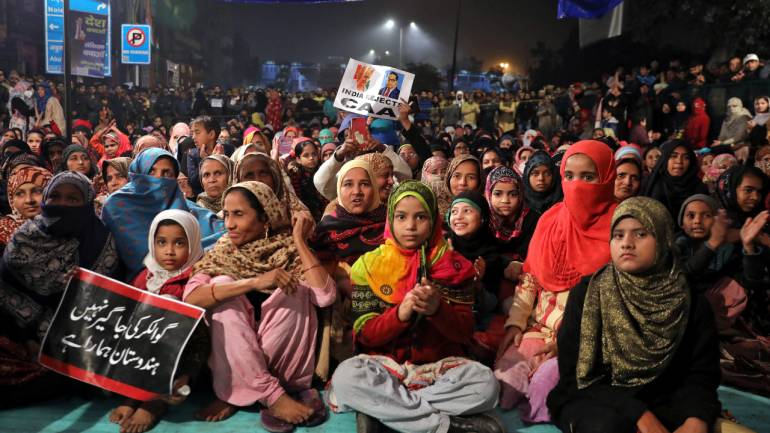 The last time Shaheen Bagh was discussed this passionately by politicians in Delhi was just before the Assembly elections were due in February this year. By then, the women revolutionaries of Shaheen Bagh had already braved Delhi's freezing winter, and sustained their peaceful sit-in protest, against the Citizenship (Amendment) Act (CAA) in December 2019, round-the-clock, for months. At that time politicians, of all parties were loath to support the women, but the movement got global recognition as pioneers of a unique people led moment. And this 'mother protest', in turn gave birth to scores of 'mini' Shaheen Baghs, across the country.
Once Delhi's election campaign picked up steam when the top leaders of Bharatiya Janata Party (BJP), already in power at the Centre, and the Delhi's Aam Aadmi Party (AAP), began challenging each other. While the BJP was open in its attack on the Shaheen Bagh protest in particular, the AAP chose to ignore it by and large, and with that adding fuel to the BJP's campaign. While the AAP won Delhi elections, the BJP succeeded in creating a communal focal point, around which events began to unfold in the city. The riots of North East Delhi, have been documented in news, fact finding reports, and investigations are still ongoing.
However, a day after Independence Day, the Delhi BJP unit's grand welcome to its new Muslim members; Shahzad Ali, Dr. Mahrin and Tabassum Hussain, have reignited a fresh debate. Shahzad Ali, who claims to be an activist from Shaheen Bagh generated most buzz when he joined the Delhi unit of BJP in presence of state party chief Adesh Gupta and National vice president Shyam Jaju. "I welcome and greet all my colleagues in the BJP family," said Delhi BJP head Adesh Gupta.
रा. उलेमा काउंसिल सचिव श्री शहजाद अली, डॉ. महरिन व मा. तबस्सुम हुसैन जी भाजपा में शामिल हुए। इस अवसर पर राष्ट्रीय उपाध्यक्ष @ShyamSJaju जी, अल्पसंख्यक मोर्चा अध्यक्ष मो. हारुन कारी व @abbas_nighat जी उपस्थित रहे।

मैं भाजपा परिवार में सभी साथियों का स्वागत एवं अभिनंदन करता हूँ। pic.twitter.com/FusTrZPtua

— Adesh Gupta (@adeshguptabjp) August 16, 2020
Delhi BJP stated, "Social worker Shahzad Ali, gynecologist Dr Mehreen, former AAP worker Tabassum Hussain along with a large number of Muslim brothers and sisters joined the Bharatiya Janata Party". News reports quoted Ali, former Delhi unit secretary of Rashtriya Ulema Council as saying, "A narrative has been set by many parties in the past seven decades that BJP is the enemy of Muslims. I think you will have to go to BJP to find out if it's your enemy or friend. We received a warm welcome from party leaders today and look up to work with them like any other party worker." Delhi BJP leader Nighat Abbas said the people who joined the party are residents of Shaheen Bagh area. This claim to activism was rubished soon enough under a deluge of comments such as:
If SB led to such polarization, Amanatullah Khan wouldnt have won with that margin. Ppl across communities voted for him.

Anyways, given that AAP & BJP are now fellow travellers in the project of dismantling the Constitution, pls tell ur boss to now officially become Nitish jr. https://t.co/nrxmGpYpBs

— Umar Khalid (@UmarKhalidJNU) August 17, 2020
I covered #ShaheenBagh from week 1, the 1st Indian mainstream TV reporter to have started covering it persistently.

It was started & led by women. Women who braved the biting cold. Women who were labeled for raising their voice. NETAS DIDN'T STAND FOR THEM WHEN SB NEEDED SUPPORT

— Saahil Murli Menghani (@saahilmenghani) August 17, 2020
Lol BJP lies again.

Shahzad Ali was never a "Shaheen Bagh activist".

In Feb 2019, Rashtriya Ulama Council had appointed Shahzad Ali as its Secretary for Delhi. Rashtriya Ulama Council is a pro-BJP group.

What a pathetic way of planting stooges, BJP.

Not gonna work. https://t.co/WV1tisayCH pic.twitter.com/kqMQIv5USQ

— Saket Gokhale (@SaketGokhale) August 16, 2020
Very funny. Will somene tell me what is a Shaheen Bagh activist? Shaheen Bagh is not a political party. It is a locality with over 1 lakh residents. Have u ever heard of Greater Kailash activist, Jungpura activist or Patparganj activist?
Desperate PR stunt of a desperate BJP!1/2 https://t.co/AgMSoNFXR0

— Nabiya Khan | نبیہ خان (@NabiyaKhan11) August 16, 2020
And while the rest of the city, especially residents of Shaheen Bagh and media who had covered the protests were vocal in saying that the three newly minted members were not even a part of the Shaheen Bagh movement, the AAP found a moment to make a political point. After months of silence, this energetic, rebuttal would have made Delhi residents wonder if fresh elections were going to be announced in the city.
On Monday, August 17, the AAP, perhaps for the first time, openly accused the BJP of sponsoring the anti-CAA protest at Shaheen Bagh, and indicated that the same was done in then North East Delhi riots. Senior AAP leader, and MLA Saurabh Bhardwaj called a press conference and said that "The inclusion of the leaders of Shaheen Bagh protest into the party by top BJP leaders has made it clear that the BJP was the creator of the anti-CAA stir there. There were many who were at Shaheen Bagh to uphold democracy, they must also be shocked to see they were being cheated" said Bhardwaj adding that the BJP may have also won some seats from the North-East in Assembly polls because of Shaheen Bagh, and creating a gap between Hindus and Muslims, "In Delhi, the BJP rose from 18% to 38% due to Shaheen Bagh. As they could not win the elections they caused riots". He urged people to share clips from his press conference over Whatsapp and social media, adding that it should reach BJP supporters.
Hon'ble MLA Shri @Saurabh_MLAgk addressing important press conference on BJP-Shaheen Bagh nexus | Live https://t.co/pBD0iAoRXi

— AAP (@AamAadmiParty) August 17, 2020
"Analyse the chronology of events, understand the politics behind it and then take future decisions. Share this clipping to your friends in BJP. They need to understand how a political party used its own workers as pawns," said Bharadwaj. It should be pointed out here that Delhi's Municipal elections are due only in 2022, however the AAP had declared that it will begin the ground work soon after it had won the Assembly elections. Perhaps the delay can be attributed to the sudden Covid-19 pandemic, the national lockdown, and the fact that the Delhi government could not be seen as confronting the BJP-led union government during this crisis.
But the unlock is now under process, and politics cannot wait. Hence the AAP recounted the chronology of the Shaeen Bagh protest all the way from Dec 11 2019, when the CAA Bill was passed in Parliament. The AAP which had not protested the Bill then, recalled how on December 4, the Delhi-Noida expressway, a massive six-lane road was "jammed by 10 women". They accused Delhi Police of 'helping' the protest that then lasted for the next 101 days. "Delhi police 'helped' them and closed all Delhi-Noida roads barricaded and stopped roads. There are thousands of such protests in Delhi. But I don't remember if those protests lasted more than a day by Delhi police. But this lasted 101 days. People came from morning till night. Some sat overnight," this said Bharadwaj was because the Delhi Police "let them".
"If we call a protest at Jantar Mantar today Delhi Police will jam the roads, close the metro stations but.. this was allowed for three months. Delhi police let it happen. We have always said the day the Union Government tells them., Delhi Police can end this… but it was not interested in topping this protest. One lakh vehicles were troubled."
The AAP has now said that it was the BJP that got "the maximum political benefit from Shaheen Bagh?" Adding that the party did not fight Delhi Elections over water, electricity, roads etc, "They fought over Shaheen Bagh… not just Anurag Thakur, Pravesh Serma. A strategy, battle plan was scripted at the highest level. Who will abuse, what will they say. Scripts was prepared," Bharadwaj alleged, adding that "BJP leader Pravesh Verma had on January 28 said things like 'the way in which Kashmir's mothers and sisters were raped… the same people will come and rape your mothers and sisters in Delhi'," he also quoted the February 4 speech and alleged that BJP leader "Anurag Thakur said, "'desh ke gaddaron ko, goli maaro s***on ko', India's home minister Amit Shah, Yogi Adityanath, continuously kept asking for votes on shaheen bagh…"
There is no insult to brave protesters when AAP talks of the #BJPShaheenBaghExpose

There is undeniable evidence that a section of the protesters was adamant on continuing to block the street despite knowing the polarisation it was causing

That section joined the BJP officially. https://t.co/aR1E8WHq0K

— Akshay Marathe (@AkshayMarathe) August 17, 2020
The AAP's deja vu press meet also recalled HM Amit Shah's comment 'press the BJP button on the EVM, and the current must be felt in Shaheen Bagh,' etc. However the AAP leader has hinted that his party "did not understand" it then, and now has "realised that BJP had messed the wiring up. Wires from the BJP button were connected to Shaheen Bagh. Amit shah would explain but we did not understand,".
As expected, the saffron party does not seem ruffled at all. Instead it has questioned Delhi CM, and AAP chief Arvind Kejriwal on what his intentions are. The most vocal has been BJP MP from North East Delhi Manoj Tiwari, who once led the state unit before being replaced, "Arvind Kejriwal should stop dividing Hindus and Muslims. The BJP being the world's largest party represents all religions and does not discriminate on the basis of faith, caste…"
बताइए अब जब भ्रम मिट रहा है और मुस्लिम भाई बहन @BJP4Delhi के साथ चलना चाहते हैं तो आप के पेट में क्यों दर्द हो रहा है,Stop dividing @ArvindKejriwal ji
विश्व की सबसे बड़ी पार्टी @BJP4India सभी धर्मों का प्रतिनिधित्व करती है और धर्म,जाति, पंथ या वंश के आधार पर कोई भेदभाव नहीं करती। https://t.co/IfFwu32OxU

— Manoj Tiwari (@ManojTiwariMP) August 17, 2020
Even though the AAP now claims that it has understood the 'entire strategy' and also understood that when the matters were raised in courts it was ruled that "it is a law and order matter. Delhi police should investigate. But the Delhi police did not investigate," it has not said what it will do with this realisation. Will it ask the courts to re-investigate all cases related to Shaheen Bagh, and the communal riots of North east Delhi? Or will it use this new found knowledge to just throw political barbs at BJP. While the AAP is yet to share the next steps in its plan to 'expose' the BJP's alleged involvement in the anti-CAA-NRC-NPR stir that was Shaheen Bagh, it is the citizens of Delhi who are keeping a close watch on both.
"If I'm the only person left, I will still fight till the end for Shaheen Bagh. Kyon ki Shaheen Bagh akela khada tha poore desh ke HAQ ke liye. Shaheen Bagh ki har ek aurat/ladki bharat maata hai. Aankhon mein sachchai aur desh ke liye pyar hai.'
If I m the only person left, I will still fight till the end for Shaheen Bagh.
Kyon ki Shaheen Bagh akela khada tha poore desh ke HAQ ke liye.
Shaheen Bagh ki har ek aurat/ladki bharat maata hai. Aankhon mein sachchai aur desh ke liye pyar hai. pic.twitter.com/bCTdkmdBzU

— Rakhi Tripathi (@rakhitripathi) August 17, 2020
Related:
1100 feminists write to PM against targeting of anti-CAA women protesters
Burqas, Bindis, and Bangles: The Femme Revolution of India
Shaheen Bagh: You can't evict an idea
Shaheen Bagh protest sites cleared by Delhi Police, Graffiti and art installations torn down
Shaheen Bagh, the mother of them all
Losing the plot – How AAP failed its Muslim citizens in the Delhi riots