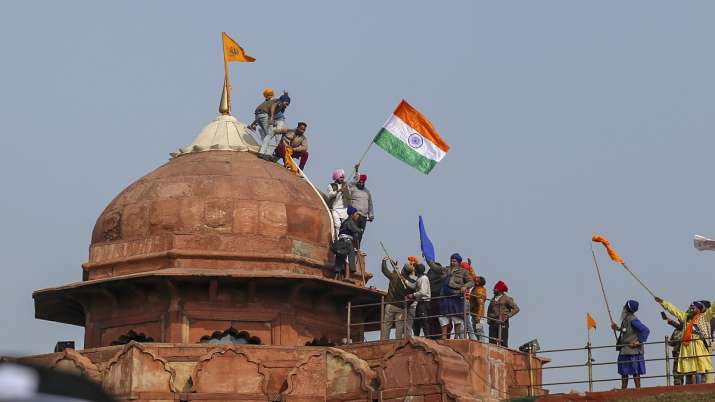 Image courtesy: PTI
Additional Sessions Judge Charu Agarwal of the Tis Hazari court has granted bail to one Akashpreet Singh in connection with the Republic Day violence after observing that mere presence and climbing on the Red Fort wall by the accused cannot justify his further incarceration.
She said, "At this stage of the matter, mere presence and climbing on the wall by the accused cannot justify his further incarceration as he is already in JC (judicial custody) since 03.02.2021. Investigation qua him is already completed," and therefore, allowed his bail application subject to furnishing of personal bond of Rs. 25,000 and a surety of the like amount.
An FIR was registered against him under sections 307 (attempt to murder), 308 (culpable homicide not amounting to murder), 395 (dacoity), 397 (dacoity with attempt to cause death), 427 (mischief), 188 (disobedience to order by public servant), 120B (criminal conspiracy) and 34 (common intention) of the Indian Penal Code read with relevant sections of the Arms Act, Prevention of Damage to Public Property Act, 1984 and Ancient Monuments Preservation Act.
Akashpreet's lawyer argued that he has no active role to play in this alleged crime and that he was present at the Red Fort and was climbing on the wall but his mere presence and climbing will not make him a member of the unlawful assembly. Further, it was argued that he was in fact the "victim of the crime" as he suffered a firearm injury while distributing water to the people near the spot on January 26.
But the prosecution argued that since the accused, along with other protesters, broke the police barricades and forcibly entered the Red Fort area thereby attacking the police and damaging police vehicles, bail should not be granted. It was also argued that from the photographs placed on record, Akashpreet could be clearly seen at Red Fort and that was sufficient to show his culpability in the offence.
To this, the court observed, "Presently, the only material against the applicant with the prosecution is his photographs at the spot i.e., Red Fort showing that he is climbing at the wall. No active role as instigator or attacker on the police personnel has been assigned to the applicant in the alleged crime."
His bail plea was allowed by the court after holding that his mere presence at Red Fort does not prove his guilt.
The order may be read here:
Related:
Farmer Navreet Singh's death: Delhi HC directs UP Police to submit post mortem video
Farmer Navreet Singh's death not due to gun-shot injury: Police to Delhi HC