Mumbai
: Registered cases of sexual harassment at Indian workplaces increased 54% from 371 in 2014 to 570 in 2017, according to official
data
.

In all, 2,535 such cases were registered over the four years ending July 27, 2018–that is nearly two cases reported every day–as per government data tabled in the Lok Sabha (lower house of parliament) on July 27, 2018 and December 15, 2017
Over the first seven months of 2018, ending July 27, 533 cases of sexual harassment were reported across the country, as per the data.
India is now witnessing its own #MeToo movement, a year after it swept through United States following allegations of rape and molestation against movie moghul Harvey Weinstein. This has empowered several women to take to social media and voice personal stories of harassment and out alleged perpetrators.
Tanushree Dutta, a model and Bollywood actress, was the first to allege harassment by actor Nana Patekar on the sets of a movie in 2008. Dutta has now filed a fresh complaint with the police naming Patekar, choreographer Ganesh Acharya, producer Samee Siddiqui and director Rakesh Sarang–all of them were connected to her film Horn Ok Please.
On October 11, 2018, she recounted to the police how Patekar had "indecently" touched her on the sets of the movie. Dutta had made these allegations in an interview to the television channel Zoom on September 25, 2018.
MJ Akbar, minister of state for external affairs and former editor of The Asian Age and The Deccan Chronicle, has been accused by 10 women journalists so far of sexual harassment at the workplace. These included accusations that he summoned young female journalists to hotel rooms and harassed them at work. The opposition, mainly the Congress, has demanded Akbar's resignation.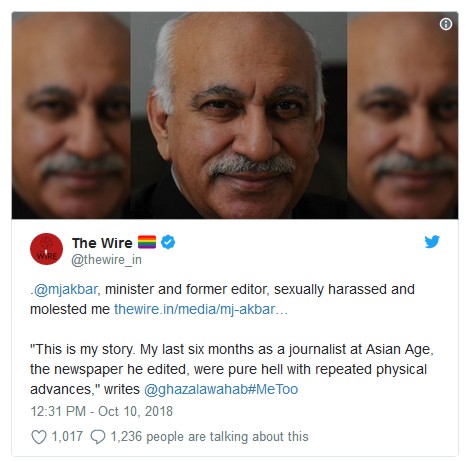 There have been allegations of harassment against other prominent personalities from various industries–cinema, television, media, advertising, music and entertainment. These include actors Alok Nath and Rajat Kapoor, directors Vikas Bahl, Subhash Ghai and Sajid Khan, Tamil lyricist and poet Vairamuthu, journalists Prashant Jha, Mayank Jain, Meghnad Bose, KR Sreenivas and Gautam Adhikari, comedian Utsav Chakraborty and advertising consultant Suhel Seth.
UP reported most cases, followed by Delhi
Uttar Pradesh–the country's most populous state–reported the most cases (726 or 29%) over 2014-18, followed by Delhi (369), Haryana (171), Madhya Pradesh (154), and Maharashtra (147), as per the data presented in Lok Sabha.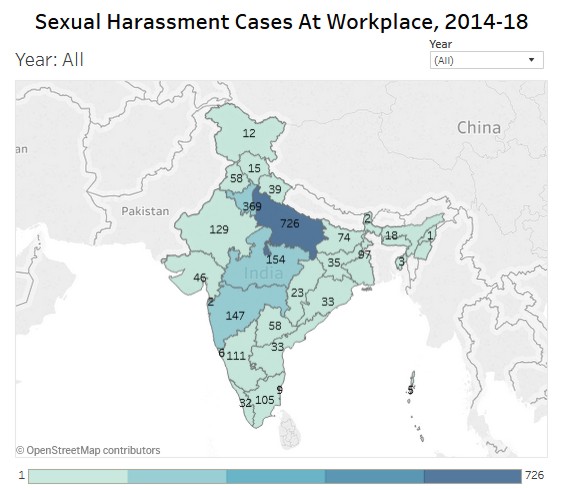 Source: Lok Sabha July 27, 2018; December 15, 2017; 2018 figure as on July 27, 2018
Section 354A of the Indian Penal Code (IPC) deals with offences related to sexual harassment, which includes physical contact, unwelcome and explicit sexual overtures, demand or request for sexual favours, showing pornography to a woman against her will and making sexually coloured remarks.
In an another set of data, the National Crime Records Bureau (NCRB) categorises "insult to modesty of women" under section 509 of the IPC. This includes workplace harassment. NCRB reported 665 such cases in 2016, down 20% from 833 cases in 2015 and up 26% from 526 cases in 2014. The offence could be uttering a word or sound, making a gesture or committing an act intended to insult a woman.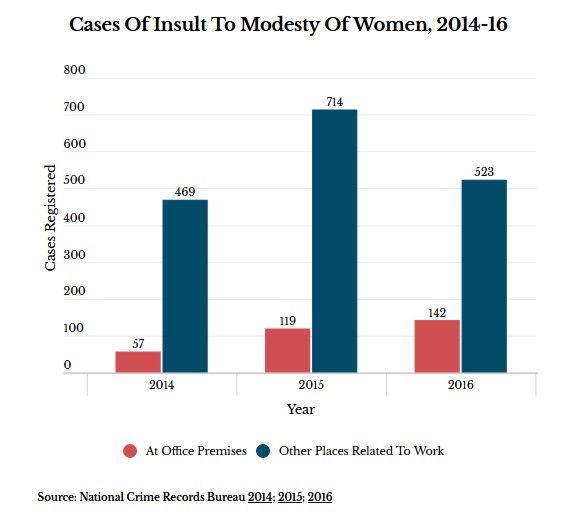 Why women are afraid to speak up
As many as 70% women said they did not report sexual harassment by superiors because they feared the repercussions, according to a survey conducted by the Indian Bar Association in 2017, of 6,047 respondents, IndiaSpend reported on March 4, 2017.
"Low or no reporting speaks volumes about the gender sensitivity of a particular organisation," Anagha Sarpotdar, a researcher working on sexual harassment at workplace, had told IndiaSpend. "Women may not know where to go to report harassment or it could be that the cases may not have been dealt with sincerely. Often, women go to committees believing them to be independent, and find that they are actually puppets in the hands of their superiors."
But voices against sexual harassment at workplaces have grown stronger. Twenty-three cases of sexual harassment were filed by sportspersons against their coaches or Sports Authority of India officials, Rajyavardhan Rathore, minister of state (independent charge) ministry of youth affairs and sports, informed the Lok Sabha in his reply on July 19, 2018. However, the time period during which these cases were registered was not mentioned.
"The complaints are dealt with as per the Sexual Harassment of Women at Workplace (Prevention, Provision and Redressal) Act, 2013 and the Protection of Children from Sexual Offense Act (POCSO Act), 2012," Rathore said.
The central government has enacted Sexual Harassment at Workplace (Prevention, Prohibition and Redressal) Act, 2013 with the objective of creating a safe and secure work environment in both the organised and unorganised sector.
The Act provides redress to an "aggrieved woman", which includes women employed by the organisation as well as women associated with it in any capacity such as a visitor or an intern, Vrinda Grover, an advocate at the Supreme Court wrote in The Indian Express on October 12, 2018. It also applies to "women aggrieved by sexual harassment committed in relation to the work or workplace of that organisation".
Who can a female employee complain against? "A complaint can be filed against an employee of the organisation, or even an outsider who comes into contact in the course of or in relation to the work, such as a consultant, service provider, a vendor, with the workplace or the organisation," Grover wrote.
The ministry of women and child development has set up what it calls the Sexual Harassment electronic–Box (SHe-Box), an online complaint system for registration of complaints related to sexual harassment at workplace. This can be used by employees of government and private sectors.
The SHe-Box was launched on July 24, 2017, and received 107 complaints up to February 2018. How effective is the forum? Here is feedback from one user: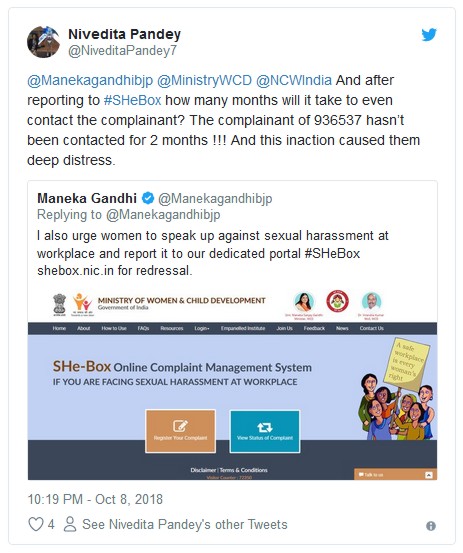 Maneka Gandhi, union minister for women and child development, on October 12, 2018, announced the formation of a committee consisting of four retired judges to conduct public hearings of cases of arising from the #MeToo movement.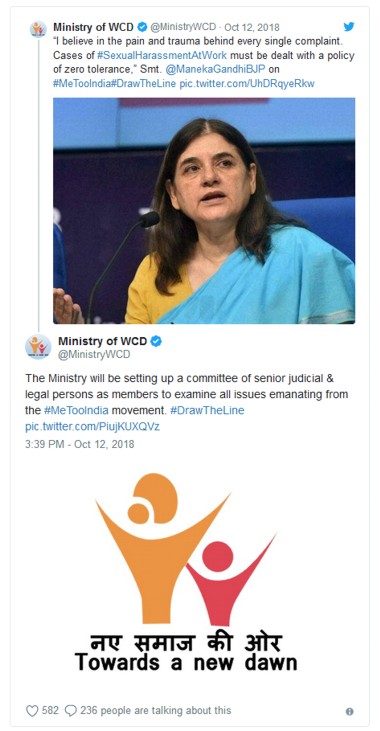 (Mallapur is an analyst, and Alphonso, a post-graduate diploma holder in journalism from St Paul's Institute of Communication Education, Mumbai, is an intern with IndiaSpend.)
Courtesy: India Spend