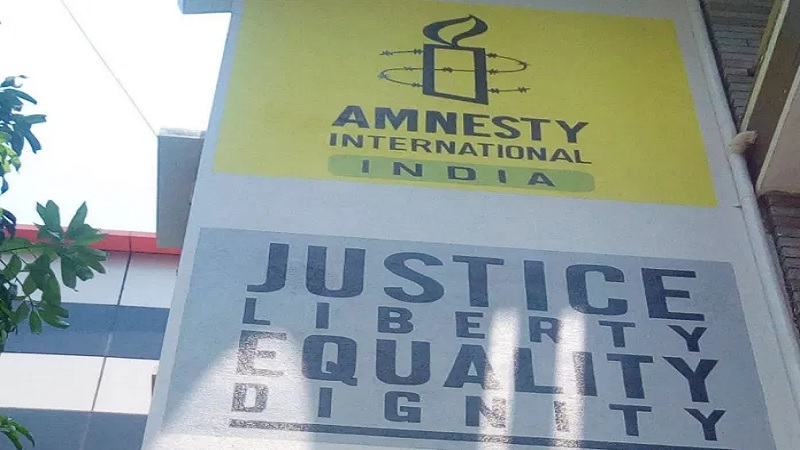 Image Courtesy:opindia.com
Hours after Amnesty International India announced that it was halting its operations in the country due to the government freezing their bank accounts as a part of a "witch-hunt", the Ministry of Home Affairs (MHA) has countered the human rights organisation's claims via a statement of its own.
The MHA says, "The stand taken and the statements made by Amnesty International are unfortunate, exaggerated and far from the truth." It goes on to lay down the "facts of the matter" stating, "Amnesty International had received permission under the Foreign Contribution (Regulation) Act (FCRA) only once and that too twenty years ago (19.12.2000). Since then Amnesty International, despite its repeated applications, has been denied FCRA approval by successive governments since as per law it is not eligible to get such an approval."
It added, "However, in order to circumvent the FCRA regulations, Amnesty UK remitted large amounts of money to four entities registered in India, by classifying it as Foreign Direct Investment (FDI). A significant amount of foreign money was also remitted to Amnesty (India) without MHA's approval under FCRA. This mala fide rerouting of money was in contravention of extant legal provisions."
It is noteworthy that a fact-finding report by Amnesty into the February 2020 Delhi violence had exposed the alleged complicity of the police in exacerbating the targeted violence against the minority community, often by way of inaction upon receiving complaints. This report was released in late August and the human rights organisation had demanded an independent enquiry into the role of the police. Shortly thereafter in early September, Amnesty's bank accounts were frozen.
Perhaps still smarting from Amnesty's damning report, the MHA is now engaging in a deliberate demonisation of the human rights group with whom the regime has a long and checkered history. The MHA statement attempted to dismantle Amnesty's goodwill saying, "All the glossy statements about humanitarian work and speaking truth to power are nothing but a ploy to divert attention from their activities which were in clear contravention of laid down Indian laws. Such statements are also an attempt to extraneously influence the course of investigations by multiple agencies into the irregularities and illegalities carried out over the last few years."
But then the MHA scores a self-goal saying, "Amnesty is free to continue humanitarian work in India, as is being done by many other organizations. However, India, by settled law, does not allow interference in domestic political debates by entities funded by foreign donations. This law applies equally to all and it shall apply to Amnesty International as well."
Further reiterating that Amnesty was right about being targeted for their work, the MHA says, "India has a rich and pluralistic democratic culture with a free press, independent judiciary and tradition of vibrant domestic debate. The people of India have placed unprecedented trust in the current government. Amnesty's failure to comply with local regulations does not entitle them to make comments on the democratic and plural character of India."
Related:
Amnesty halts India operations
Dialed 100 repeatedly, got no answer: Delhi riot survivor
Establish independent review of Delhi Police's role North East Delhi riots: Amnesty