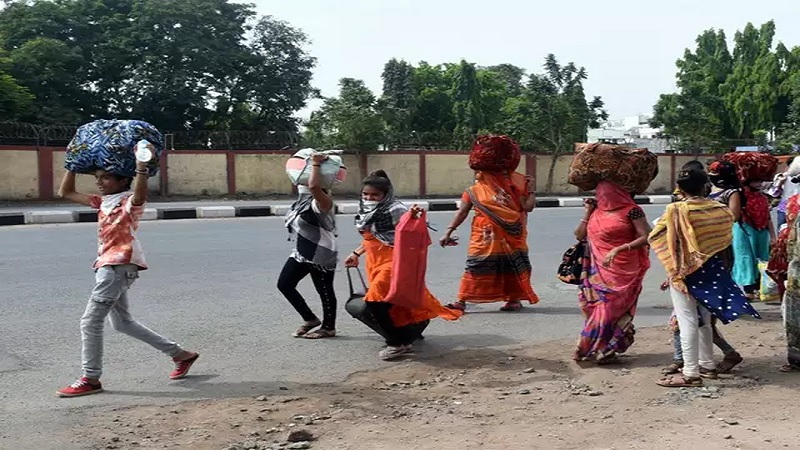 Image Courtesy: nagalandpage.com
In light of the Covid-19 outbreak, the Union Ministry of Home Affairs (MHA) has issued an advisory to all States and Union Territories, requesting them to make necessary arrangements, especially of food and shelter for migrant and industrial workers and others from the unorganized sectors to help them tide by the during the coronavirus lockdown.
The advisory also urged governments of the states and UTs to make sure that students and working women from other regions be allowed to continue living in their existing accommodation.
The advisory reads, "In order to mitigate the situation for unorganized sector workers, particularly stranded migrant workers, States/UTs need to explore measures by involving various agencies, including NGOs, to provide food and shelter with basic amenities like clean drinking water, sanitation etc."
It also adds, "States/ UTs need to ensure that hotels, rented accommodations, hostels etc., continue to remain functional and delivery of essential items is streamlined, so that students, working women hostel inmates etc. are allowed to continue in existing facilities, while observing precautions."
The advisory also directed that vulnerable groups of society must be made aware of government measures like the provision of free food grains and other essentials through PDS.
Relief measures for the marginalized sections of the community during the Covid-19 outbreak have been undertaken by most states.
Delhi
The Delhi government on Friday, transferred Rs. 5,000 each to eight lakh beneficiaries under the widow, differently-abled and elderly pension schemes and promised to transfer another Rs. 5,000 in the first week of April to help them cope with the crisis among the outbreak of Covid-19, the Deccan Herald reported.
Delhi CM Arvind Kejriwal said that the eight lakh beneficiaries consisted of five lakh elderly, two lakh widows and one lakh disabled. From the capacity to serve only 20,000 people, it enhanced it up to 2 lakh and looks to enhancing the serving capacity to four lakh from today, Saturday.
The Delhi government has also urged migrant workers leaving Delhi to come back saying that the government would arrange food and other essentials for them. 325 schools have been identified where food would be served to migrant workers and other vulnerable sections. CM Kejriwal said, "Those who are leaving Delhi and going back to their home states, I want to appeal to them to come back because we are arranging for their food. Many social and religious organizations, along with the Delhi government, have come forward to help."
He also added, "There can be some difficulties and errors on our part. I want to appeal to the media to keep intimating us on our mistakes. We will eventually be able to streamline the process in another two-three days."
Goa
The state of Goa too has just released a relief package for nearly 19,000 registered construction workers that would be done through direct debit transfer without the need for any application, reported The New Indian Express.
Goa's labour minister Jennifer Monserrate said that these construction workers would get a monetary package as well as one-time relief in light of the Covid-19 crisis.
"As an emergency measure, all registered construction workers will get 15-day wages of a semi-skilled workers under the Goa Building and Other Construction (GOBC) Workers Welfare Board Assistance Scheme," Monserrate said.
"We have also decided to sanction Rs 4,000 as one-time relief to all GBOC workers. This shall benefit another 4,000 eligible labourers. I hope this support may help them tide over this calamity with dignity," she said.
Also after failing to execute the plan of home delivering essential commodities to the people, Goa CM Pramod Sawant also announced that grocery shops would remain open for the same.
West Bengal
West Bengal CM Mamata Banerjee has once again demanded a Rs. 1,500 crore relief package for the state from the Central government to ramp up its efforts in curbing the spread of the coronavirus.
Speaking to reporters she said that the Centre must provide a special package to WB as the state is finding it difficult to do "everything with its limited resources."
Stating that the state has managed to create a Rs. 200 crore fund, it is not enough to procure necessary equipment like ventilators. She said, "We had made the same request at the all-party meeting two days back. The Centre should announce a special financial package for the state in the current situation."
Earlier, CM Banerjee had announced a "one-time assistance" of Rs. 1,000 for around 60 lakh workers of unorganized sectors. She had also announced a Rs. 5 lakh insurance scheme for 10 lakh workers battling the virus from the frontlines.
With regards to essential commodities, she said that neighbourhood grocery stores would remain open and delivery personnel belonging to online aggregators delivering essential commodities would be given passes to ensure their safety in light of harassment by the police.
Uttar Pradesh
The Uttar Pradesh government has appointed a team of 12 nodal officers along with IPS officers to attend to the needs of migrant workers. The decision was announced by UP CM Yogi Adityanath after hundreds of people were seen walking on the Agra-Lucknow Expressway trying to return to their native villages. He also urged those walking back to stay where they were for the next 21 days in a bid to stop the virus' transmission and ensured that adequate relief would be provided to them.
The Uttar Pradesh government is set to provide free food grains for April and May to more than 8.38 million widows, elderly and handicapped pensioners.
Other states like Maharashtra, Tamil Nadu, Karnataka, Odisha, Chhatisgarh, Haryana, Punjab and Kerala are also in the process of distributing meals to the poor and marginalized, anganwadi workers and children and PDS beneficiaries.
Down to Earth Magazine however, points out that there is no clarity as to how either the financial aid or the ration will reach people. Most people in India do not have bank accounts, so transferring money becomes a moot point. Even with ration, most of the schemes only allow for the provision of rice and flour. Other essential items are outside this gamut.
It says, for example, Karnataka government initially announced that food will be provided free of cost to the poor through state-run 'Indira Canteens'. But after the lockdown was imposed, it closed all such canteens to avoid large gatherings. An alternate plan was not chalked out till March 25, 2020.
The state of Madhya Pradesh is yet to chalk out a plan for its 45 percent of labourers and migrants.
It is imperative that the government move from a centralised to a de-centralised system of distribution. It is commendable that the state governments are trying to ensure that everyone within city limits or at the border be given basic sustenance facilities. But it must also rope in private organizations and NGOs and also sensitize the police towards these initiatives to ensure the smooth functioning of providing aid.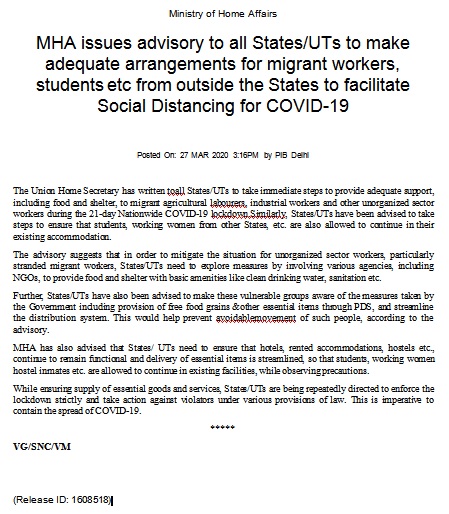 Related:
States announce relief measures; Centre still mum on economic aid for Covid-19
Covid-19: PM announces relief package for the poor