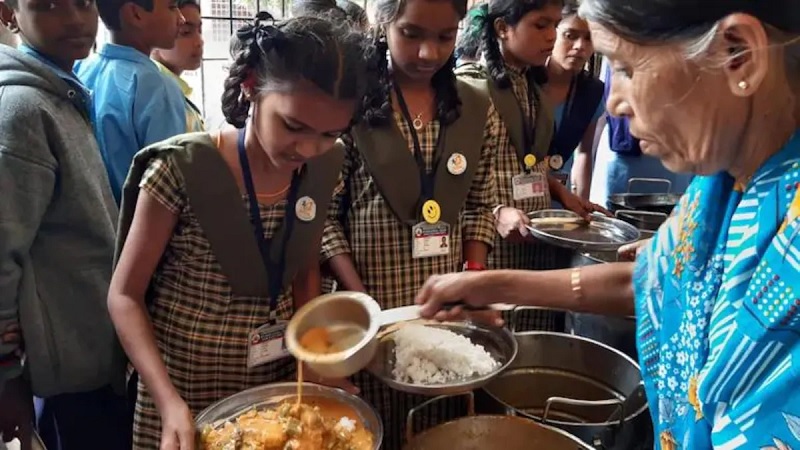 Image Courtesy: indiatoday.in
After repeated government promises of delivering eight-months pending wages of mid-day meal cooks, Varanasi workers on November 11, 2021 said they received only Rs. 7,500 that accounts for five months of labour.
Veteran cook Laxmi breathed a sigh of relief on Thursday when her bank account finally showed credited money. Sadly, her happiness was short-lived when she realised the Uttar Pradesh government had only sent her wages of five months of work – Rs. 7,500 – instead of eight months of salary – Rs. 12,000.
"I checked my account this morning and I saw I received some money. But it isn't the complete amount I should receive," Laxmi told SabrangIndia.
Her news has especially confused her colleagues, who said that they haven't received any similar intimations or updates from their accounts. With two-to-six children in every house of the five cooks in Mahaulipur, Cholapur block's public primary school, the need for money grows dire. However, according to Mid-Day Meal Authority (MDMA) Varanasi AD(B) Kishore, the school department has no more funds to pay the pending money to workers.
"We received these funds some days ago and immediately distributed them among people. All the cooks will get their wages soon but as of now, there is no more money. We are waiting for the next allocation of cash," he said.
Since February, MDM cooks have demanded full payment of their wages that amount Rs. 12,000 per 3.95 lakh cooks in the state. This means that cooks received Rs. 50 for a day's work as opposed to MGNREGA workers who received around Rs. 200 daily. Since 2017, these women continue to voice their complaints about their low wages and even mobilised at the state-level. Nowadays, bereft of any job security, cooks said they can only trust the word of the government.
Related:
MDM cooks refute gov't claims of 8-month wage payment
UP: Mid-day meal cooks not paid wages for eight months of wages
UP: Anganwadi workers, MDM cooks and ASHA workers non paid wages for months!
Indian children grossly underweight or stunted across Indian states