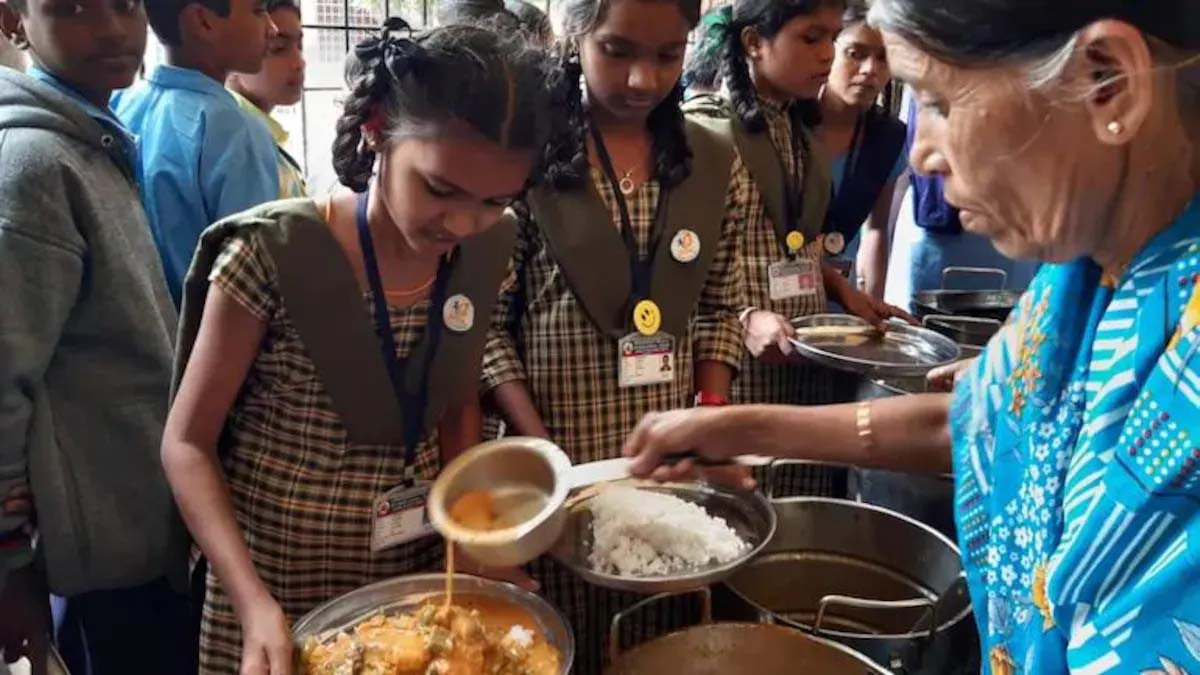 Representation Image
Varanasi's mid-day meal (MDM) workers have stopped going to work after yet another delay – this time for seven months in payment of salaries, MDM cook Savitribai told Sabrang India on February 9, 2022.
The last time Uttar Pradesh's MDM cooks were in the limelight was in November, 2021 amidst state-wide protests demanding salaries for the past eight months. Earning ₹ 1,500 a month, workers were only asking for ₹ 12,000 per person. On November 11, Cholapur's Primary school cooks told SabrangIndia that they finally received payment but only five-month worth of salaries i.e only ₹ 7,500.
Now in February, cooks are once again back to the same situation where they are waiting for authorities to pay them their dues. Tired of keeping their hopes up, many cooks stopped going to school to cook and instead took up domestic work in nearby houses or tried to work in their fields. However, as money is short, even the latter is not possible.
"You need seeds, water, manure to grow anything in the fields. My children who have studied till Class 10 don't earn much. I can't even pay for my mobile expenses anymore," said veteran cook Laxmi, speaking from her daughter's phone. It may be mentioned that after the Covid-19 pandemic, many government services like vaccine appointments have been moved to digital platforms.
Similarly, Savitribai said, "It's been days since we had daal at home to eat. Every day we only eat potatoes."
In November, Mid-Day Meal Authority (MDMA) Varanasi AD(B) Kishore said the school department has no more funds to pay the pending money and await further allocation. Yet, even after the budget announcement, the community remains penniless in a state going to polls.
PM POSHAN budget allocation
Originally the National Scheme for Mid-Day Meals in schools (MDM), the scheme was renamed the National Programme of PM POSHAN on September 29, 2021. Regardless, it still provides a hot, cooked meal to children in government and government-aided schools. The scheme aims at improving the nutritional status of students and its allocation is accordingly used to pay the cook-cum-helpers (CCHs) responsible.
After protests, CCHs asked for a monthly payment of ₹ 10,000 a month. Instead, the Budget 2022-23 announced ₹10,234 cr allocation for the scheme, which is the same as the revised estimates of Budget 2021-22. Last fiscal year, the Centre talked about increasing PM POSHAN allocations to ₹ 12,700 cr so as to ensure adequate nutrition to children during the Covid-19 pandemic. As such, it is shocking that despite vocal demands of the scheme workers, the funds have not been revised to an increased investment.
According to the Budget Briefs by Centre for Policy Research, the Cabinet Committee on Economic Affairs (CCEA) set certain conditions when clearing the PM POSHAN scheme for five more years for government and government-aided schools. One of these conditions was that the Government of India would ensure Direct Beneficiary Transfer (DBT) from states to schools, with an emphasis on transferring cooking cost directly to a school's bank account. It would also try to ensure payment of honorarium to CCHs through DBT directly from the state.
However, like food grains and cooking costs, release of funds for CCHs out of the approved budget declined significantly. In FY 2021-22 till December, only 49 percent of approved funds for CCH were released compared to 80 percent during the same period in FY 2020-21. Punjab and Odisha saw the highest decrease, with less than 50 per cent of approved budget released till December.
CCH in UP elections
Most contesting political parties acknowledged the demands of the CCHs to some degree. Among the most cognisant is the Azad Samaj Party (Kanshiram) or ASP(K), the political party of the Bhim Army led by Chandrashekhar Azad.
In their manifesto for UP elections, the ASP(K) said, "ASHAs, anganwadi workers and mid-day meal cooks will get a salary of ₹ 10,000 and will be regularised."
माँ-बहन-बेटियों का सम्मान पत्र, युवाओं के रोजगार का अधिकार पत्र, बेटा-भाई-ताऊ-पिताजी के सशक्तिकरण का पत्र, किसानों और मजदूरों के लिए उन्नति का पत्र और दलित-पिछड़े-आदिवासी-अल्पसंख्यकों का अगली सत्ता और सरकार में भागीदारी सुनिश्चित करने के लिए आज़ाद समाज पार्टी का संकल्प पत्र। pic.twitter.com/2gj2lpjR4y

— Chandra Shekhar Aazad (@BhimArmyChief) January 21, 2022
With this, the party addresses two of the most vocal demands of the community. Similarly, the Congress party on Wednesday declared that MDM cooks will get a monthly salary of ₹ 5,000. The announcement was made by Congress leader Priyanka Gandhi-Vadra while announcing the third-part of the party manifesto Unnati Vidhan.
The Samajwadi Party that released its manifesto Samajwadi Vachan Patra mentioned that it will "listen to the demands of the MDM cooks".
However, the BJP manifesto "Lok Kalyan Sankalp Patra" does not mention CCHs. In its section of "empowered women", the manifesto promises to provide health insurance under the Ayushman Bharat scheme to anganwadi workers and women health workers.
Over the last two year, the Ministry of Education tried to expand the coverage of the scheme. In FY 2020-21, it requested ₹ 19,946 crore to increase the scope of the programme, include pre-primary and Grades 9-12, provide breakfast, and revise honorarium to CCH. However, only the inclusion of the pre-primary section has been granted so far with decreased allocation.
Related:
UP ASHAs have had enough of empty election promises
UP: Mid-day meal cooks get Rs. 7,500 but three months salary still pending
MDM cooks refute gov't claims of 8-month wage payment
UP: Mid-day meal cooks not paid wages for eight months of wages
UP: Anganwadi workers, MDM cooks and ASHA workers non paid wages for months!