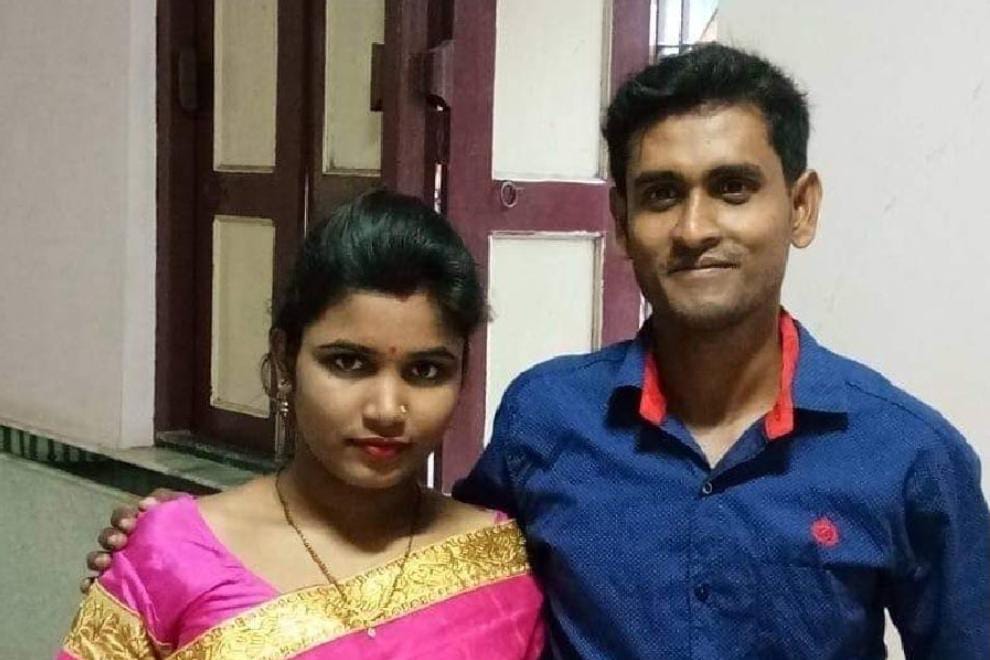 Within a month of their seeking livelihood opportunities in the southern state of Karnataka, they were wrongfully detained by the Karnataka, wrongly dubbed as 'Bangladeshi.'
In June 2022, the Adhikary couple left home, went to Karnataka for work, lived for a few weeks in a rental house in Bengaluru. Earning a daily wage of Rs 300-400 a day, collecting waste plastics lying in public places (hotels, restaurants, cinema halls etc and then depositing them in one place, their meagre subsistence level existence was rudely disrupted on July 27, 2022.
Suddenly, randomly, out of the blue, the Bengaluru police arrested, reportedly in the case no Varthur PS /Case no-165/2022 along with some others from the same area on being suspected Bangladeshis. Until today they remain detained.
Following Anandbazar patrika's reportage of the plight of the migrant labour couple, there has been a furore in West Bengal and outrage.
Meanwhile the SabrangIndia team contacted the Adhikary family to get further details. Large sections of the persons from the Tele village of Jourgram panchayat under Jamalpur Police station in East Burdwan earn their livelihood by working as labourers. As an extension of the same pattern, Palash and others too, went to Bengaluru' Palash with his wife and son in the hope of additional income. Palash lived with his family and neighbour Sunil Adhikari in a house in Sulibela area of Vathur police station in Marathalla subdivision of Bangalore. That is where they started work on the issue of re-cycling of waste. That was till they were arbitrarily detained on July 27. Tragically, along with the Adhikary couple, their their little baby boy namely Adi Adhikary, who just is just 1 year and 6 months old is also detained!
Palash's father Pankaj Adhikary and mother, Sabita Adhikary, speaking to SabrangIndia said that the only reason that Palash and his wife and their child are detained is because they speak the Bengali language. While the others who had been detained were released after they showed their Aadhaar card, PAN card and voter cards, but Palash and his family were still detained by the police.
Palashs's parents have publicly appealed to Mamata Banerjee, chief minister of Bengal to immediately assist and ensure their release. Sujan Haldar, relatives (brother in law) of Palash told Sabrangindia, "After learning about this incident I went to Karnataka but could not do anything." He added, "Communicating with lawyers is also difficult due to language problems". The application for bail has been filed, the first hearing was on October 25 and now the matter will be heard on October 31.
Meanwhile, the All India Trinomul Congress (TMC) MLA, Alok Kumar Majhi of Jamalpur Assembly Constituency told SabrangIndia "Palash and his family are permanent residents and voters of Tele village in my assembly constituency. They also have all the proof of Indian citizenship. Despite this, it is surprising that the Bengaluru police detained them. "
He added, "Now presently we have the vaction around Kali Puja and his family informed me of this tragedy during this period. As soon as the holidays end, we will take necessary action and do what we can to get them released. "
Meanwhile, on October 25, a bail application has been filed before the sessions court in Bengaluru Rural (Registration no 1973/2022); the first hearing was on October25 and the next will be on October 31, 2022.
Related:
Karnataka Police allegedly harass West Bengal migrants in Bengaluru
Bengali speaking workers face likely ban in Bengaluru apartments, what's next?