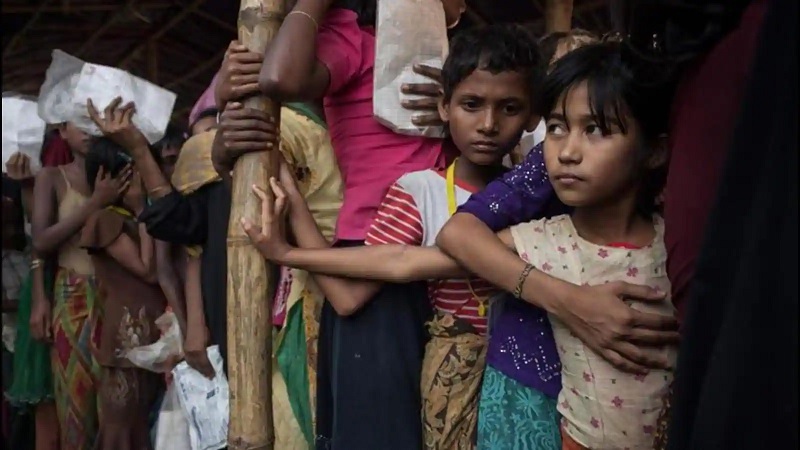 Image Courtesy:hindustantimes.com
A minor Rohingya girl, a refugee from Myanmar, is set to be deported back to Myanmar, even as her parents are lodged in a refugee camp in Bangladesh. The 14-year-old girl was detained a few years ago and was handed over to a Silchar based NGO, Nivedita Nari Sangstha, reported The Assam Tribune. "The minor girl was handed over to the Assam Police by the NGO in the presence of the CWC. She was today taken to Moreh and will be handed over to the Myanmar authorities tomorrow," sources told the newspaper.
She had requested the Ministry of Home Affairs (MHA) and the Ministry of External Affairs (MEA) to repatriate her to Bangladesh, instead of Myanmar, so she could be with her parents. However, her plea was not entertained. A Silchar police official said that repatriation protocol allows repatriation only to the person's own country. Reportedly, since 2018, as many as 39 Rohingya nationals have been deported from Assam and currently there are 50 Rohingyas housed across Tezpur, Silchar and Goalpara detention camps.
This 14-year-old will be the first such Rohingya to be deported back to Myanmar since the military coup in the country.
The Civil Society Coalition for Human Rights and the United Nations recently issued a press statement urging that "it will be in the long-term national interest of lndia as well as larger cause of humanity to respect human rights of persecuted Myanmar nationals by opening up temporary camps in border areas and providing food, shelter, basic health care and other amenities". It has requested the union government to offer asylum from persecution for Myanmar citizens despite not being a signatory to the UN Refugee Convention.
India has also sealed all entry points along its border with Myanmar to prevent refugees entering the country. Mizoram Chief Minister Zoramthanga said that deportation was not acceptable to the state and said that he understands that some foreign policy issues require India to "proceed cautiously", but "we cannot ignore this humanitarian crisis".
In early March, nearly 170 Rohingya refugees were detained by Jammu Police for not having valid documents. Reportedly, around 5,000-6,000 Rohingya have set up camps at various sites on the outskirts of Jammu over the past decade.
Related:
Manipur: CSCHR says gov't must protect Myanmar citizens facing persecution
India seals all entry points along Myanmar border
What will become of Jammu's Rohingya refugees?