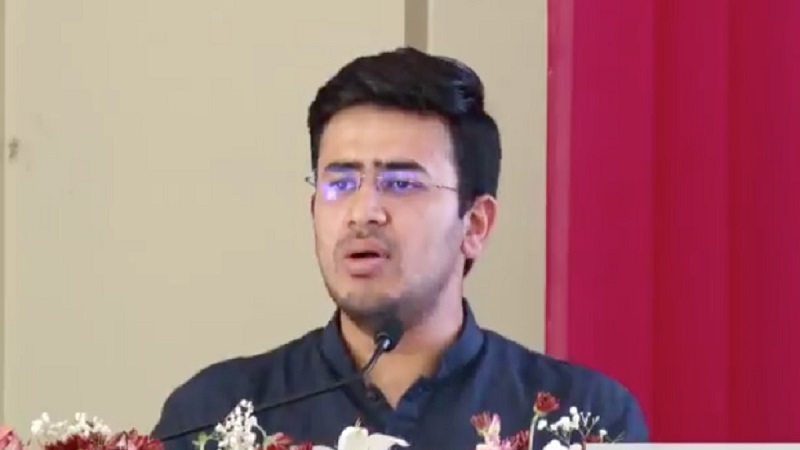 The National Commission for Minorities (NCM) has forwarded the complaint filed by Citizens for Justice and Peace (CJP) against BJP MP Tejasvi Surya to the Bengaluru Director General of Police (DGP). Surya and three others had visited a Covid-19 war room for inspection in Bengaluru and made communal remarks against the Muslim community, accusing them of "blocking beds" in hospitals providing Covid-19 care. The NCM forwarded the complaint on December 29 and has asked the DGP to take necessary action in the matter.
In May 2021, CJP had approached the Commission about the incident that took place on May 4, 2021 where Bhartiya Janta Party's Bengaluru (South) Member of Parliament, Tejasvi Surya listed out sixteen names all belonging to people from the Muslim minority community, linking them with an alleged bed blocking 'scam' in the south Municipal Zone. He was accompanied by Chickpet MLA Uday Garudachar, Bommanahalli MLA Satish Reddy and Basavanagudi MLA Ravi Subramanya (who also happens to be Tejasvi Surya's uncle). During his inspection of the Covid-19 war room in south Bengaluru, he chose to read out only the 16 names (all clearly Muslim-sounding) out of the 214 persons employed at the centre, asking their qualifications. In a video, Ravi Subramanya can be seen and heard asking, "Are you hiring for a corporation or a Madrassa? How can he appoint 16 members like a Haj committee?"
Tejasvi Surya was suggesting that 16 Muslim volunteers of the BBMP's south zone unit may be responsible for the lack of beds in the city. Like his uncle, even Surya was heard asking if "they (Muslim volunteers) were recruited for a corporation or a madrasa?"
After this incident, a controversy erupted after WhatsApp forwards claimed that BBMP Joint Commissioner for Covid Care Centres and Solid Waste Management, Sarfaraz Khan, was involved in the bed allocation scam.
Sarfaraz Khan said he was extremely 'pained' to see a message being shared on social media accusing him of being involved in the alleged scam. The WhatsApp message listed 16 names of Muslim volunteers with the title: "List of terrorists working in BBMP war room killing thousands of Bengalurians."
After a probe was launched, all volunteers were suspended but were eventually reinstated as the Bengaluru Police found no evidence against them. But five of them are still too traumatised to go back to work.
The complaint
The complaint states that such statements not only instill hatred among other communities towards the minority community, but also demoralise them, creating a fear psychosis among the targeted community. "In the midst of this fierce, raging pandemic that is claiming thousands of lives every day, Indians are collectively working together to help people in need. But some leaders are indulging in unnecessary communalisation of the issue. Choosing to highlight only the Muslim names out of over 200 contractual employees is highly discouraging and demotivating for all those people who are clocking extra hours to help in whatever way they can," the complaint says.
The complaint sought the following actions from the NCM:
1. Direct the Bengaluru Police to file an FIR against the MP and his fellow MLAs who visited the centre and made such communal remarks
2. Monitor the Police investigation against the MLA and his fellow aide under section 9 of the National Commissions for Minorities Act, 1992
3. Direct Tejasvi Surya, Uday Garudachar, Satish Reddy and Ravi Subramanya to apologise for their deeply hurtful and offensive comments against the minority community
Related:
SPEAK UP AGAINST HATE NOW!
Bed-blocking scam: CJP approaches NCM against Tejasvi Surya's communal claim
CJP's Hate Hatao Campaign: A half-yearly report
Hate Hatao: CJP doubled its efforts to check hate crimes in 2021