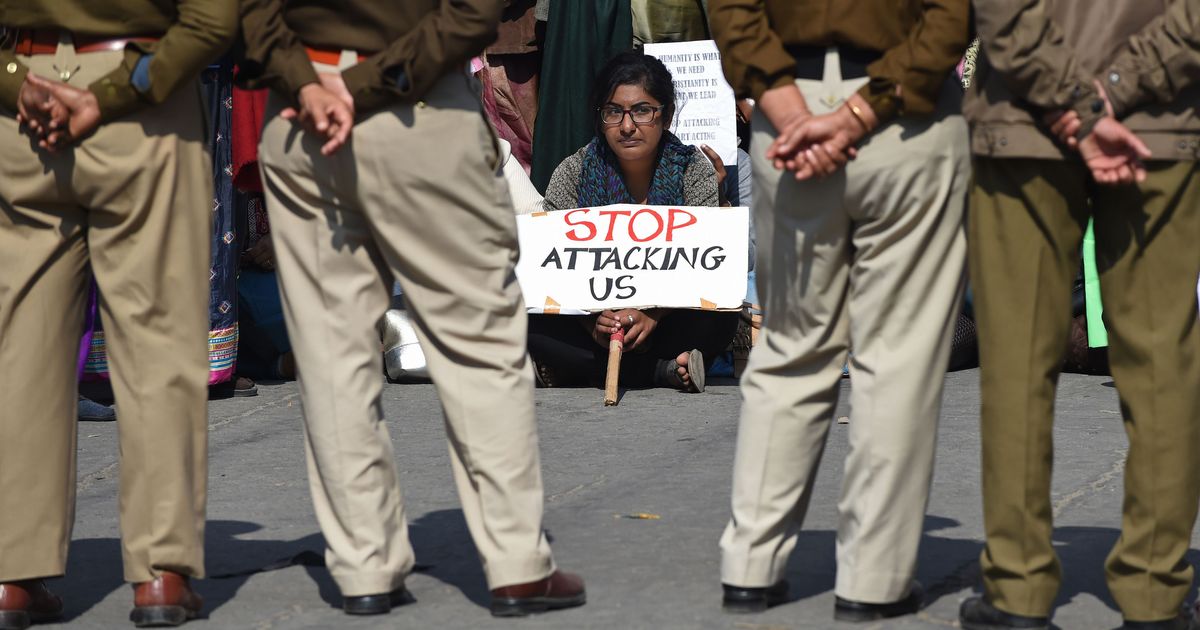 Image: AFP
According to the official report of National Crime Records Bureau from 2016, minorities are over represented in Indian prisons which includes Dalits and Muslims in common. On annual basis NCRB releases report on Prison Statistics India (PSI), it elaborates that the lack of access to political influence and money power poses the trend. NCRB's report on 2019 shows 10 rape cases are reporting daily against Dalit women in India among that Uttar Pradesh reports 25% of crimes against people from Scheduled caste community. Would you get surprised when the statistical data shows on every 12 minutes 45,852 crimes happened against SC community in 2019?
Years are passing by, and yet instances of sexual abuse, mob lynching, honor killings, caste murders are not declining. So, who can we blame when it comes to the assaults against marginalised minorities in the country; whether it is the law or its improper implementation by state and central governments?
It is absurd that even in the time of pandemic like Covid-19, casteist attacks are on the rise hike. And the Indian population sitting in the comfort of their homes claims that "Don't mix up a crime with one's caste. Caste has nothing to do with the existence of attacks against minorities in India. Ban reservation system in India." The list of arguments put forward by privileged casteist people in India shows that they admire the illogical Manusmrithi than Indian Constitution which abolishes the practice of untouchability under Article 17.
From the current heinous scenario, it is evidently clear that caste has been liked with the act of brutal crimes. The idea of Brahmanical patriarchy which endorse the act of oppression in Indian context proved to be a greater threat to religious tolerance. Dalit scholars and activists are coming forward to mainstream to share their plights and issues in academical agraharas. India cannot forget Rohit Vemula, the Dalit research scholar from University of Hyderabad and Payal Tadvi a medical student from Maharashtra. The institutional murder of young minority talents poses a big challenge to the existence of democratic system in India. Recently Umar Khalid, former Democratic Students Union leader in JNU and a human rights activist has been allegedly charged with UAPA (Unlawful Activities Prevention Act) for speaking up for citizens right. In short, we can conclude that Freedom of speech and expression is under threat under this autocratic regime.
Hathras rape case highlights the failure of law and order system in Uttar Pradesh. Unfortunately, in India, the system gives more protection and Y plus category security to only high-profile celebrities in the nation. Can the readers of this article imagine Y plus category security protection to minorities in the country or women in the country?
"The violence of upper caste particularly the Thakurs in UP comes from a place of deep contempt and targeting a Dalit woman is a way of exerting power over the Dalit communities overall. Historically the bodies of marginalised women have been assumed to have free access by upper or dominant castes. However, the Bahujan community particularly the Dalit community has been fighting against and raises in more rage to voice that it won't be tolerated. One can take the example of Chandra Shekar Azad of Bhim Army who fiercely battling against upper caste dominance" Pallavi Pratibha, an anti-caste activist from Jharkhand told Madhyamam. She shared her views with us before a day of Joint Action Committee of Ambedkarite student organisations has called for a country wide protest on October 10, to assert minority Dalit rights and protection in the country.
Dr. Bhim Rao Ambedkar, the man who shaped Indian constitution always been a staunch critic against the element of Hindutva, basically Brahmanism promotes hierarchical social structure. Brahmanical Hindutva codes adheres supremacist value to a brahmin. In Indian context if minorities protest for their rights the autocratic regime converts the act in to riots. Before the British colonists arrived, caste system had already divided Indians. The British had made use of the situation and utilised it maximum by exploiting the Indian middle class and lower-class population. Every invader who comes to India had an upper caste hand to control the common people.
The upper caste perpetrators see Dalits and women as same with a narrow-minded mentality. They promote the Brahmanical patriarchy and oppresses women in India. As responsible Indian citizens whenever a caste-based violence happen we should confess our culpability. The silence and rejection from you give rises to atrocities and attacks against minorities in India. In the movie called Pariyerum Perumal by Mari Selvaraj there is a dialogue "Chicken shit who got in through Quota". Does this dialogue represent oppressor's mentality? When it comes to Dalits, upper class privileged ones know only about 'reservation and merit'. In reality reservation has reached only to least population of Indian domain. It is ironical in the sense when some of us criticize Indian reservation system and continuing apply for reservation quota in abroad countries. Still why can't you accept Indian reservation? Indian academia is teaching about upper caste freedom fighters like Jhansi Rani, Mangal Pandey and all but refused to accept Jhalkari Bhai, Matandin Bhangi, Birsa Munda. At least to how much extent did we learn about Dr Ambedkar? So, it is clear that Indian academical agraharas resist Bahujan contributions.
NCRB reports officially says that crimes against women and Dalits in India are increasing. Their nature tends to be more heinous, public and brazen. The attacks are not only just about perpetrators and victims but the crimes sending a direct message to minorities in India that they are under threat. Can Government eradicate this fear? More shockingly, generations have come forward with casteist mentality and Islamophobic deep rooted insights in mind. Law and order system in India need to be well analysed. "The evident need for change in Law with respect to the pace of change in social crimes is necessary. Indian society doesn't seem to have moved on from caste-based oppression and violence. We live in a country where tradition outcast laws and consent from women is ignored. It is far time that Indian Judicial system should have the transition from the reformative theory to preventive theory". Advocate Raveen, from Kollam Judicial Court shared his insights with Madhyamam. The deep-rooted caste mentality from Indian families need to be checked. When will Indian children are capable of rejecting the thoughts injected by their parents when it is communal, casteist, homophobic, xenophobic and patriarchal? If the rejection is positive there marks the development of a new India. Until then vote bank politics and anarchism are going to rule Indian democratic space.
*The author is pursuing MA Mass communication and Journalism at Pondicherry University
Related:
India Unsafe: The escalating heinous crimes against women
Hate content on social media: Corporate and individual responsibility