Now its BJP's Haryana CM Khattar who stokes controversy with remarks on Kashmiri women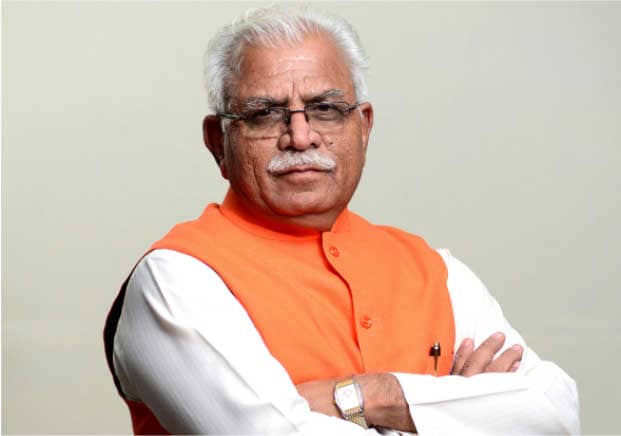 Picture Courtesy: Newsgram
Haryana chief minister Manohar Lal Khattar, now joins a list of BJP elected representatives, making outrightly misogynist remarks on Kashmiri women. He has said that after
abrogation of the provisions of Article 370
of the Constitution, girls from Kashmir can now be brought for marriage. The chief minister was addressing a State-level function of Maharishi Bhagirath Jayanti Samaroh at Fatehabad.
That his remarks came at a function celebrating 'Save Our Daughters, Educate our Daughters' makes it worse not better! Mr. Khattar, who was speaking on the success of Beti Bachao-Beti Padhao campaign in Haryana, said "Our Minister O.P. Dhankar used to say that he will have to bring daughters-in-law from Bihar. People nowadays have started saying the route to Kashmir is cleared and now we will bring girls from Kashmir," said Mr. Khattar.
The Chief Minister said, "Haryana was infamous due to the low birth rate of daughters. The government launched Beti Bachao-Beti Padhao campaign, due to which the number of girls born per 1,000 boys has increased from 850 to 933. We have to take this number to 1,000." But not content with this, he added the remark on Kashmiri girls.
Just a few days ago, the abrogation of Article 370, revoking the special status of Jammu and Kashmir, had sparked protests and jubilation(s) across the nation. Apart from the debate over the Constitutional legality of this move, what has been appalling is the sharp levels of misogynistic content that is being circulated on the social media. Worse, much of it comes from the elected representatives of the ruling party. Commenting over the ruling regime's decision, BJP MLA Vikram Saini passed a very sexist statement and said that Muslims in the country should be happy that they can now marry "gori" Kashmiri girls without any fear.

Related Articles:
1.How the abrogation of Article 370 has unleashed the great Indian misogynistic troll
2.'Everything Has Been Lost. Except Our Resolve to Fight Back': Shah Faesal on Kashmir
3. BJP Delusion – Article 370 of Constitution of India cannot be abrogated