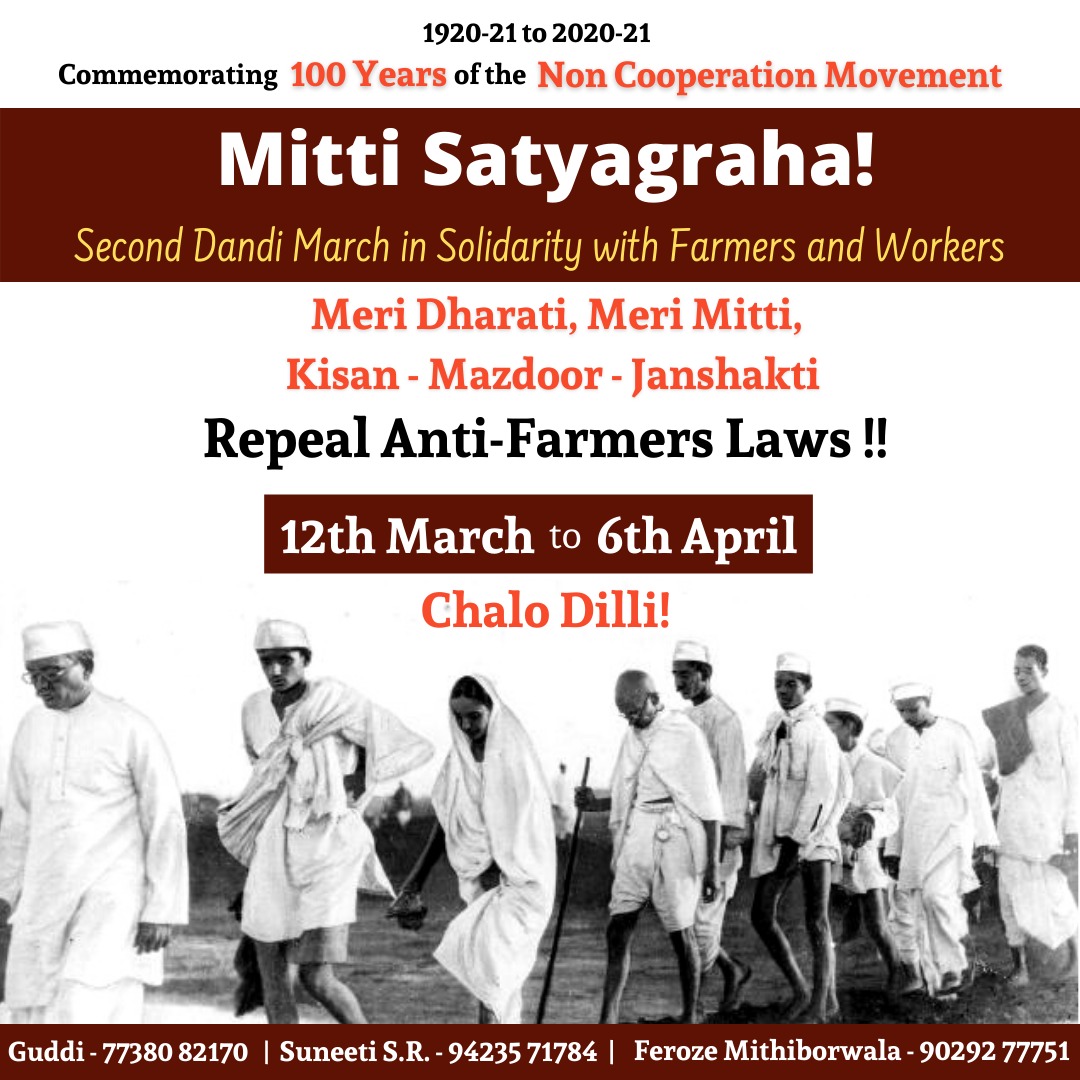 As many as 40 people gathered at Wadala on March 12, 2021 to observe a 'mitti (soil) satygraha' organised by a collective of people's movements from across the country to symbolise resistance to the forces of crony-capitalism that are "destroying India".
Commemorating the historic salt march carried out by Mahatma Gandhi during the Independence struggle, organisers announced a soil march from March 12 to April 6 wherein participants will pick up a fistful of soil and pledge to defend India's fields, rivers, lakes and the public sector form private corporates.
"Soil symbolises natural resources, farms, forests and all that is threatened to be privatized. Farmers' struggles have always been a quintessential part of India's history. Thus, we have reaffirmed our commitment to the values enshrined in our constitution, and defend our democracy and country," Feroze Mithiborwala told SabrangIndia.
The first phase of the mitti satyagraha will go on until March 28. The decentralised event will visit nearby settlements and discuss the recent farm laws, labour codes and pressing issues in Maharashtra.
"So, this is not simply a single-agenda movement but a holistic movement to bring up pressing issues of the people. The movement will bring together farmers, workers and the people. We are trying to keep the march as simple as the original march," said Mithiborwala.
The first phase of the march will then be concluded by burning copies of the three farm laws – the Farmers (Empowerment and Protection) Agreement on Price Assurance & Farm Services Act, the Farmer's Produce Trade and Commerce (Promotion and Facilitation) Act, and the Essential Commodities (Amendment) Act – in the Holi bonfire.
Accordingly, marchers will then head towards Gujarat, Rajasthan, Haryana, Punjab and conclude the event at Delhi's protest sites. Before reaching Singhu border on April 5, members will visit the Jallianwala Bagh in Amritsar district and collect the soil from there.
The collected soil will be presented to farmer leaders to create a memorial for the near-300 farmers who died during the farmers' protest. Members hoped to create a Smarak at every protest site along Delhi.
Similarly, since the Wadala salt pans from where the event began is also part of the historic salt satyagraha, organisers asked the Maharashtra government to create a memorial there to commemorate the 100 years of the Non-Cooperation movement.
The Friday event was attended by respected freedom fighter Dr. G G Parikh. Speakers spoke at length about the recent peasant uprising.
Related:
Punish anti-farmer BJP and its allies in upcoming elections: SKM
Contract employees flood Patiala streets, demand regularisation of workers
Amritsar women present farmer leaders with Jallianwala bagh soil
Amritsar farmers to end railway blockade after 169 days of protest
Twelfth of March: Gandhi and Grande
Farmers call for Bharat Bandh on March 28!
Karnataka farmers ask: Where is MSP Modi ji?
India's farmers and workers to commemorate Anti-Privatisation Day on March 15