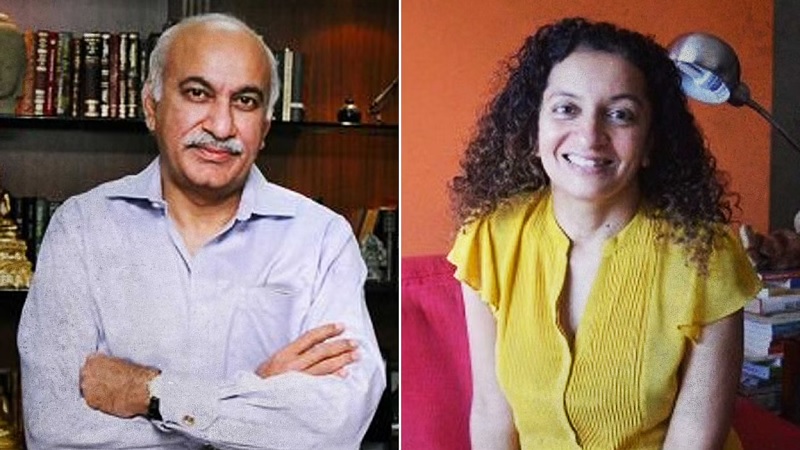 Image Courtesy:newslaundry.com
"It is frustrating, but I am the recipient of the order, not the maker," Senior Advocate Rebecca John told SabrangIndia on Tuesday, soon after a defamation case filed by former union minister MJ Akbar against journalist Priya Ramani was transferred to a District and Sessions Judge. Advocate Rebecca John has already concluded her submissions on behalf of Priya Ramani. It was MJ Akbar's lawyer Geeta Luthra's turn to reply to John's final arguments.
However, Additional Chief Metropolitan Magistrate Vishal Pahuja listed the matter before a District and Sessions Judge of the Rouse Avenue District Court on October 14 for appropriate orders. According to news reports, ACMM Vishal Pahuja, said that "only matters filed against MPs and MLAs can be listed before the Rouse House Avenue Court" whereas the case filed by MJ Akbar, a former Minister of State for External Affairs, dealt with defamation. Akbar had filed the case against journalist Priya Ramani for accusing him of sexual harassment when he was her editor.
While observing that this court would only deal with matters relating to Parliamentarians and legislators, ACMM Pahuja cited directions issued by the Supreme Court relating to matters relating to lawmakers pending against courts. "There has been direction from the Supreme Court… This case has to be placed before the learned District & Sessions Judge for directions. This court will only deal with cases against MP/MLAs… I am listing it for directions before the District & Sessions Judge," Judge Vishal was quoted by the legal postal Bar and Bench.
Explanation: The case will be placed before the District & Sessions Judge, Rouse Avenue for directions now.

After consideration, the District & Sessions Judge will pass an order on whether the case will continue before Judge Pahuja. #MJAkbar #PriyaRamani

— Bar & Bench (@barandbench) October 13, 2020
According to Advocate John, she and her team had already spent three months arguing the case. Another senior lawyer familiar with the case added that such a transfer was not unusual, but could certainly cause a further delay before the verdict is pronounced. The final arguments will have to be placed before the new judge.
In her last closing submissions in the case Advocate John had said on behalf of Priya Ramani, "I have proved my case and I deserve to be acquitted." Now the matter will be heard by the District & Sessions Judge on October 14. After consideration, the District & Sessions Judge will pass an order on whether the case will continue before Judge Pahuja, stated Bar and Bench. Sujata Kohli, District & Sessions Judge-Cum Special Judge (PC Act/CBI) acts as the administrative head of the administrative head of Rouse Avenue Court Complex. She will hear the matter tomorrow morning and pass necessary directions.
As reported earlier, Ramani has stood by her allegations over the past years, and has in turn empowered other women journalists to come out with similar stories of being sexually harassed by Akbar over the years. The #MeToo movement in India, especially Indian journalism, cost Akbar his ministerial job, as his political patrons chose to distance themselves.
As expected, Ramani, a survivor of the sexual attack, was even asked in court about the 'delay' in reporting the crime when it happens. There was a "vacuum in law 25 years ago," was her brief and powerful reply. "When the incident took place in 1993 there was a gap in the law…whom could I have complained to? Legally I could not have evoked sexual harassment act because it was not in place," Ramani said. Former Union minister M J Akbar's case in the defamation suit against her was centred on his "stellar reputation", but this was false and "I had every right to contest it," journalist Priya Ramani told the court.
In 2018 as the #MeToo movement was picking up in India, Ramani had accused Akbar of sexual harassment, the incident took place around 25 years ago when she was a junior journalist, and he a powerful editor. After she had made the allegations, Akbar was eventually forced to resign as a Union minister in October 2018, and more women who had once worked as his juniors also came forth with similar allegations.
Related:
Why do the mighty cry 'defamation' when accused of sexual harassment?
#MeToo: From Courtroom to Cinema
Why the 'Me Too' movement in India is succeeding at last
On Akbar and the #MeToo Movement
After #MeToo: Legal System Needs Change
AIDWA Demands Resignation of Minister of State for External Affairs, M J Akbar