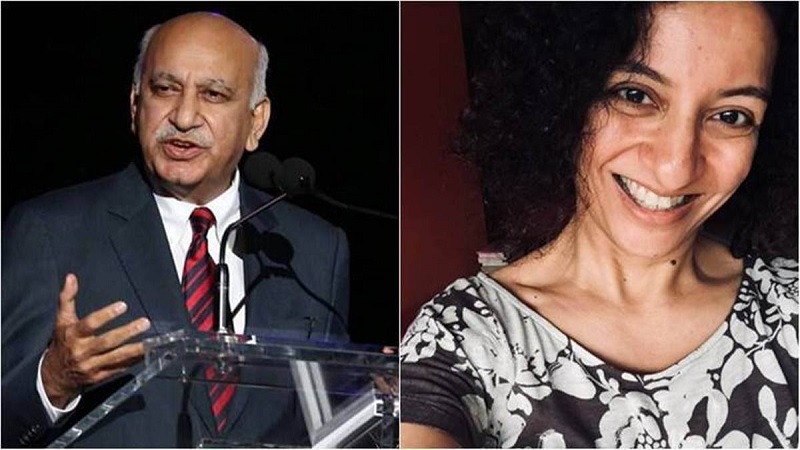 Image Courtesy:indianexpress.com
In the ongoing criminal defamation case between MJ Akbar and Priya Ramani, the Additional Chief Metropolitan Magistrate Ravindra Kumar Pandey has asked both the parties to think about the possibility of reaching a compromise.
Mr Bhavook Chauhan appeared for Priya Ramani and Senior Advocate Geeta Luthra represented MJ Akbar.
According to media reports, ACMM Pandey said, "The dispute between the two parties is compoundable in nature. You are senior lawyers and have settled disputes over the years. Is there a possibility of a settlement? I don't know much about the case. I don't know the level of the dispute. Prima facie, what I understand is that it is compoundable in nature. Both sides should decide, otherwise I will keep this for final arguments."
Counsel appearing for Ms. Ramani informed the court that the chances of compromise are bleak as the facts of the case were peculiar in nature and that his client, Ms. Ramani stands by her statement and allegations.
When the court asked if Senior Advocate Luthra is willing to settle, she said that she will have to discuss it with her briefing counsel. The judge told the parties to explore this possibility and inform the court if they were willing to avail the same.
This matter will now be heard on November 24.
On October 13, SabrangIndia had reported on the defamation case being transferred to District and Sessions Judge after having Senior Advocate Rebecca John spend three long months arguing the case on behalf of journalist Priya Ramani.
When the #MeToo movement was gaining traction in India, as many as 17 women had accused the former Union Minister of sexual misconduct including rape in one case. In October, 2018, MJ Akbar filed a criminal defamation case against Priya Ramani blaming her for tarnishing his reputation and calling him names such as 'media's biggest predator'.
Till date, he has denied all allegations terming it "false, fabricated and deeply distressing".
Related:
MJ Akbar defamation case against Priya Ramani transferred to District and Sessions Judge
#MeToo: From Courtroom to Cinema
On Akbar and the #MeToo Movement
After #MeToo: Legal System Needs Change