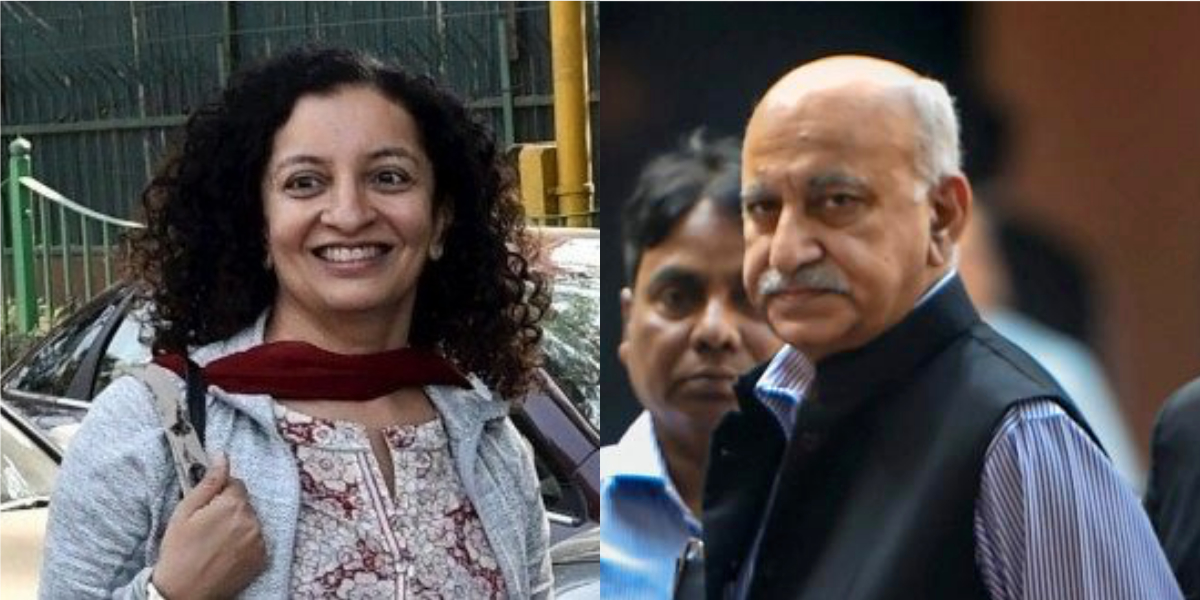 The Additional Chief Metropolitan Magistrate Ravindra Kumar Pandey has deferred the pronouncement of judgment in the defamation case filed by MJ Akbar against journalist Priya Ramani till February 17, 2021. The criminal defamation case deals with allegations of sexual harassment against the former Minister.
Bar & Bench tweeted from Rouse Avenue Court Complex (Delhi) stating that the Court said: "I got the written submissions late. I am adjourning the matter. Pronouncement of judgment deferred till February 17."
I got the written submissions late. I'm adjourning the matter : Court #PriyaRamani #MeToo

— Bar & Bench (@barandbench) February 10, 2021
Background:
Priya Ramani has stood by her allegations over the past years, and has in turn empowered other women to come out with similar stories of being sexually harassed by Akbar over the years. The #MeToo movement in India, especially Indian journalism, cost Bharatiya Janata Party (BJP) member and Union Minister Akbar his ministerial job, as his political patrons chose to distance themselves.
The case was being tried for around two years at the Rouse Avenue Court. Its verdict is likely to have an impact on the future of movements such as #MeToo, and on how sexual harassment survivors will feel approaching legal authorities in the future with complaints against powerful men.
Ramani, had even been asked in court about the 'delay' in reporting the crime when it happened. There was a "vacuum in law 25 years ago," was her powerful reply, "When the incident took place in 1993 there was a gap in the law…whom could have I complained to? Legally I could not have evoked sexual harassment act because it was not in place." Ramani's powerful statement, put forth by Ramani's lawyer Rebecca John, one of the leading criminal law experts in the country, was widely reported, and hailed as a testimony of resilience, and of the fact that it is never too late to seek justice.
Former Union minister M J Akbar's case in the defamation suit against her was centred on his "stellar reputation", but this was false and "I had every right to contest it," journalist Priya Ramani told the court that day.
Timeline: MJ Akbar vs Priya Ramani
February 1, 2021: Delhi's Rouse Avenue Court reserves judgment in the case
November 21, 2020: Court asks if there is a possibility of a settlement
The Additional Chief Metropolitan Magistrate Ravindra Kumar Pandey asked both the parties to think about the possibility of reaching a compromise. Advocate Bhavook Chauhan appeared for Priya Ramani and Senior Advocate Geeta Luthra representing MJ Akbar. ACMM Pandey reportedly said, "The dispute between the two parties is compoundable in nature. You are senior lawyers and have settled disputes over the years. Is there a possibility of a settlement? I don't know much about the case. I don't know the level of the dispute. Prima facie, what I understand is that it is compoundable in nature. Both sides should decide, otherwise I will keep this for final arguments." Ramani's counsel told the court that the chances of compromise are bleak, as the facts of the case were peculiar in nature and that his client, Ms. Ramani stands by her statement and allegations.
October 23, 2020: Case continues before Special MP-MLA Court
The District & Sessions Judge, Rouse Avenue finally refused to transfer the case from a Special MP/MLA Court. This court has heard the case since 2018, however on October 14, the Additional Chief Metropolitan Magistrate Vishal Pahuja had listed the matter before a District and Sessions Judge of the Rouse Avenue District Court for appropriate orders. Advocate Rebecca John, representing Priya Ramani, had spent three months arguing the case, the brilliant final arguments were reported widely. But ACMM Vishal Pahuja, had said that "only matters filed against MPs and MLAs can be listed before the Rouse House Avenue Court" whereas the case filed by MJ Akbar, a former Minister of State for External Affairs, dealt with defamation. ACMM Pahuja had cited directions issued by the Supreme Court relating to matters relating to lawmakers pending against courts. Sujata Kohli, District & Sessions Judge-Cum Special Judge (PC Act/CBI) had reserved order on the issue of transfer on October 14, and on October 22, the Judge refused to transfer the defamation case away from a Special MP/MLA Court.
November 18, 2020: Additional Chief Metropolitan Magistrate Vishal Pahuja transferred
The Additional Chief Metropolitan Magistrate Vishal Pahuja, who had been hearing the criminal defamation case, was transferred out of the Rouse Avenue Court. He was replaced by ACMM Ravindra Kumar Pandey.
May 4, 2019: Trial begins at the Rouse Avenue Court complex
February 25, 2019: Priya Ramani granted bail
Delhi's Patiala House Court grants bail to Priya Ramani and tells her to furnish a personal bond and surety of Rs 10,000 each.
January 29, 2019: Court summons Priya Ramani.
A magistrate in Delhi's Patiala House Court issued summons to Priya Ramani, to appear before it. Ramani does not live in Delhi, and now has to travel to appear in person.
October 17, 2018: MJ Akbar resigns as a MoS External Affairs
October 12, 2018: AIDWA Demands M J Akbar's resignation from Cabinet
The All-India Democratic Women's Association (AIDWA) demanded the immediate resignation of the Minister of State for External Affairs, MJ Akbar against whom many complaints of molestation, sexual assault and harassment have been made. AIDWA's president Malini Bhattacharya and general secretary Mariam Dhawale issued a statement in solidarity with journalist Ghazala Wahab who had shared her experience of sexual harassment she alleged facing as an intern in Asian Age by the then editor MJ Akbar. The AIDWA put on record its response to the sexual harassment allegations made against him by six journalists, and demanded the resignation of MJ Akbar.
December 12, 2018: Editors Guild of India suspends MJ Akbar
The Editors Guild of India suspended MJ Akbar, as well as Tarun Tejpal based on the allegations of sexual misconduct against them.
October 15, 2018: MJ Akbar files criminal defamation case against Priya Ramani
Politician-journalist MJ Akbar files a criminal defamation case against senior journalist Priya Ramani. Akbar stated in court that Ramani had defamed him by using adjectives such as 'media's biggest predator' and had thus 'harmed his reputation'. He also denied all the allegations of sexual harassment against the women who came forward during #MeToo campaign against him. He alleged defamation, telling the court that the allegations made by Ramani in an article in the 'Vogue' and the subsequent tweets were defamatory on the face of it. He stated that "the complainant had deposed them to be false and imaginary."
October 8, 2018: Priya Ramani names MJ Akbar in a tweet
The senior journalist said it was Akbar, her former boss, who was mentioned in her Vogue article from 2017. The article had detailed allegations of sexual harassment that a young woman journalist had suffered at the hands of a powerful male editor.
October 6, 2018: Journalist Ghazala Wahab posts on social media if Akbar will be named during #MeToo
Journalist Ghazala Wahab, had in a social media post, mentioned Akbar wondering when his name will come up as disclosures of sexual harassment in the work place were being made public when the #MeToo movement got traction in India. Soon many women journalists spoke up, or hinted at their own experiences of sexual harassment, allegedly by MJ Akbar when he was their boss.
October 2017: "To the Harvey Weinsteins of the World" is published in Vogue
"To the Harvey Weinsteins of the World," an article authored by eminent journalist Priya Ramani is published in the Vogue magazine. It was in October 2017, that the New York Times published an article detailing decades of allegations of sexual harassment against film producer Harvey Weinstein. The BBC reported that Weinstein issued an apology acknowledging he "caused a lot of pain", however he "disputes allegations he harassed female employees over nearly three decades." Ramani's article was addressed to "Dear Male Boss" and detailed the harassment she faced as a 23-year-old junior journalist. The gut-wrenching article, which triggered memories of sexual harassment in many survivors, went viral, and is still available to read online. It has also served as a ready reckoner for women, and men, to recognise signs of sexual harassment in the workplace and report the predators.
Related:
AIDWA Demands Resignation of Minister of State for External Affairs, M J Akbar
Defamation case filed by MJ Akbar to continue before Special MP-MLA Court
MJ Akbar vs Priya Ramani: Court asks if there is a possibility of a settlement