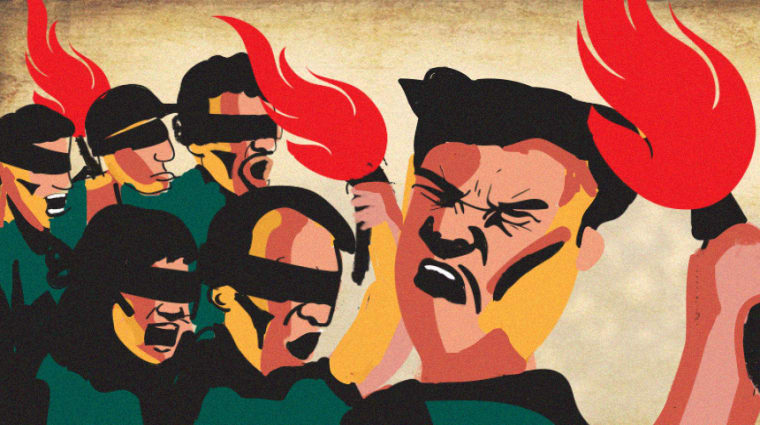 Illustration: Cleon Dsouza / https://www.arre.co.in
Introduction:
In part one of this report, the authors observed that based on media reportage monitored by Centre for Study of Society and Secularism (CSSS), though physical violence has declined in the forms of communal riots and mob lynching, communal violence on the whole has risen in 2020. In this part of the report, the authors will focus on the trends in mob lynching in 2020. Mob lynching since the infamous Mohammad Akhlaq lynching in Dadri has become an alarmingly ubiquitous phenomenon dotting the political landscape in India. A gruesome reminder of the racial violence in US, mob lynching in India has reflected a breakdown of law and order or any moral or legal restraint in attacking innocent victims on mere suspicion of wrong doing for any sundry reason. The images of desperate helpless injured victims on the verge of death like seen in the cases of Tabrez Ansari have shaken the moral conscience of the society, yet the lynching continues.
In 2020, India witnessed 23 incidents of mob lynching as against 107 incidents in 2019 as per the reportage in the media. These 23 incidents claimed 22 lives. Out of these reported 23 incidents, 10 can be attributed directly to the Hindutva nationalist ideology which manifests itself in issues like cow slaughter, inter-faith marriages and overall hatred owing to the ideology of communalism. These ten incidents claimed six lives- three Muslims, one Christian and two Hindus. Seven cases in 2020 were related to suspicions of cow slaughter alone. In comparison to 2019, incidents of mob lynching reported in media in 2020 have declined by 78%. Large part of this decline in number of cases can be attributed to Coronavirus pandemic and consequently prolonged lockdowns. However, communal violence in the forms of structural violence i.e. laws and policies are achieving similar objective as mob lynching that is to reinforce the status of Muslims as second class citizens who are easy preys. Given the anti- cow slaughter law passed in Karnataka recently and other states following suit, one can only predict that cases in the subsequent years will only rise.
Methodology:
As mentioned earlier, CSSS has been monitoring mob lynching through the media reportage in five leading newspapers- Mumbai editions of Indian Express, Times of India, The Hindu and Urdu newspapers – Sahafat and Inquilab. It is to be noted that in reality there must be many more cases of mob lynching that have taken place in India in 2020, however since CSSS is monitoring only the cases reported in these five newspapers, the numbers in this report is less. The National Crime Record Bureau (NCRB) too is not giving out data which can give a comprehensive picture.
The reported cases of mob lynching are segregated according to the triggers of the lynching. Accordingly, the categories are: cow vigilantism, child lifting, theft and others. The previous years also included the category of inter-faith relationships. However this year no case was found reported under this category. It is to be noted that different states have brought anti-conversion laws targeting inter-faith marriages and subsequently Muslim men and Hindu women are being targeted. The propaganda of "love jihad" and the blatant vigilantism associated with it has acquired legitimacy through such legislations.
In 2020, out of 23 reported cases, seven were on allegation of cow vigilantism, three under the category the broad category of communalism, three under child lifting, five under theft and five under others. For the purpose of this report, the authors will focus on the cases related to cow vigilantism and communalism- 10 in number.
Analysis/trends:
1. Mapping the cases of mob lynching- geography and ruling party:
Like mentioned above, the report will focus on the reported incidents of mob lynching related to communalism- cow vigilantism and mob lynching related to communalism overall. In these 10 cases, five incidents took place in the northern zone- three in the state of Uttar Pradesh, one in the state of Haryana and one in Jammu and Kashmir. Other four incidents of mob lynching took place in the Eastern zone- two in the state of Odisha, one in Jharkhand and one in Bihar. One incident took place in the western region- state of Maharashtra.
Not surprisingly, six of these ten incidents took place in states where BJP is the ruling party. Two incidents took place in the Congress ruled states and two in BJD ruled Odisha. This indicates towards the atmosphere of impunity given by the ruling BJP to the vigilante groups to freely target the vulnerable.
2. Cases of cow vigilantism
On January 31, a few residents of Chimbipada village in Bhiwandi, Maharashtra caught Nafees Qureshi, Aamir Khan and Aakib Aalam allegedly trying to load a buffalo into their vehicle. The angry mob thrashed them and damaged their vehicle. The police reached the spot and got them admitted to hospital, where Qureshi died during treatment. Initially, the Bhiwandi taluka police had booked the trio acting on a complaint of the buffalo owner, Prakash Dombare. But after Qureshi died, the police filed a murder case against six to seven unidentified people.
On March 2, Umar and Rahil Gazi were thrashed by a group of at least seven persons in Uttar Pradesh's Bulandshahr district for alleged cow slaughter. In a video that has gone viral, the youths, one of them bare-chested, are seen being punched, kicked and hit with a stick by some men. In another video, a youth, identifying himself as Umar, says a group intercepted their two-wheeler and pulled them over while they were going to a cold storage. They used communal slurs and referred to the violence in Delhi while abusing and threatening them with dire consequences. A case had been registered under charges of attempt to murder, rioting, criminal intimidation and kidnapping for murder against five persons and another unidentified person. The FIR identifies the five accused as Shivam, Satyaveer, Sachin, Badal and Dinesh Pandit. In a police complaint, Umar's brother Mehervan says the two youths were going to get carrots from a cold storage in their four-wheeler when the assaulters intercepted them. They were kidnapped at gunpoint, taken to a forest and beaten up with rods and sticks with the intent to kill, alleges Mehervan. SSP Bulandshahr Santosh Kumar Singh, however, said it was "a brawl between two groups" near Hamidpur village, adding that a police case was registered instantly.
On 13 March, police rescued three men from being lynched by a mob in Ratepur village under Saandh police station and took them into custody. The mob assaulted them suspecting them to be cattle thieves. According to villagers, the men were trying to escape with three buffaloes belonging to Buddhi Lal Yadav and his neighbour. The police identified the three men as Niyamat, his two sons, Salim and Riyaz. According to police, the three men, residents of Machariya area of Naubasta, had allegedly come on two-wheelers and a loader to steal buffaloes. Medical aid was provided to them for injuries caused to them during the attack.
On 11th May, Suman Ansari (26) of Dwarpahadi village and Dulal Mirdha (22) of neighbouring Dhaka village were assaulted by the villagers while trying to slaughter the goat on the banks of Brahmani River and tying them to a tree. According to police, they were soon rescued by a patrolling team that rushed to the spot after receiving the information. While Ansari succumbed to his injuries, another accused was battling for life at hospital. Police said two persons, including the owner of the goat, were already arrested and two separate FIRs were lodged one for lynching and the other for theft of the goat.
On July 29, two persons were lynched for allegedly stealing a pair of oxen belonging to Bajo Rai at Rai Tola in Jamui district. Police said the incident took place around 1.00 am when some villagers were patrolling at night due to a rise in cattle theft cases. They saw the two persons fleeing with a pair of stolen oxen. They chased, caught and mercilessly thrashed the two, leading to their death. The deceased were identified as Nageshwar Paswan (45) and Lalmohan Paswan (40) of Mansinghdih village under Chandradih police station in Jamui district.
On July 31, Lukman, a 25-year-old pick-up truck driver from Nuh was allegedly beaten up with sticks by a group of men while he was transporting buffalo meat to Gurgaon. According to the victim's complaint he was on his way to Jama Masjid in Gurgaon, the men surrounded his vehicle near the truck market, broke the glass of his truck, and beat him with sticks. They then dumped him in his own vehicle and took him back towards Sohna, where they again stopped the vehicle and beat him up. The violence stopped only after a police team arrived at the spot and rescued the victim. Police said a 28-year-old Pradeep Yadav, who hails from Dadri involved in the incident has been arrested. An FIR had been registered against him and a Maruti Baleno that was used in the crime has also been seized by police.
On August 16, a group of cow vigilantes attacked and injured a 48-year-old shepherd in a remote village in Jammu and Kashmir after his son drove a few cows away from their pastureland. Mohammad Asghar was beaten up by nearly 20-strong mob in the Garri Gabbar village. He received serious injuries and was under treatment at a hospital. The incident occurred when cows allegedly strayed into Asgar's fields and started eating and damaging his crop. Police have registered two FIRs, one in Asgar's son for allegedly hurting the sentiments of a community by injuring a cow with a sharp-edged object, and in another, a case has been filed against people who attacked Asgar. They said the situation has been brought to normal after police spoke to the elders in the village.
3. Anti-Christian violence:
While Muslims and Adivasis have been at the receiving end of cow vigilantism, mob lynching is not restricted to them alone. In 2020, Christians were also attacked owing to their religious identity. According to the CSSS monitoring based on the reportage on the five newspapers, the following two anti-Christian violence cases were found, however ADF which is an international advocacy group has pointed towards many more cases in its reports[i].
On the 11th of March 2020, 10 people including Kama had gathered at Mala's home to pray. During the prayers, few religious fanatics under the influence of alcohol barged into the house. They created chaos, beating up their own neighbours and accusing them of converting people to Christianity. What was astonishing was that they were the same people who had pointed out Kama and Mala to the Church. When their rage died down, they warned the Christians to never gather to pray again. On the next day, when Kama stepped out of his house, he saw his home was surrounded by the same fanatics that had attacked him the previous night along with a few more locals who had joined in. They were all wielding bamboo sticks and had a tractor trolley with them. A few of them ran towards Kama and began to beat him mercilessly and he fell to the ground, unconscious. He was repeatedly whacked with sticks on his head, back and legs. He was admitted with severe internal and external injuries into the hospital, where he received treatment for almost a week. His all belonging were also thrown out by the fanatics.
In another incident, 14 years old Christian boy, Samaru Madkami, was murdered in cold blood by a group of religious fanatics in Malkangiri in Odisha. On the night of 4th June, 2020, a few villagers ganged up with a handful of religious fanatics who are not a part of their village and attempted to kidnap three Christians. Two Christians who were stronger and older than the victim managed to escape and were saved. Unfortunately, young Samaru Madkami was left behind at the mercy of his assailants who brutally slayed the grade 7 student and chopped his body into pieces. After carrying out this gruesome crime, the assassins buried the body and fled the scene.
Incident in Panipat:
In a brutal case of lynching, Ikhlaq Salami, from Nanauta, western UP went to Panipat, Haryana in search of work in August. He was attacked by a bunch of people who alleged that he had sodomised a seven-year-old boy. The mob chopped off Ikhlaq's hand when they noticed a tattoo of the number "786" on his hand (a number considered pious by the Muslims). After the mob sawed off his arm, he was dumped on the railway tracks to die. Fortunately, he survived and was rescued. The family alleges that Ikhlaq was attacked in such a horrible manner due to his religious identity and that he was innocent and gone to the house of the assailants to ask for water.
4. What explains the low numbers?
Polarization along religious lines, consolidation of communal identities and complete submission of religious minorities into a persecuted section of society (worse status than secondary citizens) is achieved in the country through discriminatory laws and overall normalization of violence against them which is the primary aim of the communal violence in the form of mob lynching. In such a scenario, lesser number of mob lynching was reported than the previous years. While mobs couldn't physically come out to lynch, the stigmatization of Muslims continued and even intensified when they were scapegoated for the pandemic. They were called as "super spreaders", actions falsely attributed to them dubbed as "corona jihad" etc. The media and the state launched a witch hunt for the Tablighi Muslims which also translated into targeting of common Muslims. There were calls for socio-economic boycott against Muslims, denial of access to Muslims to facilities of healthcare, discrimination in housing societies etc. However, in the near future, one can anticipate the cases of mob lynching increasing with decline of the lockdown rules.
5. Role of the state:
The role of the state is not one of taking deterrent action which reflects in the unabated spate of mob lynching. Though it is argued that the number of mob lynching has declined, it can be attributed to a number of factors which have a direct correlation to the action or the lack of it taken by the state. Additionally, the policies and laws of the state have legitimised propaganda against Muslims and Christians and such policies have acted as a cue for the vigilante groups to wreck violence on innocent. Some of these reasons have been discussed below in some details:
a. Low conviction rate giving impunity:
Like in the preceding years, it is observed that in the cases of mob lynching, particularly those related to communalism, the conviction rate of the accused is low despite the laws passed to regulate the menace of mob lynching. The victims and their families are intimidated to not pursue legal course. The disturbing trend is that the victims themselves are slapped with charges under different sections of laws to criminalise them and acts as a justification for the violence. Thus, there is double victimization of the victim and a prolonged legal battle which is unevenly stacked against them. This delayed or in most cases denied justice emboldens the vigilantes to mount relentless attacks without fear of law or prosecution, putting the victims in a vulnerable position.
b. Laws and policies supporting violence against the vulnerable:
The Karnataka government recently passed the Karnataka Prevention of Slaughter and Preservation of Cattle Bill, 2020. Though there was the older law, the Karnataka Prevention of Cow Slaughter and Cattle Preservation Act, 1964 in place, the new law is more stringent imposing a blanket ban on all slaughter, and consumption of all bovine meat in the state including buffaloes under 13 years old. This act will tacitly give a go ahead to the vigilantes to target anyone who is perceived to be consuming, transporting or selling cattle. This will also give sweeping powers to the police to frame charges against the victims instead of protecting them under the law. Such laws are proposed in other states too. This will only push the attacks on the vulnerable leading to increasing cases of mob lynching.
c. Narrative of hatred and othering:
With anti- cow slaughter laws, laws related to preventing conversions under the pretext of the "love jihad", the threats of CAA, there is a constant churning of narratives which are actively promoting hatred, exclusion and portraying religious minorities, Dalits and Adivasis as "outsiders" or a threat to Indian "mainstream". This narrative apart from being morally repulsive is also working to normalise hatred and thus violence in the form of mob lynching. The state by condoning such violence is also encouraging it and normalizing it further- leaving to pretense of fetters, whether moral or legal to discourage mob lynching.
Conclusion:
The drastic decline in the number of mob lynching incidents doesn't reflect the decline in communal violence or the ideology of hatred and exclusion. Due to factors including Corona virus imposed lockdown and related restrictions, the number of mob lynching may have gone down in 2020 but one can anticipate a surge in these numbers in the near future given the discriminatory laws giving legitimacy to hate and violent propaganda which embolden vigilantes to plunge the society in senseless violence.
---
[i] To access the entire report published by ADF, please refer to https://adfinternational.org/news/one-attack-per-day-on-christians-in-india/
Excerpts from a piece that appeared originally in Secular Perspective, February 16-28, 2021 edition