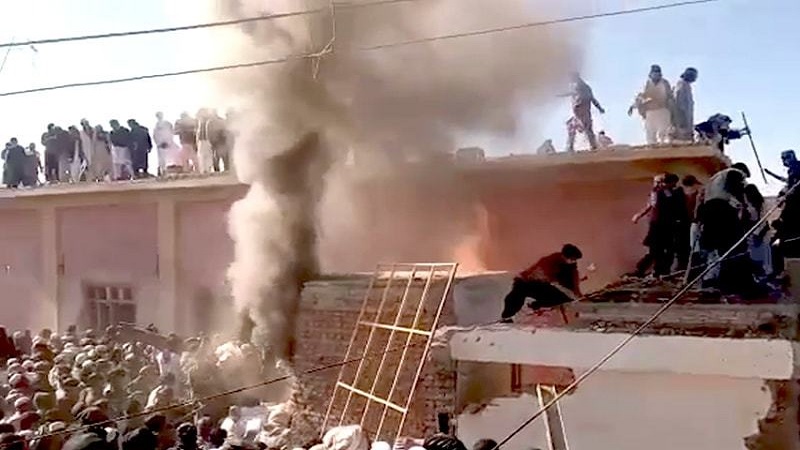 Image Courtesy:dawn.com
The bigoted right wing ecosystem in India has begun using visuals of a communal attack on a Hindu temple, where a massive mob can be seen vandalising the shrine in Pakistan 's Khyber Pakhtunkhwa act to reheat and serve its pro-CAA agenda in India.
CAA क्यों ज़रूरी है जवाब नीचे है ? https://t.co/OwjGdLifk9

— Aman Chopra (@AmanChopra_) December 30, 2020
According to a report in India Today, the incident took place in Terri village in Khyber Pakhtunkhwa's Karak district, on December 30. The situation was brought under control only after a heavy contingent of police reached the scene, stated the news report. However, the JUI-F KP Amir Maulana Ataur Rahman has already said his party has nothing to do with the burning down of the temple as "it happened after the party's rally", he also strongly condemned the incident.
It is being stated that the mob was allegedly protesting "the expansion work of the temple and demolished the newly constructed work alongside the old structure." The IT report added that Pakistan's federal Parliamentary Secretary for Human Rights Lal Chand Malhi strongly condemned the vandalisation of the temple by "some anti-social elements". He added that some groups were actively carrying out such anti-social activities to defame Pakistan. He also asked the district administration to file an FIR in the case and take legal action against the culprits.
Khyber Pakhtunkhwa's Chief Minister Mahmood Khan termed the attack on the temple as "an unfortunate incident" reported India Today, adding that "Khan vowed that his government will protect worship places from such incidents."
The India Today stated that a leader of Hindu Community Peshawar, Haroon Sarab Diyal said that a samadhi of a Hindu religious leader was at the temple, and Hindu families from across the country visited the samadhi every Thursday. He added that the attack "has hurt the sentiments of the Hindu community and the Islamic Ideology Council should take note of it," reminding his government that their "Prime Minister Imran Khan talks about promotion of religious tourism in Pakistan but minority worship places were not safe in his own country."
Hindus form the biggest minority community in Pakistan, stated the news report, with numbers reaching, over 90 lakh according to the community itself.
As reported by SabrangIndia before, Hindus in Pakistan, are a vulnerable minority, often even ignored by the media, who fail to highlight crimes against the community. Even when reported, they do not come to the fore and catch people's attention. Hindus comprise 2 percent (around 3 million people) of Pakistan's population. In 2019, the All Pakistan Hindu Panchayat (APHP) launched a campaign to collect data to ascertain the number of Hindus in Pakistan. Hindus are mainly concentrated in Sindh province where they form nearly 8% of the population. Some Hindu families in Pakistan reportedly hid their religious identities due to safety concerns too.
Related
Daniel Pearl Beheading: Pak court orders release of Omar Sheikh and aides
Khadim Husain Rizvi and the Weaponisation of Barelwis in Pakistan