The Modi regime on Wednesday, October 18, announced an increase in minimum support price (MSP) of 6 rabi (winter sown) crops with wheat getting a hike of Rs 150 per quintal – from existing Rs 2,125 per quintal to Rs 2,275 per quintal – for the 2024-25 marketing season, beginning April 2024. Benefits will accrue to farmers only on the eve of general elections 2024! MSP is the minimum support price at which the government procurement agencies buy grains from farmers.
Ironically, Modi's move comes a day after the Congress in its manifesto for the (all) state polls released on Tuesday, Wednesday 17, promised waiver of loans and electricity bills for farmers, support price of Rs 2,600 for wheat, Rs 2,500 for paddy, and purchase of cow dung at Rs 2 per kg!! Clearly threatened by impending losses, the Modi 2.0 government has made this move.
What does the MSP hike look like? Wheat – the main rabi (winter) crop, with sowing starting in October, and harvest in April — saw a Rs 150 hike per quintal, the highest since 2007-08, when an equal hike was recorded under the UPA government. For the past nine years there has not been such an increase despite the robust 2020-2021 farmers' protests that had brought the union government to its knees and commit to a withdrawal of three laws seen antithetical to farmer interests.
Madhya Pradesh and Rajasthan, where the Bharatiya Janata Party (BJP) is in a close fight with the Congress, are among key wheat producers in the country and the move is clearly meant to boost the party's prospects. Besides these two states and Telangana –which also faces a state election and where the BJP has a poor presence are big producers of rabi crops for which the union government e has announced a hike; of them, wheat, with largest hike in 15 years, has the second-highest area under sowing in country.
Analysis of data by experts, as reported both by The Times of India and Indian Express shows, that the annual MSP hikes for wheat ranged from Rs 40 per quintal to Rs 110 per quintal during 2014-15 to 2023-24 period when the focus was increasingly on support prices of pulses and oilseeds to nudge farmers towards crop diversification in order to reduce the country's import bill.
Key demands of the farmers' movement (November 2021) even when they welcomed the announcement to repeal the problematic three laws passed, without discussion or deliberation with Indian farmer bodies in June 2020 during the Covid-19 pandemic, remain unmet.
These include:
A legal guarantee to Minimum Support Price (MSP) based on the C2+50 percent formula
Withdrawal of the draft Electricity Amendments Bill 2021 that the Centre had promised to dispose in earlier talks
Removal of penal provisions on farmers in the Commission for Air Quality Management in the National Capital Region and Adjoining Areas Act 2021 (The SKM said that while the government removed some anti-farmer provisions, penal action remains a possibility through Section 15.
Impact of MSP decision
The recent MSP hike approved by the Cabinet committee on economic affairs (CCEA), has some succour to growers of lentil (pulses) and mustard and rapeseed (oilseeds), which have also got the highest absolute increase at Rs 425 per quintal and Rs 200 per quintal, respectively.
Gram, barley, and safflower are other rabi crops whose MSPs have been increased. Way back in the 2018-19 budgetary announcement, the Modi 2.0 government had fixed the MSP at a level of at least 1.5 times the weighted average cost of production of these crops. However, interestingly and significantly, it is in the pre-poll season that these have been acted upon!
According to detailed financial analyses carried out by the media, the margin over average cost of production is the highest for wheat (102%) in the new MSP followed by 98% for rapeseed & mustard, 89% for lentil, 60% each for gram and barley, and 52% for safflower.
Rabi crops are sown during October-January period, and are harvested in April-May. "This increased MSP of rabi crops will ensure remunerative prices to the farmers and incentivise crop diversification. The government is promoting crop diversification towards oilseeds, pulses and 'shree anna' (millets) to enhance food security, increase farmers' income, and reduce dependence on imports," announced the information & broadcasting minister Anurag Singh Thakur, while sharing details of the Cabinet decision on October 18.
The agriculture ministry's data shows that the MSP of lentils (masoor) has been increased from Rs 2,950 per quintal in 2014-15 to Rs 6,425 per quintal for 2024-25 marketing season.
Similarly, MSPs of safflower, rapeseed & mustard and gram have seen an increase from Rs 3,000 per quintal to Rs 5,800 per quintal; from Rs 3,050 per quintal to Rs 5,650 per quintal; and from Rs 3,100 per quintal to Rs 5,440 per quintal, respectively, during the period.
MSP of wheat, on the other hand, has seen an increase from Rs 1,400 per quintal to Rs 2,275 per quintal in 10 years.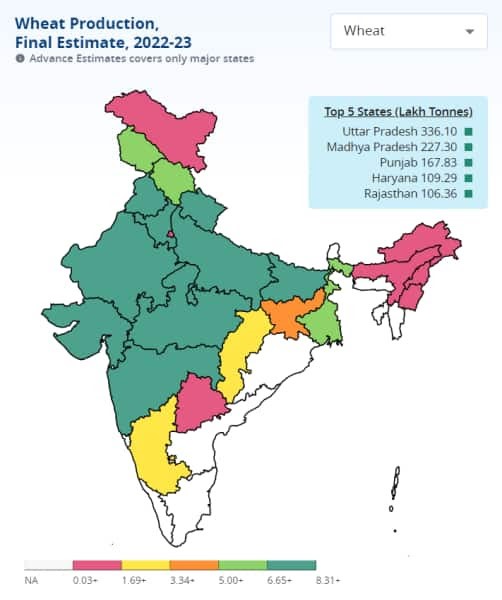 Source: Unified Portal for Agricultural Statistics (UPAg) and Ministry of Agriculture & Farmers' Welfare
Apart from wheat, the minimum support price (MSP) has been hiked for the 2024-25 rabi marketing season for gram (by Rs 105), barley (Rs 115), lentil (masoor, by Rs 425), rapeseed-mustard seed (Rs 200) and safflower (Rs 150).
Not insignificantly, a key factor behind that sudden decision of the union government is the fact that farmers have been angry with the Centre over a ban on wheat exports since May 2022, done to control prices of wheat and wheat flour. While announcing these hikes, the government shrugged off apprehensions of the MSP rise creating a pressure on prices, and said the hike was in line with the Union Budget 2018-19 announcement of fixing the MSP at a level that is at least 1.5 times of the all-India weighted average cost of production.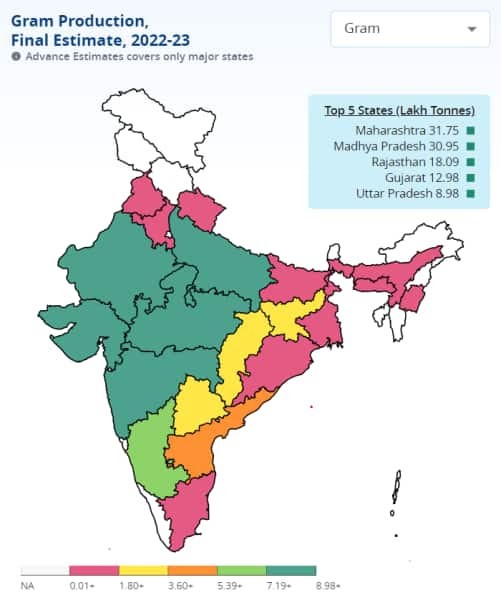 Gram Production Estimate. Source: Unified Portal for Agricultural Statistics (UPAg) and Ministry of Agriculture & Farmers' Welfare (The Indian Express)
Apart from the upcoming state assembly elections, all the five election-bound states are crucial to the 2024 Lok Sabha polls next year, accounting for 83 MPs in all.
Breakdown
* Madhya Pradesh: The central Indian state, which saw the Congress win narrowly in 2018 –before the infamous Operation Kamal that toppled an elected government –the government lost power in less than two years owing to defections to the BJP, is the top producer of masoor in the country, the second largest producer of gram, wheat and rapeseed-mustard, and the fourth largest producer of barley. Agrarian distress and farmer anger is one of the top poll issues in the state, where 70% of the population is linked to the agriculture sector. Farmers have been facing problems like low crop prices, high input costs, erratic weather, crop damage, debt and lack of infrastructure support.

Lentil Production Estimate. Source: Unified Portal for Agricultural Statistics (UPAg) and Ministry of Agriculture & Farmers' Welfare (The Indian Express).
The BJP is however still banking on its state and central schemes — Mukhyamantri Kisan Kalyan Yojana, PM-Kisan and the Pradhan Mantri Awas Yojana (for housing).
* Rajasthan: A state held by the Congress, where the ruling government is fighting hard to beat the pattern of regime change known to the state's politics, Rajasthan is the largest producer of barley and rapeseed-mustard, the third largest producer of gram, and the fifth largest producer of wheat and lentil.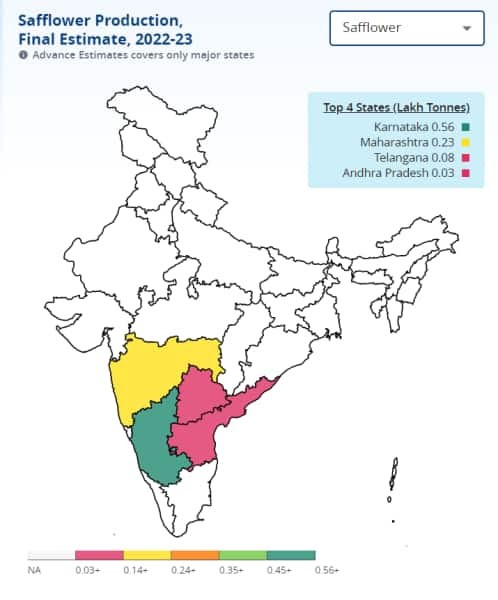 Safflower production estimate. Source: Unified Portal for Agricultural Statistics (UPAg) and Ministry of Agriculture & Farmers' Welfare (The Indian Express)
During his campaign rally in Rajasthan, Prime Minister, Narendra Modi had flagged the Congress promise of farmer loan waiver and asked if people had received it. He had also accused the Ashok Gehlot government of leaving "no stone unturned" to stop the Narmada water organised by the Centre from reaching Rajasthan's farmers.
The Congress is, on the contrary, relying on the Eastern Rajasthan Canal Project, which is expected to ensure water for drinking and irrigation in 13 districts of the state, and alleging that it this has been stalled due to the Modi government.
For the first time last, the Gehlot government, in a significant move, had presented a separate agriculture budget.
* Telangana: The state, where the Bharat Rashtra Samithi (BRS) is in power and where the BJP faces an uphill task in the wake of a Congress resurgence, is the third largest producer of safflower in the country.
The BRS government has a reportedly successful scheme in Rythu Bandhu, and in its manifesto released recently, the party promised to raise farm investment support under it to Rs 12,000 per acre per farmer, from Rs 10,000 right now.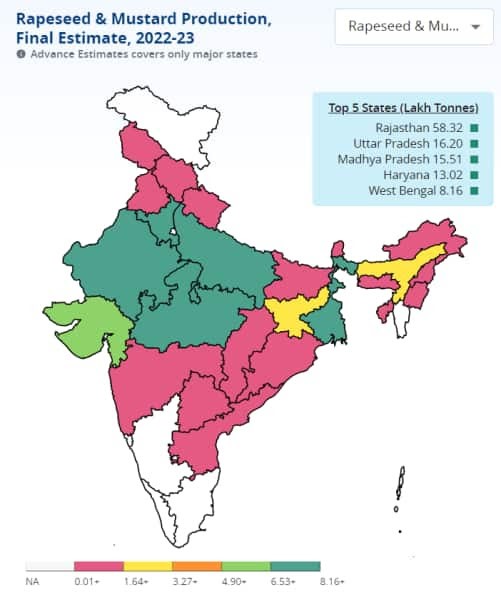 Rapeseed and Mustard production estimate. Source: Unified Portal for Agricultural Statistics (UPAg) and Ministry of Agriculture & Farmers' Welfare (The Indian Express)
It was only in 2022, last year, that the BRS government– until then seen as "friendly" to the Centre – had launched protests against the Modi government demanding that it procure paddy after a bumper crop in the state.
The Congress, the primary opposition party in the state, has promised to increase farmer support to Rs 12,000, and said it would also pay crop investment support to tenant farmers.
* Chhattisgarh, Mizoram: Neither of these two states do not account for much of the rabi crops which saw an MSP hike on Wednesday.
The Bhupesh Baghel government in Chhattisgarh, though, has been banking big on farmers, with the ruling Congress in a tussle with the Centre over credit for the state's high procurement price for paddy (the highest in the country). It remains one of the main poll issues in the state.
MSP for Wheat
Wheat is the second largest crop (after paddy) in terms of area coverage in the country. In crop year 2022-23, the area under wheat stood at 318.25 lakh hectares, and its production 110 million tonnes (MT).In the 2023-24 rabi marketing season, the Centre has procured 26.2 MT of wheat for the central pool, benefiting 21.28 lakh farmers. Of these 21.28 lakh farmers, 7.96 lakh are from MP, or 37.4% of the total.
The new MSP will be effective next summer season, around the same time as the Lok Sabha elections. The new MSP over the 2023-24 rabi marketing season is the highest hike for wheat in the last 15 years in absolute terms. At 7%, it is also the highest in the last 12 years in percentage terms.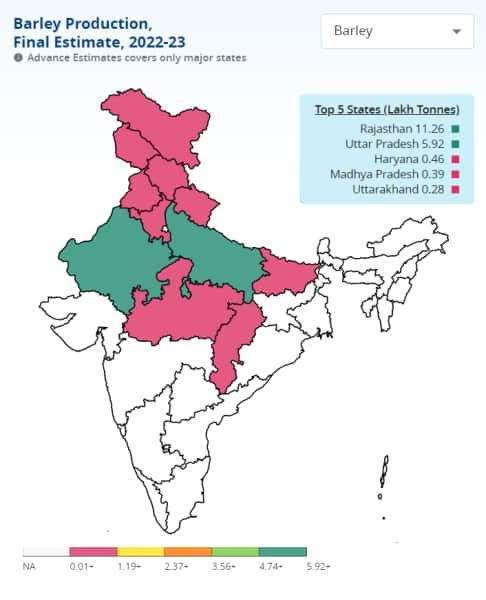 Barley production estimate. Source: Unified Portal for Agricultural Statistics (UPAg) and Ministry of Agriculture & Farmers' Welfare (The Indian Express)
Top producers, 2022-23
Wheat, MSP hike 7%
UP: 336.10 lakh tonnes or LT
MP: 227.3 LT
Punjab: 167.83 LT
Haryana: 109.36 LT
Rajasthan: 106.36 LT
Barley, MSP hike 6.63%
Rajasthan: 11.26 LT
UP: 5.92 LT
Haryana: 0.46 LT
MP: 0.39 LT
Uttarakhand: 0.28 LT
* Gram, MSP hike 1.9%
Maharashtra: 31.75 LT
MP: 30.95 LT
Rajasthan: 18.09 LT
Gujarat: 12.98 LT
UP: 8.98 LT
Rapeseed-mustard, MSP hike: 3.67%
Rajasthan: 58.32 LT
UP: 16.20 LT
MP: 15.51 LT
Haryana: 13.02 LT
West Bengal: 8.16 LT
Lentil (masoor), MSP hike 7.08%
MP: 6.36 LT
UP: 5.17 LT
West Bengal: 1.51 LT
Bihar: 1.32 LT
Jharkhand: 0.48 LT
Safflower, MSP hike 2.65%
Karnataka: 0.56 LT
Maharashtra: 0.23 LT
Telangana: 0.08 LT
Andhra Pradesh: 0.03 LT
(This report relies a lot on the date crunched by The Indian Express)

Related:
Farmers' movement: 12 months and still going strong!
Welcome repeal of laws but other demands pending: SKM to PM Modi
Will repeal of Farm Laws help BJP win UP, Punjab, Uttarakhand elections?
SC appoints retired P&H HC judge Rakesh Jain to monitor Lakhimpur Kheri probe
Farmers celebrate repeal of three laws at Delhi borders!
Three Farm Laws to be repealed: Prime Minister Narendra Modi 
New farmer suicide data showcases continuing social inequalities