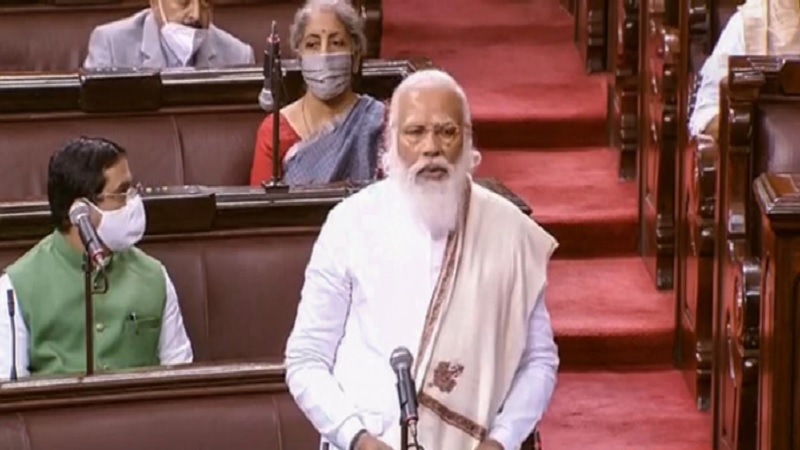 Image Courtesy:deccanherald.com
Prime Minister Narendra Modi talked about a new "jamat" in India, the Minimum Support Price (MSP), the Sikh community and the danger of a new "FDI" during his motion of thanks to the President at Rajya Sabha on February 8, 2021.
Addressing the country's agrarian crisis on a public platform, Modi said, "The need of the hour is to improve the lives of the small farmers. Why should they not have the same freedom as the dairy sector to work with the private or cooperative sector?"
He talked about schemes such as the Pradhan Mantri Fasal Bima Yojana that gave farmers claims worth Rs 90,000 crore and the benefits of the Kisan Credit Card, Soil Health Card and Samman Nidhi. He also talked about improvements under the PM Gramin Sadak Yojna that enables the produce of farmers to reach distant places and other initiatives like the Kisan Rail and Kisan Udan too.
However, regarding recent protests, he simply said, "We are all aware of some terms like 'Shram jivi' and 'buddhi jivi.' But I am seeing that from some time a new entity has come up in this country: Andolan jivi. This community can be spotted wherever there is a protest… They cannot live without protests. We have to identify such people and protect the nation. They are parasites."
The Prime Minister's quips were not well-received on social media where personalities such as advocate Prashant Bhushan tweeted, "Those who, till yesterday, used to say "I have made my political career through agitation," are today using terms like "andolan jivi" to humiliate farmers!"
Along with this new word andolan jivi Modi also coined a new acronym "Foreign Destructive Ideology" (FDI) that he claimed poses a threat to India's progress. His statement came shortly after growing support of international personalities for the on-going farmers' struggle.
Regarding agriculture, Modi talked about the importance of new laws and policies to improve the lives of farmers. He talked about new initiatives taken up by his government since 2014 regarding the agriculture sector that aim to empower farmers such as the crop insurance scheme that was made "more farmer friendly," the PM-KISAN and the government' work "for the small farmers." He said that problems of agriculture should be resolved and there is a need to work for this.
On MSP, the Prime Minister reiterated, "MSP is there, MSP was there. MSP will remain in the future. Affordable ration for the poor will continue. Mandis will be modernised," further adding that it is necessary to rise above political calculations to help farmers.
However, in response to this Sanyukta Kisan Morcha (SKM) leader Abhimanyu Kohar questioned why the government was unwilling to provide a legal guarantee for MSP if it will stay forever.
Modi also cautioned against forces attempting to destabilise the country stating that it is important to alert the countrymen about the all-round attack on Indian Nationalism.
"India is not merely the world's largest democracy. India is the 'Mother of Democracy' and this is our ethos. Our nation's temperament is democratic," he said.
Accordingly, he said that India is very proud of the contribution of the Sikh community that has done so much for the nation.
"The words and blessings of the Guru Sahibs are precious ," he said. The Prime Minister also insisted that an attempt should be made to bridge the urban-rural divide.
Related:
Mahapanchayats getting bigger, bolder
Another death by suicide at Tikri border, death toll reaches 214
Allow peaceful protest by farmers: US Congress to India
Mainstream media overlooked farmers' protests in South India: Farmers' leaders
10 clicks that showcase a peaceful chakka jam!