The trailer of Ramjanmbhoomi, a deeply provocative and communally polarising film, is out and it has caused an outrage! Who owns Cinecraft Productions that made the film "Ram Janmbhoomi" is as pertinent a question as who funded the film? Also, what is the purpose of making such a film in the first place?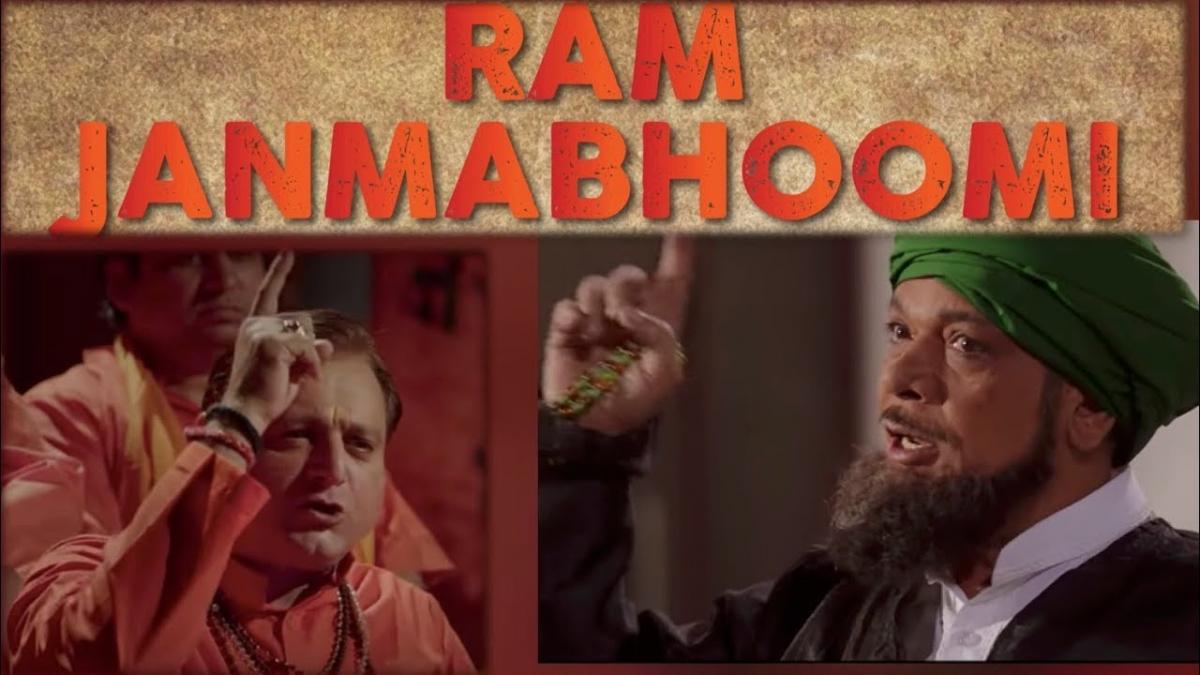 Meet the Maker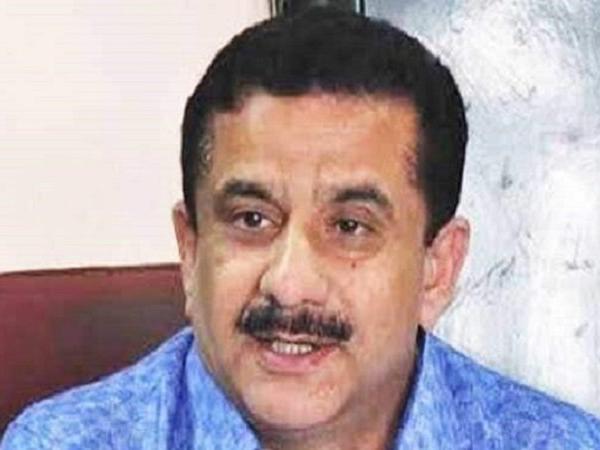 Syed Waseem Rizvi, who claims to be the writer and producer of the film, is actually the Chief of the UP Shia Waqf Board. It is alleged that Waseem Rizvi, handpicked by the saffron regime, is a clear tool in their hands. Interestingly, Rizvi claims that the film is shot in Ayodhya. Question is, who gave permission for the shoot? To top it all controversial RSS leader, Indresh Kumar is featured as a 'Hindu leader'!
Desperate in the face of rising opposition, a sinister game plan is afoot to use the UP Shia Waqf Board chief, Syed Waseem Rizvi as the chief generator of Shia-Sunni conflict using the Ram Mandir and Ayodhya. The trailer and poster of the film, 'Ramjanmabhoomi' scripted by Rizvi was 'released' last Monday, and has already generated its share of intra-community tensions. Almost all senior Sunni and Shia leaders of India have officially condemned this trailer and have asked the govt to stop this hate film. They have also petitioned the govt demanding that a criminal case be filed against Waseem Rizvi.
We at cjp.org.in delved deep into this controversial, even hate-filled trailer that has already generated tensions. A criminal case has already been filed against it in Mumbai. (फिल्म 'राम जन्मभूमि' के ट्रेलर के खिलाफ केस दर्ज, धार्मिक भावनाएं आहत करने का आरोप) (ट्रेलर रिलीज के एक दिन बाद ही विवादों में घिरी 'राम जन्मभूमि')
What does an analysis of the trailer reveal?
This trailer is about actual incidents of 1990 when kar sevaks were shot at by the UP police when they attempted to break the law in force. However, the narrative has been twisted a la the narrative of the VHP-RSS (sangh) that only depicts 'peaceful Hindutva kar sevaks'. Worse, these scenes are interjected by fabrications and falsehoods, the absolutely false propaganda of 'Muslims provocating the Hindutva people.' Thereafter a series of incidents of violence depict violence by Muslims against Hindus. There is also a snide reference to the police who are conspiring with Netaji (1990 chief minister, Mulayam Singh).
This trailer is a complete short film in itself, there is nothing more left to understand.
Sign boards of the Shia Waqf Board are strategically placed within it. The Shia Waqf Board chief Waseem Rizvi is also 'acting' in the trailer. Controversial RSS leader Indresh Kumar who was charge sheeted in the Ajmer Blast case also has a guest appearance as a part of a television news show within the film.
There is a titillating and caricatured 'villain' in the short film, Jaffar Khan who is not only shown as a terrorist but a Shariya Board member who drinks alcohol and commits Halala (having a relationship with his own daughter in law). There are scenes of Muslim men shown lynching 'innocent Hindutva kar sevaks.' The setting is also sinister: popular 'Muslim' icons and flags often depicted during festivities are shown as the backdrop for the aggression of violent 'Muslim mobs.'
Hate and Incitement in Waseem Rizvi's Film
The most controversial scene planted within the film is clearly aimed at dividing Muslims along the Shia vs Sunni sectarian divide. Waseem Rizvi is sitting across the table and uses objectionable words derogatory to the Khalifa and founder of the Umaiyyad dynasty, respected by many Sunni Muslims.

(Note: We are not using the words here as they are both inciteful and provocative. This anti Sunni statement by a Shia character in the film who is the Chairman of UP Shia Waqf board in real life is undoubtedly depicted with intent to instigate Shia vs Sunni conflict in India).
What readers must note that this has been part of a not so hidden strategy of the BJP-led Sangh Parivar. Recall September 14, 2017 when BJP leader Subramanian Swamy called for uniting Hindus, creating division among Muslims.

Media fans the flames:
Rabid mainstream channels like Times Now are fanning the controversy while websites with a clear Hindutva bent are actively promoting it.
Examples of pro-Hindutva websites promoting this film
1. Swarajyamag: Watch: Ram Janmabhoomi, A Film By Shia Waqf Board Chief Who Supports Ram Temple, Targeting Social Evils In Islam
2. Brajesh Mishra tweet https://twitter.com/brajeshlive/status/1064020215376166912
3. http://www.5dariyanews.com/news/252810-Ram-Janambhoomis-trailer-based-on-the-radical-conspiracy-of-Babari-on-Ram-temple-construction-has-been-launched-in-Lucknow

Who and what is Cinecraft Productions?

One, this film is produced by Cinecraft Productions which has only two videos on their Youtube channel. The first is this trailer and the second is their showreel, which is of an extremely unprofessional poor quality. Significantly, the showreel shows that Cinecraft Products has also made films for the government of Uttar Pradesh. Only two videos can be found on youtube by Cinecraft both posted on November 18, 2018 this also includes videos made for the Govt of Uttar Pradesh on Asha Bahu before the Ramjanmabhoomi film was made.
Description of the movie Ram Janmbhumi on youtube channel
Hindi Movie "Ram Janmbhumi" ( राम जन्मभूमि ) written & produced by Waseem Rizvi (Chairman of Shia Waqf chief, Uttar Pradesh) The movie deals with issue of Ram Janmbhumi & Halala. Produced under the banner of Cinecraft Productions and Directed by Sanoj Mishra film Ram Janmbhumi stars Actor Manoj Joshi, Govind Namdeo, Najnin Patni, Rajveer Singh, Disha Sachdeva and Aditya in important role. The film poster is quite intriguing as there is a saffron flag on the top of the dome of Babari Masjid.the poster will sure make the headlines inthe media in coming days. The movie is all set to hit in screen in the end of December 2018.
Who is Indresh Kumar?
RSS leader Indresh Kumar, apart from being charge sheeted in the Ajmer blasts case is an active pro-Israel and pro-US leader. Reports have shown that he and 75 others have participated in the Haifa centenary celebrations in Israel. Today, Indresh is a national executive member and the Sahprachar Pramukh in the RSS. His name cropped first when Malegaon blasts prime accused Colonel Shrikant Purohit mentioned him during interrogation.
Both Waseem Rizvi and Indresh Kumar appear to enjoy a special relationship. Since June July this year on social media, Waseem Rizvi, Shia Waqf Board, has been openly supportive of Indresh Kumar's stand saying, "Muslims should stop eating beef. Killing of cows should stop. Meat of cows is 'haram' in Islam as well. You can't stop mob lynching, security can't be deployed everywhere. So a law should be made awarding strict punishment to those killing cows." There is more. "I think Indresh Ji's statement has a point. Religious sentiments should not be hurt. If law is made to stop killing of cows, lynching will stop. You can't kill someone who is given the status of mother by a community," Rizvi added.
Related Articles:
1. Catch News
2. ANI report
3. Haribhoomi.com
4. Navbharat Times
5. Siasat.com
6. Newkerala.com
Trigger Warning: This trailer is full of communally sensitive and potentially offensive content

Film Trailer:

ref: Ayodhya firing incident 1990



Detailed Breakdown of the Trailer

The Trailer starts with Super Text in hindi – Ayodhya 2 Novemeber 1990

–Shot of Ayodhya Saryu ghat
–Cut to a Muslim Villian Shouting Slogans (as if Muslims are provocating violence)
–Cut to Hindus shouting Jai Shree Ram (as a reaction to Muslim provocation)
Super text: Chali thi goliyan
–Cut to Police firing indiscriminately and killing the kar sevaks.
Super text: Beh raha tha khoon
Montage of several dead Kar Sevaks
–Cut to speech by a Hindutva leader in a hall with a ram mandir banner and a shia waqf board banner in the background.

The Shia waqf board banner says "ek kadam ekta ki ore". (note: Waseem Rizvi had published a brochure with similar title एक रास्ता एकता की ओर शीर्षक वाले इस पांच सूत्रीय प्रस्ताव https://navbharattimes.indiatimes.com/india/shia-wakf-board-explanation-proposal-mosque-in-ayodhya-and-mosque-in-lucknow/articleshow/61726438.cms)

The speech blames politicians for appeasing Muslims "kuchh rajnitik partiyan keval musalmano ke vote bank ki rajniti karne ke liye poore desh ka mahaul kharab kar rahi hain"

Cut to the same 'Muslim villain' saying "masjid musalmano ki hai" montage of the Muslim villain checking automatic rifles. "aur inshallah wahan babri masjid qayam hokar rahegi"
Cut to Muslim mob wearing skull caps carrying a green flag with star and crescent "lynching and hacking two saffron clad kar sevaks."
–Top angle view shows brutally hacked kar sevaks, and camera zooms in to show a donation box in the dead kar sevak's hand which has hindi text "Shree Ram mandir nirman me apna sahyog den"
–Cut to the Muslim villain eating sweet (laddus) the board in the background has text "all india shariyah board"

Waseem Rizvi is stiing across the table and tells the villain uses the provocative words that we have decided not to use
(note: this is extremely provocative dialogue against the founder of Umaiyyad dynasty who is respected by many Sunni muslims.
This anti Sunni statement by a Shia character who is chairman of UP Shia Waqf board is undoubtedly an intentional scene to instigate Shia vs Sunni conflict in India.)

–Cut to Men in skull caps firing at policemen and Waseem Rizvi is also with the police, and they shoot down the attackers.

–Cut to a hindu family watching television (some urdu news channel) and on TV news the RSS leader Indresh Kumars saying "is desh ke andar neta jo virodh kar rahe hain, uphas kar rahe hain, unko sharm aani chahiye"
–Montage of muslim family also watching news and sadhus listening to RSS leader's statement on radio.

—Cut to: a mob chasing a girl who is running away to save herself
—Cut to: the daughter in law of the Villain Muslim telling her husband "aap bhi usi bheed ka ek hissa hain jo haath me talwaar lekar insaaniyat ka khoon karne par aamada hai. Aur wo bhi islam ke naam par.
And Arif Khan slaps his wife gives talaaq to the girl "main aarif khan isi waqt talaq deta hoon, talaq talaq talaq"

Voiceover of the girl "hum ek aise mazhab me paida huye jahan ghar ki bahu ke saath Halala ke naam par ghar ke sasur hum-bistar hua karte hain"
Visual of the villain Muslim (father in law) sitting with alcohol bottle on table with two glasses, he drops a pill in a glass, then a scene of having sex with the daughter in law.

Cut to : Hindutva leader giving speech "Babar ne jo kalank kiya hai us kalank ko dhwast karna hai.
(Note : right after Halala, dialogue against Babar and kalank is justifying typical anti Muslim propaganda by the Sangh).
Cut to : Muslim villain "agar aisa hua to hindustan me Islam khatre me pad jayega"
Cut to : riot scenes burning vehicles, bicycles, carts etc.

Cut to : Hindutva leader "Hindu sahishnu tha, Hindu sahishnu hai, Hindu Sahishnu rahega" scene of saffrpon clad mob carrying saffron flags marching…
(Note : all dialgoes by the Hindutva characters in the trailer projects them as peaceful Sahishnu tolerant people)
Cut to : Muslim Villain "taiyyar ho jaiye, ek aur jung ke liye"
Cut to : Muslim mob attacking hindus
Many dead bodies of kar sevaks and sadhus being dumped by the police.
And a policeman burns the bodies.
Cut to police man stading against burning fire and smoke and speaks on his walky talky "Netaji aapne jo kaam kaha tha wo ho gaya hai"
(Note : Mulayam Singh is called Netaji by people, and he was the UP CM in 1990)

Cut to : scenes of policemen killing peaceful kar sevaks.

There is flame on the screen and the domes of Babri masjid in the background.
Trailer ends with super text "Coming Soon"
End plate of video is Ram Janmbhoomi film poster.