Dehradun: More than 20 Muslim families that were forced to flee Purola town in Uttarakhand's Uttarkashi district nearly 30 days ago have returned to their homes as the srife-torn region inched closer to normalcy after weeks of anti-minority, communal tension, police told the media on Monday, June 26. The Hindustan Times has reported on the police's information,
Several members of the minority community, which comprises just 2% of the town's population or even less, were compelled to flee the town following brazen calls for targeted boycott made by extreme right-wing groups after an alleged abduction attempt on a minor girl by two men, one Hindu one a Muslim, on May 26.
Many of the shops run by Muslims in Purola main market remained shut for nearly 21 days after members of the community were threatened and asked to leave the state by right-wing organisations, who alleged the abovementioned abduction (in which one Hindu and one Muslim was involved) was part of a 'love jihad' attempt – a claim denied by the minor girl's uncle, who is a complainant in the case. According to available information, the main market roughly consists of 650-700 shops and of these, around 30-40 are run by Muslims.
'Love jihad' is a concocted term used by right-wing groups and extreme right-wing politicians belonging to the ruling Bharatiya Janata Party including chief ministers of Uttar Pradesh and Madhya Pradesh and the deputy chief minister of Maharashtra, to describe an alleged conspiracy by Muslim men to woo and seduce Hindu women, although Indian law, the Courts and the Union government do not officially recognise it.
It took a month after such perpetrated tensions were allowed to engulf the town –and economic losses worth hundreds of thousands suffered by the minority –that the police on Monday said the law-and-order situation is normal and more than 20 Muslim families, who fled over safety concerns, have returned to their homes.
"Over 20 Muslim families who left after communal tensions have returned. Everything is peaceful here now. The law and order is intact," Purola station house officer (SHO) Ashok Kumar said. Some of the returnees, said HT,  corroborated the SHO's comments and expressed satisfaction over normalcy being resumed in the town.
"Everything feels normal right now, just like it was earlier. Everything that happened seems like a bad dream. The police and vyapar mandal (traders union) have been very supportive," Bablu, who left the town on June 4 and returned recently, is quoted by the newspaper.
The 40-year-old man lives in a rented accommodation in Purola and runs a salon in the main market. He shifted to Dehradun with his wife and two children when tensions erupted.
"We left for my sister's place in Dehradun on June 4 after I came across a poster pasted on my shop, asking Muslim traders to vacate the premises. There has always been a sense of brotherhood among the people here. It was some outside elements who communalised the atmosphere here," he said.
Arshad, 22, who also owns a salon in Purola market, had also fled to Dehradun in May 2023.. "I left for Dehradrun on May 27. My family lives there. I returned a week ago and subsequently resumed business as the situation is normal now," he said.
"Even amid the tension, my landlord did not ask me to vacate the premises. But I left due to safety concerns. I knew hate cannot prevail for very long," he said.
However, some families, quoted by Hindustan Times, also expressed apprehensions of active discrimination by the majority community.
"We returned because we have been assured of our safety by the administration. While we have been told that we won't be harassed, we fear we will face discrimination by the majority community," a Muslim resident said on condition of anonymity.
It is economic compulsions no doubt that have made them return. "My family was running short of money and for how long can we stay with relatives. We have a business in Purola and we are ready to resume our life again," the resident said.
In a show of solidarity and communal harmony, Brij Mohan Chauhan, president of Purola Vyapar Mandal also told HT, "Most Muslim families have returned. They had left on their own will and returned on their own will. We never had problem with them. They are free to do trade here. We rather spoke to administration to persuade them to come back and open their shops."
The law however does not deter extreme outfits like the Bajrang Dal. Vikas Verma of Bajrang Dal said, "We will ask locals for their economic boycott. It is the only way to evict them out of hills permanently. It is necessary if locals want to save their daughters from love jihad."
On May 26 after two men, a Hindu and a Muslim, allegedly tried to abduct a 14-year-old girl. Local residents alleged it was a case of 'love jihad'. The community of one of them was targeted by the mob, however.
While the two accused – Ubed Khan (24), a local shopkeeper, and Jitender Saini (23), a motorcycle mechanic – were arrested immediately on May 27, the incident led to right wing groups holding protests in several areas and attacking shops and houses of several Muslims.
Two days later, on May 29, a protest march by right wing outfits in Purola turned violent after some of the agitators attacked shops and establishments belonging to the Muslims. A similar protest was held on June 3, under the banner of Yamuna Ghati Hindu Jagriti Sangathan. Nearly 900 people took part in the stir.
Posters began to appear across Purola, asking Muslim traders to leave before a proposed Hindu mahapanchayat – which was later disallowed by the district administration – on June 15.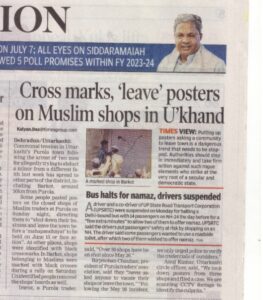 Section 144 of CrPC, which prohibits the gathering of four or more people in a particular area, was enforced for three days at the time. Meanwhile, police are yet to file an FIR in connection with the ransacking of Muslim shops. No compensation has been paid either.
Ten days back too it was on June 17, that HT reported that the minor girl's uncle said there was no communal angle in the case. "There were attempts from the first hour to make this a communal issue. Right-wing activists even prepared a police complaint for us on their own, but the police didn't accept it. It was never a love jihad case, but a regular crime. Those that committed it, are behind bars," the 40-year-old man," he said.
Related:
Family of Purola minor denies religious motive, says it never was a 'love jihad case', Uttarakhand
Paramount duty of the State to ensure that law and order is maintained in all parts: Uttarakhand HC
Uttarakhand HC must stop the June 15 Mahapanchayat and assure protection to all citizens
Uttarkashi: Cross marks, "leave" threats on Muslim shops, hatred spreads to other towns: Uttarakhand