The month of Ramadan is as much about fasting as it is about caring about those less fortunate than us. The concept of Zakat entails Muslims to donate money, food and other essential goods during Ramadan on the basis of their financial status. Charity is one of the most recommended acts during fasting; Muslims are required to give a minimum of 2.5% of their annual savings as charity to poor and needy people. Naturally then, this practice attracts a lot of people from nearby states to Delhi. The beggars coming to Delhi from NCR, Uttar Pradesh, Haryana and Rajasthan during the month of Ramzan form a group and live under the flyovers/metro bridges and beg, often leading to clash between migrant beggars and the permanent flyover and bridge dwellers who sell balloons, flowers and other products.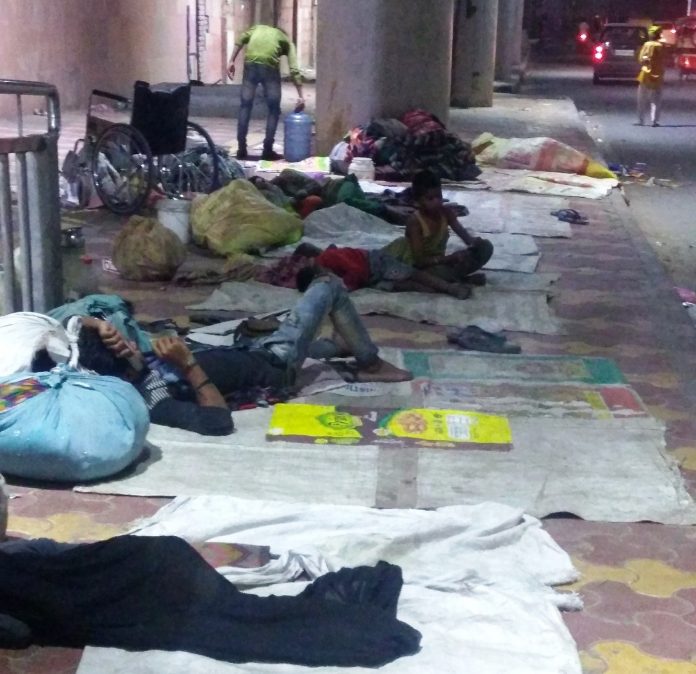 The newly-constructed Jamia Metro station looks more like a refugee camp with people sleeping outside it and begging for survival

This condition is probably nowhere more visible than the newly-built Delhi Metro bridge near Jamia Millia Islamia University. Even though the Metro is supposed to be a sign of the modern times, the area around it looks like a ragged refugee camp with old people lying on plastic mats and worn out quilts, kids playing around, young men and women keeping a vigil in order to grab any food or good which came as charity.
This often leads to dispute as well, especially when one group captures a large portion of the charity and denies sharing it with others. When this reporter was at the site, two guys on motorbikes arrived with about 5 plastic mats to be distributed, but all were taken by a permanent dweller who was a strong man. The migrant beggars fought for an hour in order to get at least 2 mats but in vain.
Religion of beggars can change with a change in location
It's impossible to know the religion of the migrant beggars by looking at them or talking to them as they are well-versed with the tricks of the trade. Their religion and attire depend on the festival and location they are staying. Visiting them and talking to them gives an insight into the business of begging in North India. A burqa-clad lady with a child on her shoulder ties a cloth on her hand in order to hide a tattoo of her name which reads 'Geeta Kumari'. A Muslim woman 'Samina' applies dark red vermilion on her head to beg near Kalkaji Mandir located near the busy Nehru Place business centre. The men wear Kurta Pyjama and skull caps during Ramadan and apply teekas during the Navratri season.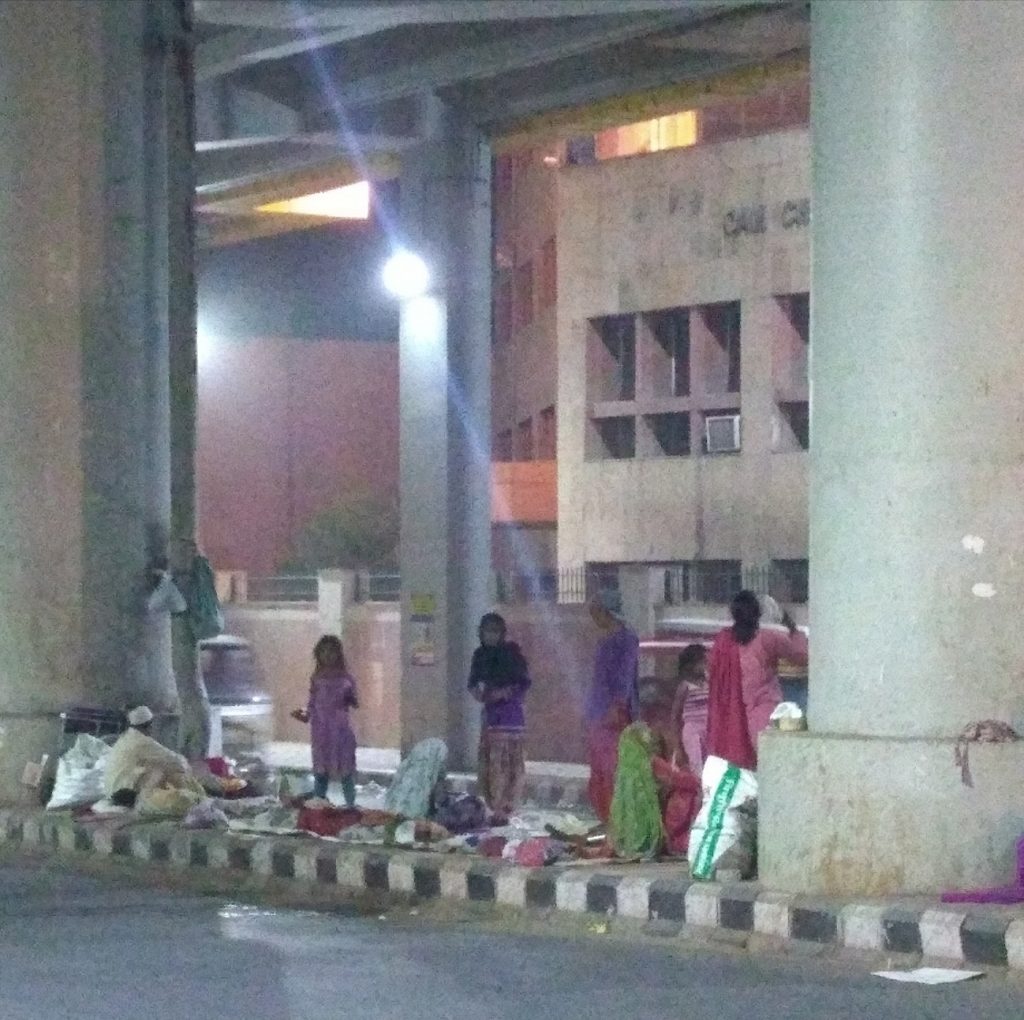 The residents under the Metro bridge face constant harassment at the hands of Police and other 'permanent' dwellers
But tricks can only do so much: the truth is that begging can be life-threatening in these places and living without basic amenities like proper toilets and sleeping area. Apart from this, the women beggars live in constant fear of being molested by permanent dwellers and this, coupled with the fear of being beaten by police and locals, only highlight the grave danger they put themselves in.
One such 'resident' of the Metro bridge is Salim, a boy aged 13 years. Salim has been staying under the flyover for the past one month and came to Delhi with his mother (Aasfa) nephew (Zabeer) and cousin (Javed) from Misripur, where his father is also into begging. After initial hesitation, Salim opened up about his plight and explained how they had been living in plastic tents located in an open area belonging to the Uttar Pradesh Irrigation Department near Jamia Millia University.
He talked about the nights when mosquitoes were trying to enter his nose and ears and how he slept by wrapping his head in his old shirt. He explained how he and his family members were threatened by the other beggars who were permanent inhabitants of the field. One day, the hawkers who put their stalls near the field called the police and Salim and others were beaten and were forced to vacate the area after which they began living under the Metro bridge of Jamia Millia Islamia.
Salim talked to us for about 3 hours and in that period he continuously tried to receive few things from the people arriving on bikes and cars and donating but he was too small to fight with the permanent dwellers. He told us that tonight he had been really unlucky because he wasn't even able to arrange his food, and he seemed worried about the whereabouts of his mother who had gone for begging in another area since morning.
Dejected and miserable with the situation in which he was living, Salim talked about how he wanted to study and had, in fact, attended school for a few years after which his father asked him to beg instead.
He said here he is often forced by other elder boys to take drugs, but he didn't like how they behave after taking drugs. Salim seemed highly motivated for education, he said he doesn't want to live on the road all his life he is scared of the vehicles, which can hit anyone. "I am sick of my dirty clothes and body…I am dirty and filthy and have not taken a shower for the last 5 days. For the toilet, we have go to the same field where we were staying earlier. We have to go as early as possible because after the hawkers come, they threaten us by saying they will call the Police," he told TwoCircles.net.
The story of Salim is not just his; it is shared by all the young children who face the same situation.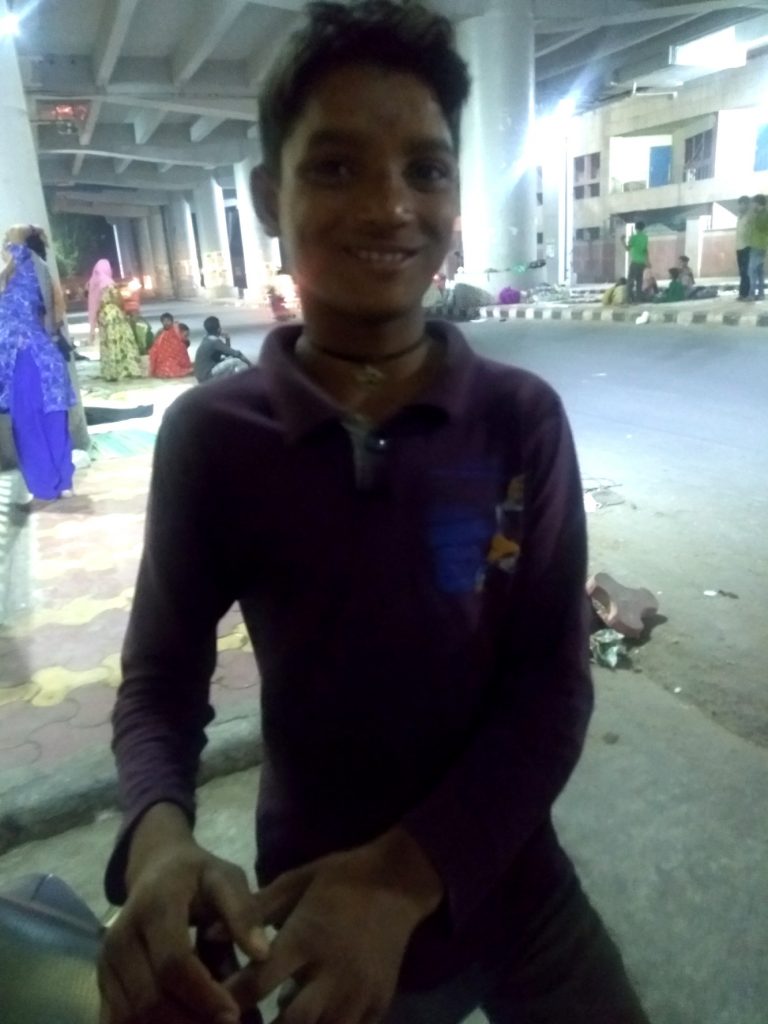 I want to study, says Salim, who came with his family from Misripur, Uttar Pradesh to beg in Delhi
On May 17, 2018, the bench of acting Chief Justice Gita Mittal and Justice C. Hari Shankar of the High court of Delhi observed a PIL (Public Interest Litigation) filed for decriminalising begging. The bench said: "A person begs only out of sheer necessity and not by choice. "You or we will not beg even if we are offered a crore of rupees. It is out of sheer necessity that someone puts out a hand to beg for food. How is begging an offence in a country where you (government) are not able to provide for food or jobs." The court was commenting on the PIL filed by Harsh Mandar and Karnika Sawhney, who have sought basic human and fundamental rights for beggars in the capital, apart from decriminalising begging. They have also sought basic amenities such as proper food and medical facilities at all beggars' homes in the city.
The risk to the lives of the beggars raises an important question: why do these people face so much trouble and why can't they seek protection from the law enforcement agencies? The answer lies in the fact that there is no central law on begging and destitution and most states have adopted the Bombay Prevention of Begging Act, 1959 which criminalises begging. The law prescribes a penalty of more than three years in jail in case of first conviction for begging and the person can be ordered to be detained for 10 years in subsequent conviction.
But how can someone be penalised for a crime for which only he is not responsible, the government and we as a society are equally liable? The idea of criminalising a 'profession' which is seen as a last resort by almost all those who do it only highlights the way our society sees the poorest. While the Delhi High Court's verdict is encouraging, there is no doubt that a lot more needs to be done before we, on both personal and political levels, even begin to consider the issue from a humane angle. And the month of Ramadan would not be a bad idea to start doing so.
Courtesy: Two Circles