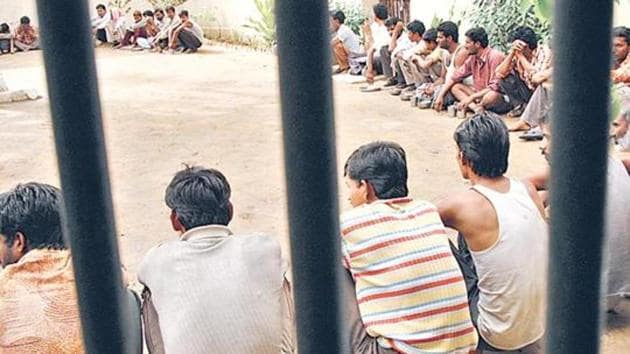 Representation Image
On December 13, Member of Lok Sabha, Shyam Singh Yadav (BSP), questioned whether the government was aware that around 76 percent of prisoners in jail are awaiting trial, which is significantly higher than the global average of 34%. He sought details of the same.
The MHA informed the Lok Sabha that as of December 31, 2021 there were 5,54,034 prisoners lodged in the prisons of the country, out of which 4,27,165 were undertrial prisoners.
On the specific query about number of prisoners awaiting trials belonging to the SC, ST and OBC community in the State of Uttar Pradesh, the Ministry stated that as on December 31, 2021 there were 90,606 undertrial prisoners in the State of Uttar Pradesh. Out of these, 21,942 belonged to Scheduled Caste (SC) community, 4,657 belonged to Scheduled Tribe (ST) community and 41,678 belonged to Other Backward Class (OBC). The MHA did not have district-wise data for the same.
When asked about measures taken to reduce number of under trials, the Ministry said that "it is the responsibility of respective State Governments to take necessary steps and measures for facilitating the fast-tracking of the cases of undertrial prisoners in their respective jurisdictions". However, the Model prison Manual 2016 provides details of facilities which may be provided by states such as "E-prisons Software, which is a Prison Management Application integrated with Interoperable Criminal Justice System, provides facility to State Jail authorities to access the data of undertrial inmates in a quick and efficient manner, which helps them in identifying undertrial inmates whose cases are due for consideration by the Under Trial Review Committees, etc".
The MHA response may be read here:
Related:
Zero reported deaths due to manual scavenging: Ramdas Athawale
2,000+ govt jobs, transit accommodation & cash relief to Kashmiri Pandits, says MHA mum on their security