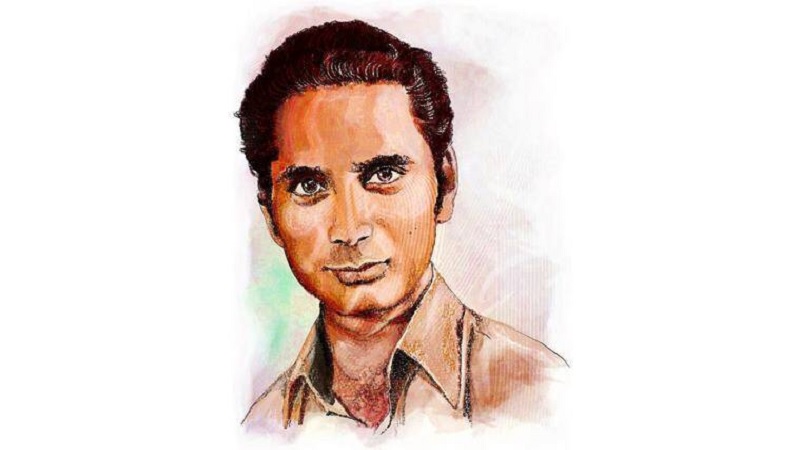 Image Courtesy:indianexpress.com
"… मेहनत की लूट सबसे ख़तरनाक नहीं होती
पुलिस की मार सबसे ख़तरनाक नहीं होती
ग़द्दारी और लोभ की मुट्ठी सबसे ख़तरनाक नहीं होती…"
(roughly translated as: being looted of your hard work's earnings is not the most dangerous thing. Beatings by the police are not the most dangerous thing…)
"सबसे ख़तरनाक होता है
हमारे सपनों का मर जाना…"
(most dangerous thing is the death of our dreams)
Revolutionary poet Avtar Singh Sandhu 'Pash', just referred to as Pash by his readers, wrote of struggle, survival, and the revolution that lay within ordinary people. Pash is hailed as one of the most influential modern poets, his Punjabi poetry, especially the most well known one titled: "सबसे ख़तरनाक (Sab Ton Khatarnak in the original Punjabi version, can be translated in English as: The most dangerous thing), is an anthem of sorts that one day may well be translated into many more Indian languages than it already has been, because his words are relevant today, and reflective of the struggles of the ordinary citizen of India. His words, ring true even now, over three decades after his death
Pash was born today, September 9, 1950, in Talwandi Salem, Jalandhar district, Punjab. His father Sohan Singh Sandhu, was a soldier in the Indian army is credited as an early influence as he too would write poems. However, it is Pash who rose to become a major revolutionary poet. According to the Punjabi Kavita portal, Pash was "one of the major poets of the Naxalite Movement" . In 1972, he started a magazine named 'Siar' and in 1973, founded 'Punjabi Sahit Te Sabhiachar Manch'. As listed by the portal. his poetic works are: Loh Katha (1971), Uddade Bazan Magar (1974), Saade Samian Vich (1978), Khilre Hoey Varkey (1989, posthumously). He was assassinated on March 23, 1988) by Khalistani militants. Sab Ton Khattarnak. one of his most powerful poems remains an anthem of resistance, and dissent movements even today. (Pash's poem "सबसे ख़तरनाक" taken from Kavita Kosh. The entire poem can be read here: https://kavitakosh.org/kk/सबसे_ख़तरनाक_/_पाश The poem has been recited beautifully by motivational speaker Simerjeet Singh
Pash's words seem prophetic, describing the times we are navigating today, the social and political challenges that the nation faces, and the need to speak truth to power. He had warned that it was the most dangerous thing to be oblivious, and immune to what was going on in society, to become a slave to routine, to bear whatever was levied, including injustice. Above everything the most dangerous thing was the death of dreams. A 2017 essay written by Nirupama Subramanian in the Indian Express explored, 'Why a Punjabi poet killed by Khalistanis is ruffling feathers in contemporary India?" She wrote that 'Sab Ton Khatarnak' has been translated into Marathi, Bengali, Tamil, Telugu and Hindi, and is an integral part of "resistance" politics, and recalled that the vilification of Pash, by politicians too was nothing new, "in the Rajya Sabha in 2006, when a BJP member, now also a minister, said the Pash poem should be removed from school books because he was a Naxalite." The essay quotes Rana Nayar, former professor of English at Panjab University, explaining that "it is also possible to see Pash's work as part of an evolutionary chain beginning with the Gurmat Sahit (of the Gurbani) literary tradition. 'All the Sikh Gurus faced harsh social and political realities and all of them responded to these realities. Gurmat Sahit has a very strong component of social and political commentary. Pash realised its revolutionary potential and gave it a new twist'".
RSS and Pash
The ministry for human resources development (MHRD) under this regime has been approached by a extremist right wing outfot affiliated to the Rashtriya Swayamsevak Sangh (RSS) –Dinanath Batra's Shiksha Bachao Andolan– to remove Pash's poetry from texts in the NCERT for school chidren.
Why is Pash so Critical to a Growing Mind?
Pash alias Avtar Singh Sandhu was gunned down by Khalistanis on March 23, 1988, at his village Talwandi Salem in Jalandhar. He was then 37 years old
Influenced by Punjab's Naxalite movement in 1960s, Pash is often hailed as a revolutionary poet for having introduced a new paradigm in Punjabi poetry with his bold imagery
Pash wrote three anthologies of poems — Loh Katha (The Iron Tale) in 1970, Uddiyan Bazan Magar (In Pursuit of the Flying Hawk) 1974 and Saadey Samiyan Vich (In Our Times) in 1978
Khilre Hoey Varkey (The Scattered Pages) was published posthumously in 1989
More than a decade ago (in 2006), the Hindi translation of Pash's famous poem 'Sabh Ton Khatarnak' (The Most Dangerous) was introduced in the Class XI Hindi textbook — the only Punjabi poet to have earned that privilege. Besides Pash's poem, Batra now wants the NCERT to remove Rabindranath Tagore's thoughts, Mirza Ghalib's poem and extracts from MF Husain's autobiography.
The Most Dangerous
Most treacherous is not the robbery
of hard earned wages
Most horrible is not the torture by the police.
Most dangerous is not the graft for the treason and greed.
To be caught while asleep is surely bad
surely bad is to be buried in silence
But it is not most dangerous.
To remain dumb and silent in the face of trickery
Even when just, is definitely bad
Surely bad is reading in the light of a firefly
But it is not most dangerous
Most dangerous is
To be filled with dead peace
Not to feel agony and bear it all,
Leaving home for work
And from work return home
Most dangerous is the death of our dreams.
Most dangerous is that watch
Which run on your wrist
But stand still for your eyes.
Most dangerous is that eye
Which sees all but remains frostlike,
The eye that forgets to kiss the world with love,
The eye lost in the blinding mist of the material world.
That sinks the simple meaning of visible things
And is lost in the meaning return of useless games.
Most dangerous is the moon
Which rises in the numb yard
After each murder,
but does not pierce your eyes like hot chillies.
Most dangerous is the song
which climbs the mourning wail
In order to reach your ears
And repeats the cough of an evil man
At the door of the frightened people.
Most dangerous is the night
Falling in the sky of living souls,
Extinguishing them all
In which only owls shriek and jackals growl,
And eternal darkness covers all the windows.
Most heinous is the direction
In which the sun of the soul light
Pierces the east of your body.
Most treacherous is not the
robbery of hard earned wages.
Most horrible is not the torture of police
Most dangerous is not graft taken for greed and treason.
Backhround: In 2006 BJP MP, Ravi Shankar Prasad during a debate on NCERT books had told Parliament (RajyaSabha) that Paash was a Naxalite. The NCERT had prescribed Paash's poem "The Most Dangerous" in Hindi textbooks for class XI students from 2006 onwards. This is part of an arrangement whereby 20% literature is translated from other languages. This poem was selected for all India syllabus of NCERT. Recently in a press conference in Delhi after Gauri Lankesh's dastardly killing, (and after he had condemned trolls for being abusive on her death) Prasad was on air again saying that Gauri's brother had said that Naxals were behind her killings.
The attempt to erase the works of Paash from Indian textbooks should be resisted. The original poem in Punjabi reads as follows:
ਸਭਤੋਂਖ਼ਤਰਨਾਕ

ਕਿਰਤਦੀਲੁੱਟਸਭਤੋਂਖ਼ਤਰਨਾਕਨਹੀਂਹੁੰਦੀ
ਪੁਲਸਦੀਕੁੱਟਸਭਤੋਂਖ਼ਤਰਨਾਕਨਹੀਂਹੁੰਦੀ
ਗੱਦਾਰੀ-ਲੋਭਦੀਮੁੱਠਸਭਤੋਂਖ਼ਤਰਨਾਕਨਹੀਂਹੁੰਦੀ
ਬੈਠੇਸੁੱਤਿਆਂਫੜੇਜਾਣਾ-ਬੁਰਾਤਾਂਹੈ
ਡਰੂਜਿਹੀਚੁੱਪਵਿੱਚਮੜ੍ਹੇਜਾਣਾ -ਬੁਰਾਤਾਂਹੈ
ਸਭਤੋਂਖਤਰਨਾਕਨਹੀਂਹੁੰਦਾ
ਕਪਟਦੇਸ਼ੋਰਵਿਚ
ਸਹੀਹੁੰਦਿਆਂਵੀਦਬਜਾਣਾ, ਬੁਰਾਤਾਂਹੈ
ਕਿਸੇਜੁਗਨੂੰਦੀਲੋਅਵਿਚਪੜ੍ਹਨਲੱਗਜਾਣਾ -ਬੁਰਾਤਾਂਹੈ
ਸਭਤੋਂਖ਼ਤਰਨਾਕਨਹੀਂਹੁੰਦਾ।
ਸਭਤੋਂਖ਼ਤਰਨਾਕਹੁੰਦਾਹੈ
ਮੁਰਦਾਸਾਂਤੀਨਾਲਭਰਜਾਣਾ,
ਨਾਹੋਣਾਤੜਪਦਾ, ਸਭਸਹਿਣਕਰਜਾਣਾ
ਘਰਾਂਤੋਂਨਿਕਲਣਾਕੰਮਤੇ
ਤੇਕੰਮਤੋਂਘਰਜਾਣਾ,
ਸਭਤੋਂਖ਼ਤਰਨਾਕਹੁੰਦਾਹੈ
ਸਾਡੇਸੁਪਨਿਆਂਦਾਮਰਜਾਣਾ।
ਸਭਤੋਂਖ਼ਤਰਨਾਕਉਹਘੜੀਹੁੰਦੀਹੈ
ਤੁਹਾਡੇਗੁੱਟ 'ਤੇਚਲਦੀਹੋਈਵੀਜੋ
ਤੁਹਾਡੀਨਜ਼ਰਦੇਲਈਖੜ੍ਹੀਹੁੰਦੀਹੈ।
ਸਭਤੋਂਖ਼ਤਰਨਾਕਉਹਅੱਖਹੁੰਦੀਹੈ
ਜੋਸਭਦੇਖਦੀਹੋਈਵੀਠੰਢੀਯੱਖ਼ਹੁੰਦੀਹੈ
ਜਿਸਦੀਨਜ਼ਰਦੁਨੀਆਨੂੰਮੁਹੱਬਤਨਾਲਚੁੰਮਣਾਭੁੱਲਜਾਂਦੀਹੈ
ਜੋਚੀਜ਼ਾਂ 'ਚੋਂਉਠਦੀਅੰਨ੍ਹੇਪਣਦੀਭਾਫ਼ਉੱਤੇਡੁਲ੍ਹਜਾਂਦੀਹੈ
ਜੋਨਿੱਤਦਿਸਦੇਦੀਸਾਧਾਰਣਤਾਨੂੰਪੀਂਦੀਹੋਈ
ਇਕਮੰਤਕਹੀਣਦੁਹਰਾਅਦੇਗਧੀ-ਗੇੜਵਿਚਹੀਰੁਲਜਾਂਦੀਹੈ।
ਸਭਤੋਂਖ਼ਤਰਨਾਕਉਹਚੰਨਹੁੰਦਾਹੈ
ਜੋਹਰਕਤਲਕਾਂਡਦੇਬਾਅਦ
ਸੁੰਨਹੋਏਵਿਹੜਿਆਂਵਿੱਚਚੜ੍ਹਦਾਹੈ
ਪਰਤੁਹਾਡੀਆਂਅੱਖਾਂਨੂੰਮਿਰਚਾਂਵਾਂਗਨਹੀਂਲੜਦਾਹੈ।
ਸਭਤੋਂਖ਼ਤਰਨਾਕਉਹਗੀਤਹੁੰਦਾਹੈ
ਤੁਹਾਡੇਕੰਨਾਂਤੱਕਪਹੁੰਚਣਲਈ
ਜਿਹੜਾਕੀਰਨਾਉਲੰਘਦਾਹੈ
ਡਰੇਹੋਏਲੋਕਾਂਦੇਬਾਰਮੂਹਰੇ-
ਜੋਵੈਲੀਦੀਖੰਘਖੰਘਦਾਹੈ।
ਸਭਤੋਂਖ਼ਤਰਨਾਕਉਹਰਾਤਹੁੰਦੀਹੈ
ਜੋਪੈਂਦੀਹੈਜੀਊਂਦੀਰੂਹਦਿਆਂਆਕਾਸ਼ਾਂ 'ਤੇ
ਜਿਹਦੇਵਿਚਸਿਰਫ਼ਉੱਲੂਬੋਲਦੇਗਿੱਦੜਹਵਾਂਕਦੇ
ਚਿਪਟਜਾਂਦੇਸਦੀਵੀਨ੍ਹੇਰਬੰਦਬੂਹਿਆਂਚੁਗਾਠਾਂ 'ਤੇ
ਸਭਤੋਂਖ਼ਤਰਨਾਕਉਹਦਿਸ਼ਾਹੁੰਦੀਹੈ
ਜਿਹਦੇਵਿੱਚਆਤਮਾਦਾਸੂਰਜਡੁੱਬਜਾਵੇ
ਤੇਉਸਦੀਮਰੀਹੋਈਧੁੱਪਦੀਕੋਈਛਿਲਤਰ
ਤੁਹਾਡੇਜਿਸਮਦੇਪੂਰਬ 'ਚਖੁੱਭਜਾਵੇ।
ਕਿਰਤਦੀਲੁੱਟਸਭਤੋਂਖ਼ਤਰਨਾਕਨਹੀਂਹੁੰਦੀ
ਪੁਲਸਦੀਕੁੱਟਸਭਤੋਂਖ਼ਤਰਨਾਕਨਹੀਂਹੁੰਦੀ
ਗੱਦਾਰੀ-ਲੋਭਦੀਮੁੱਠਸਭਤੋਂਖ਼ਤਰਨਾਕਨਹੀਂਹੁੰਦੀ।

The Hindi translation of the poem is as follows:

सबसेख़तरनाक

मेहनतकीलूटसबसेख़तरनाकनहींहोती
पुलिसकीमारसबसेख़तरनाकनहींहोती
ग़द्दारीऔरलोभकीमुट्ठीसबसेख़तरनाकनहींहोती
बैठे-बिठाएपकड़ेजानाबुरातोहै
सहमी-सीचुपमेंजकड़ेजानाबुरातोहै
सबसेख़तरनाकनहींहोता
कपटकेशोरमेंसहीहोतेहुएभीदबजानाबुरातोहै
जुगनुओंकीलौमेंपढ़ना
मुट्ठियांभींचकरबसवक्‍़तनिकाललेनाबुरातोहै
सबसेख़तरनाकनहींहोता
सबसेख़तरनाकहोताहैमुर्दाशांतिसेभरजाना
तड़पकानहोना
सबकुछसहनकरजाना
घरसेनिकलनाकामपर
औरकामसेलौटकरघरआना
सबसेख़तरनाकहोताहै
हमारेसपनोंकामरजाना
सबसेख़तरनाकवोघड़ीहोतीहै
आपकीकलाईपरचलतीहुईभीजो
आपकीनज़रमेंरुकीहोतीहै
सबसेख़तरनाकवोआंखहोतीहै
जिसकीनज़रदुनियाकोमोहब्‍बतसेचूमनाभूलजातीहै
औरजोएकघटियादोहरावकेक्रममेंखोजातीहै
सबसेख़तरनाकवोगीतहोताहै
जोमरसिएकीतरहपढ़ाजाताहै
आतंकितलोगोंकेदरवाज़ोंपर
गुंडोंकीतरहअकड़ताहै
सबसेख़तरनाकवोचांदहोताहै
जोहरहत्‍याकांडकेबाद
वीरानहुएआंगनमेंचढ़ताहै
लेकिनआपकीआंखोंमें
मिर्चोंकीतरहनहींपड़ता
सबसेख़तरनाकवोदिशाहोतीहै
जिसमेंआत्‍माकासूरजडूबजाए
औरजिसकीमुर्दाधूपकाकोईटुकड़ा
आपकेजिस्‍मकेपूरबमेंचुभजाए
मेहनतकीलूटसबसेख़तरनाकनहींहोती
पुलिसकीमारसबसेख़तरनाकनहींहोती
ग़द्दारीऔरलोभकीमुट्ठीसबसेख़तरनाकनहींहोती।
Pash published his first collection of poems "Loh Katha (Tales of Iron)" in 1970, when he was 20, stated the IE essay, adding that "It earned him accolades and immediate stardom. There were two other collections by him that same decade, with which he firmly established his place in Punjabi poetry." The poet was arrested thrice, for the first time in 1970, allegedly for his alleged Naxalite links; then in 1972, during student unrest in Punjab; and once again in 1974, during an all-India railways employees' strike, recorded the IE essay.
It is also clear, that had he lived, and written his poems of resistance in India today, he would have been called an "urban naxal', accused of breaking India, thrown in Jail like Varavara Rao and others, or gunned down outside his own home, like Gauri Lankesh.
Related:
Elgaar Parishad case: NIA arrests two Pune-based Kabir Kala Manch artists
Indian journalists decry attack on freedom of press amidst Covid-19
Justice for Namma Gauri
Canadian legislator honoured for standing up for Kashmir and minorities in India
If Premchand has really touched Modi, why are so many scholars rotting in jails?
Stunned, speechless and ashamed: Lalita Ramdas reacts to NIA comments on
From Paash to Lankesh: How the Indian State Continues to Discriminate between Minority and Majority Extremists