"People are always shouting they want to create a better future. It's not true. The future is an apathetic void of no interest to anyone. The past is full of life, eager to irritate us, provoke and insult us, tempt us to destroy or repaint it. The only reason people want to be masters of the future is to change the past."
― Milan Kundera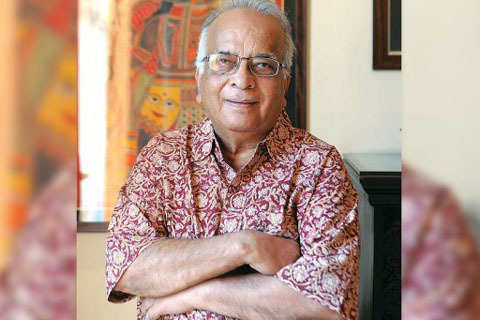 On Monday, December 10, 2018, we lost the man who changed how society looked at Indian Muslims. Eminent historian, intellectual and academic Mushirul Hasan, passed away in the wee hours of December 10, a day also marked as international Human Rights Day.This is a loss of mammoth proportions for intelligentsia, especially looking to reconstruct secularism in a society increasingly marred with communal conflicts with each passing day. Born merely two years after India's independence, Mushirul Hasan was the thread that wove together the losses of Partition, the concerns surrounding the essentialist image of Indian Muslims, and the hopes of a truly secular future despite the dark present.

Background
Hasan was 71 years old, and is survived by his wife Zoya Hasan, a political scientist and academician. Hasan's health started declining after he was critically injured in a road accident on his way to Mewat from Delhi in 2014. He was admitted to the hospital on Sunday night. He breathed his last at 4 am on December 10. "He met with a road accident about two years ago and was mostly bed-ridden after that. He was also undergoing dialysis for kidney problems," former secretary to Jamia Vice chancellor, Zafar Nawaz Hashmi, said in a report by NDTV. His namaz-e-Janaza was performed at 1.00 pm on Monday at Babul Ilm and 2.00 pm at Jamia Mosque, and the burial took place at the Jamia graveyard, according to sources.
The son of noted historian Mohibbul Hasan, Hasan completed his masters from the Aligarh Muslim University in 1969 and doctorate (PhD) from the University of Cambridge in 1977. He was associated with Jamia Millia Islamia for over two decades and served at various positions, including:
Pro-Vice-Chancellor of Jamia Millia Islamia from 1992 to 1996
Director of Academy of Third World Studies in Jamia Millia Islamia from July 2000 to January 2010
Vice-Chancellor of Jamia Millia Islamia from 2004 to 2009
He also served as the Director-General of the National Archives of India in May 2010 and as the President of the Indian History Congress in 2002.
Re-imagining notions and recreating history
In his paper, titled Muslim Intellectuals, Institutions and the Post-Colonial predicament,*Hasan criticised the discourse that shaped how Muslims were treated as subjects in academic work and otherwise. He said, "Much research on the Muslims since Independence is still conducted within the framework bequeathed by the British and some nationalist writers. The categories used to define them have been questioned but not changed. There is still talk of a 'Muslim mind', a 'Muslim outlook', and an inclination to construct a 'Muslim identity' around Islam. A sense of Otherness is conveyed in such images. Muslims are made to appear different in the print media, in some literary works, and in the world cinema."
Hasan, probably for the first time in contemporary Indian history, elucidated how both supposedly secular and communal perspectives to view citizens with a Muslim identity converged, and in that sense brought to the fore, an approach necessary to re-scrutinise and re-imagine the Muslim identity not merely borne of religion, but by the ways of existing, being, working and more.
He highlighted how "it is also assumed that orthodoxy represents true Islam and the interests of its adherents; and that liberal and modernist currents are secondary or peripheral to the more dominant separatist, communal and neo-fundamentalist paradigms," and said that it was time to underline along with dominant orthodox paradigms, the heterodox trends that contest the definition of Muslim identity in purely religious terms, and to refute the popular motions that Islamic values and symbols provide a key to the understanding of a so-called 'Muslim world view'.
His book, 'India Partition: The Other Face of Freedom', documents how Partition displaced millions and left behind a legacy of hostility and bitterness between the governments as well as the people from India and Pakistan.
As per Mukul Kesavan, who teaches History at Jamia Milia Islamia, Hasan's most important contribution was the "way in which he transformed the history of the republic and its most important minority."
Historian of historians
An Outlook report called Hasan a historian of historians. Not only was he a chronicler of history through extensive access to the Urdu language, he was fascinated by it. Reminiscing on his love for history, Hasan once said in an interview with Syed Mohd Irfan on the show Guftagoo, "My home used to be filled with books. Most among these were History books since my father was a big historian. He had written quite a bit, on Kashmir, Tipu Sultan, Babur". Hasan also acknowledged the role of Aligarh Muslim University and its scientific temperament in igniting his passion for history.
But Mushirul Hasan was not merely an intellectual and academic of unique sensibilities. He was also a visionary. His initiatives during his tenure at Jamia Milia Islamia helped give it a truly multi-cultural, multi-dimensional and worldly outlook, making it a hub for several new ideas and thought processes.
During Hasan's term at Jamia, several new departments such as Dalit Studies, Comparative Religion, and the Nelson Mandela Centre for Peace & Conflict Resolution were founded. It is even said that he outsmarted the University Grants Commission (UGC) as he opened these centres because he "realised a dramatic expansion cannot take place by following conventional UGC rules."
During the Balta House encounters, his role was especially memorable as a person who supported the students and criticised the extra-judicial killing of students.
Hasn was a passionate and fierce advocate of the freedom of expression, evident by the fact that he defended Salman Rushdie's "Satanic Verses" despite the fact that he did not like it very much, at the cost of getting attacked physically.

Awards:
Received the highest French Civilian Award – 'Officer dans I'Ordre des Palmes Academiques' (Officer of the Order of Academic Palms) by the Prime Minister of France
Awarded Padma Shri by the Hon'ble President of India, A.P.J. Abdul Kalam, 2007
Awarded DLit (Honoris Causa) by Uttar Pradesh Rajarshi Tandon Open University (UPRTOU), Allahabad, 2006
Awarded Professor Sukumar Sen Memorial Gold Medal by The Asiatic Society, Kolkata, 2006
Awarded the Ford Foundation (SARC) Fellowship by the Institute of Islamic Studies, University of Oxford, 2002-3
Awarded DP Singhal Scholarship, University of Queensland, Brisbane, 2003
Awarded the Ramkrishna Jaidayal Harmony Award for English writing in 1999.

Books published
Wit and Humour in Colonial North India, 2007
Partners in Freedom: Jamia Millia Islamia, 2006
The Nehrus: Personal Histories, 2006
A Moral Reckoning: Muslim Intellectuals in Nineteenth-Century Delhi, 2005
From Pluralism to Separatism: Qasbas in Colonial Awadh, 2004
John Company to the Republic: A Story of Modern India, 2001
Islam in the Subcontinent: Muslims in a Plural Society 2002
Making Sense of History: Society, Culture and Politics, 2003
The Legacy of A Divided Nation: India's Muslims since Independence, 2002
Nationalism and Communal Politics in India, 1885-1930 (Delhi: Manohar, 1991). Paperback edn. published in 1994. Reprinted in 2000.
A Nationalist Conscience: M.A. Ansari, the Congress and the Raj, (Delhi: Manohar, 1987)
Apart from writing, Mushirul Hasan had also edited a number of books on the subject of Islam in India and communal problems in India post-independence.


*Muslim Intellectuals, Institutions and the Post-Colonial Predicament