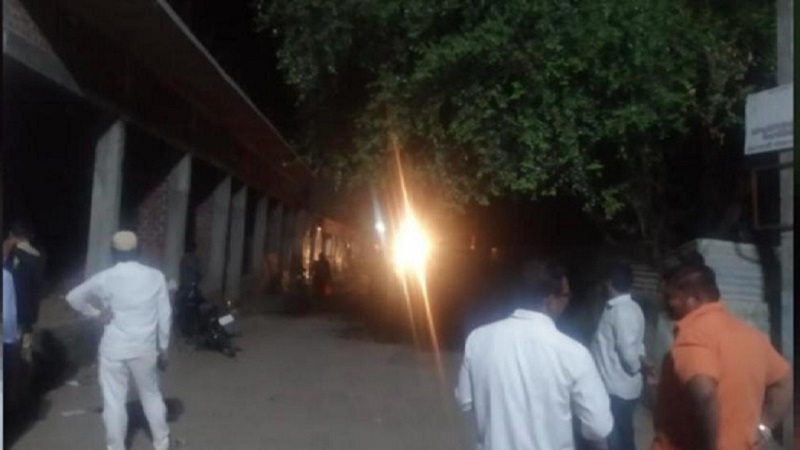 Image Courtesy:thewire.in
Madhya Pradesh's tourism department's official slogan is "The Heart of Incredible India", however the 'heart' may need investigation as it seems to be infected with communal polarisation. The communal hate, especially against Muslims has been at its peak in Madhya Pradesh this October. Navratri, a season where people come together and celebrate, was marked this year by right-wing groups such as the Vishwa Hindu Parishad (VHP) putting up posters outside Garba venues saying "entry of non-Hindus is prohibited".
Now, it has come to light that the that curfew imposed in Sendhwa city of Madhya Pradesh's Barwani district, was in fact after the communal clash erupted over the alleged presence of 10-year-old Muslim boy on October 13.
According to a follow up report in The Wire, Barwani Police said that "a dispute erupted when a Muslim boy was spotted at a garba venue in the Moti Bagh locality. This was objected by a Hindu teenager who had had a previous tiff with the Muslim boy's family. Heated arguments turned into a brawl which got worse as adults got involved in the fight which saw stone pelting as well." Deepak Shukla, Superintendent of Police, Barwani district said, the two "communities came face-to-face and pelted stones at each other, leaving a dozen people injured including women and children."
It has also been alleged that "over 500 men of the majority Hindu community picketed the Sendhwa Police station demanding an FIR be lodged and arrests be made among Muslims. This mob manhandled a 14-year-old boy, his mother and two of his relatives who had gone to the police station to register a complaint after the minor child sustained a head injury during the stone pelting among two communities." According to the news report, multiple FIRs have also been registered, one FIR was registered against three for pelting stones at a police convoy, under sections 143, 148, 149, 353, 307 and 327 of the IPC, and an arrest has been made. Two other FIRs were lodged against the Hindu and Muslim communities, under sections – 143, 148, 294, 323 and 506 of the IPC – 20 Muslims and 6 Hindus have been named in these two FIRs. According to the report, so far 22 people have been arrested.
Citizens for Justice and Peace (CJP), has written to the National Commission for Minorities (NCM), over attacks on Muslims in Madhya Pradesh since August 2021. CJP's prayer to the apex minority rights body is to conduct a full-fledged investigation into such incidents and also seek information about such attacks under the National Commission for Minorities Act, 1992. Madhya Pradesh has had a spurt of communal clashes and unrest, especially against the Muslim comunity in the past few weeks.
Related:
CJP moves NCM over hate crimes against Muslims in Madhya Pradesh
No Garba for non-Hindus: Right-wing in MP
Indore: Police file FIR against Muslim family that was attacked 'for not leaving village'
MP: Dargah blown up, allegedly by Hindutva mob
MP: Rain God ritual, a deeper issue than meets the eye
Hate Watch: Muslim bangle seller thrashed, wares looted in Indore
Jashn-e-trolling: What does the festive season mean for bhakts?
Hate Watch: Street play on "Love Jihad" gets Sudharshan TV excited