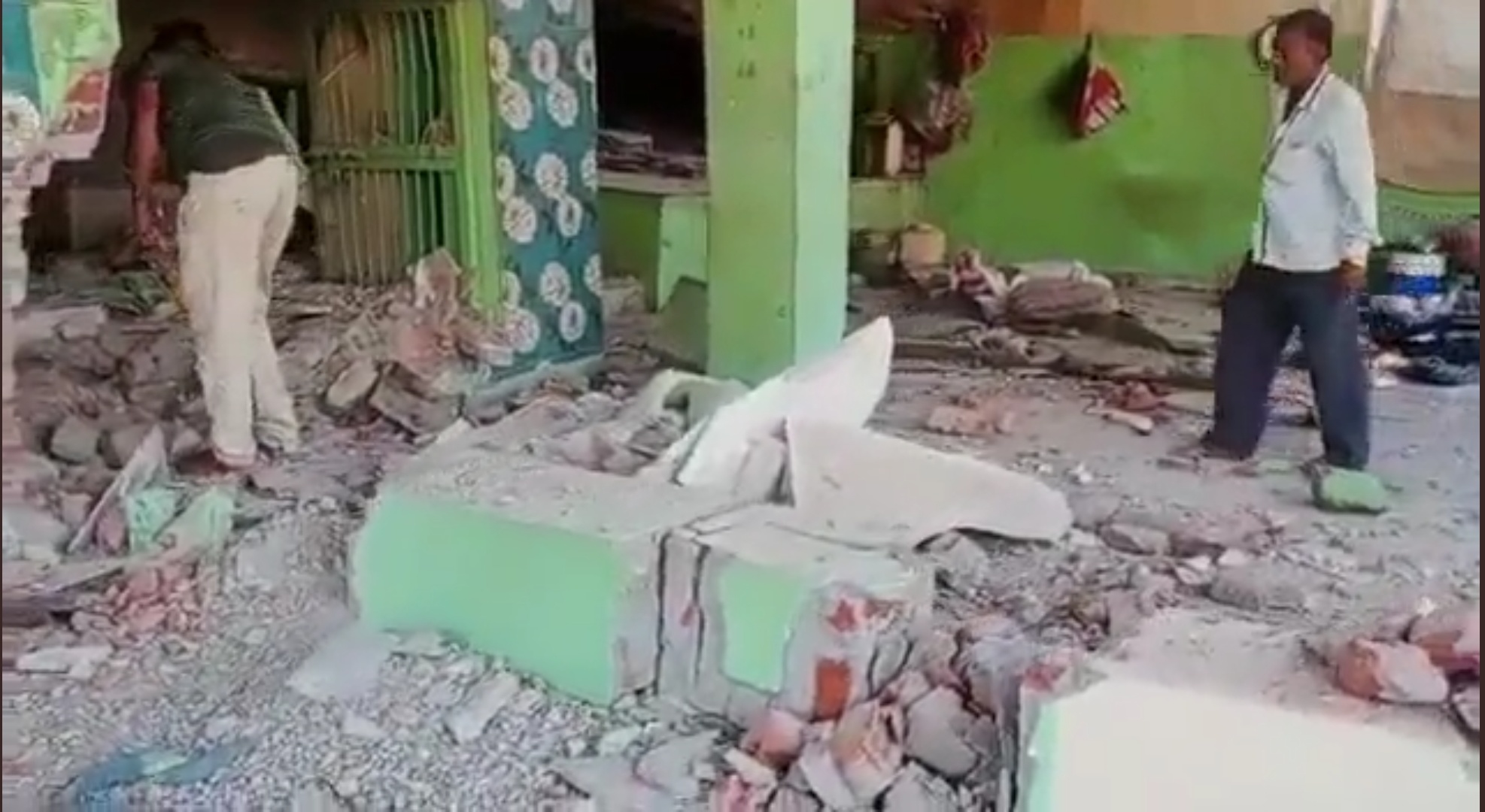 A Dargah (Muslim shrine), has repotedly been vandalised in Neemuch district of Madhya Pradesh. According to news reports, the shrine named Hazrat Bheda Peer Dargah Sharif, was vandalised allegedly by around two dozen masked men belonging to a Hindutva group. The attackers used explosives, damaging the structure, and also injured its caretaker, Khadim Noor Shah.
According to NewsClick, two devotees were also thrashed and robbed "on suspicion of religious conversion on the intervening night of Saturday and Sunday". The shrine was partially damaged in the attack. The Neemuch Police, told the media that "unknown assailants tried to demolish the Bhedabhan shrine, situated in Jawad tehsil, using explosives from 11 P.M to 3 A.M, and also left a note behind alleging that the shrine was involved in converting Hindus to Islam."
A report in Maktoob detailed that the mobsters "left a pamphlet that threatens to kill nearby Muslims" if the tomb is rebuilt. The mob repeated their claims that "the dargah was involved in converting Hindus to Islam" adding "If a Hindu goes to the tomb, we will target the Muslims".
"They first tried to blow up the dargah with explosives, then tied Baba's hands and feet, snatched the money and then threw him about 500m away from the dargah," stated Kashif Kakvi the journalist who had first reported the attack and shared visuals.
MP के नीमच के जावद तहसील स्थित जाट में कल रात एक दरगाह को 20-25 अज्ञात लोगो ने #बारूद से उड़ाने कि कोशिश की।

उस से पहले वहां मौजूद दरगाह के खादीम नूर शाह और जियारत के लिए आए लोगों को बंधक बनाकर पीटा और दरगाह से 500 मीटर दूर फेक आए 1/N @DGP_MP @vinodkapri @asfreeasjafri @zoo_bear pic.twitter.com/V1JrJ6sQkz

— काश/if Kakvi (@KashifKakvi) October 3, 2021
Maktoob, reported that Noor Baba filed a complaint based on which an FIR was "registered against 24 unidentified people under the Indian Penal Code for inciting riots, causing damage to the place of worship, etc". SP Suraj Verma confirmed the attack with the media, saying, "Some unidentified people damaged the religious place by using gunpowder and beat up some people and drove them away. BDS squad has also been called to investigate the explosion,"adding "a case has been registered against unidentified persons under sections 147, 148, 149, 295, 323, after the investigation as it is, will be done."
Related:
Karnataka: Beheaded Muslim man's mother names Hindutva activists, girl's father
Hate Watch: Communal hatred spread at Rajghat on October 2?
Jantar Mantar case: Hate monger Pinky Chaudhary granted bail
Hate Watch: Twitter influencer Mahesh Vikram Hegde shares anti-namaz video