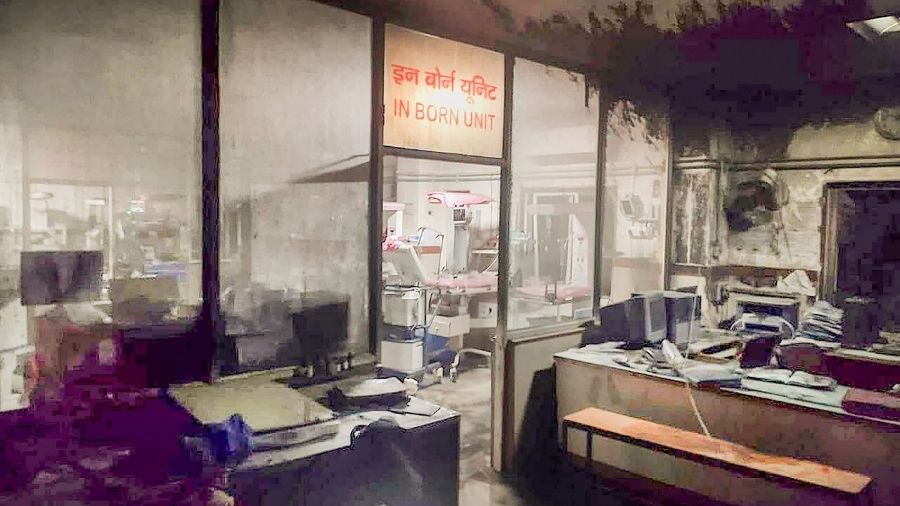 Image: PTI

Four infants were reported killed on November 8, 2021 when a fire broke out in the children's ward of Kamla Nehru hospital, located within Bhopal's state-run Hamidia hospital premises in Madhya Pradesh. According to reports, the fire broke out in the general and NICU wards.
Medical Health Education Minister Vishwas Sarang told mediapersons that the incident may have started due to a short-circuit. Officials said 13 fire tenders were rushed to the hospital.
As many as 36 out of 40 babies in the ward were rescued and rushed to adjoining wards. But the four babies, who were in critical condition, breathed their last. Horrified netizens posted their rage on social media while parents mourned the passing of their children.
Unsettling visuals coming in from #Bhopal. Children's ward of Kamla Nehru hospital caught fire earlier tonight. Parents have assembled outside hospital and are relentlessly waiting for an update on their kids. pic.twitter.com/GONx01D5rv

— vishnukant tiwari (@vishnukant_7) November 8, 2021
Among the deceased was eight-days-old Rahil whose uncle was assisting the rescue of eight other infants and a day-old baby girl whose parents had not gotten a chance to name her still.
Bigger story than #Rafale could be the fire audit of hospitals, especially the private ones. Request Hon'ble #SupremeCourt to take suo moto cognizance of #BhopalHospitalFire. Most private hospitals don't have ramp, a must in case of fire

— Mohit Shankar Tewari (@shankarmohit23) November 9, 2021
जिंदगी देने वाले अस्पताल में मिल रही है मौत, लोग रोते बिलखते रहते हैं लेकिन मजाल है कि शासन-प्रशासन समय रहते अनहोनी होने ही ना दें,, जवाबदारी सिर्फ मुआवजा और जांच कमेटी तक ही सीमित,,, नन्ही आंखें दुनिया देखने से पहले ही दुनिया से अलविदा…#BhopalHospitalFire

— sangeeta singh rathore (@sangeet02682211) November 9, 2021
Shortly after the incident, Chief Minister Shivraj Singh Chouhan tweeted about the "unbearable pain" of Monday night and called for a high-level inquiry to look into what went wrong. He also announced Rs. 4 lakh each as compensation for family members of the victims. The Hindu reported that Chouhan ordered fire safety audits of all government and private hospitals in Madhya Pradesh the following day. Referring to the Kamla Nehru fire as "criminal negligence," the Chief Minister said during a Cabinet meeting that it was the government's responsibility to ensure the safety of these children. He further assured that the "guilty will not be spared."
However, Congress MLA Arif Masood, who was present at the time of the accident said the Monday fire, claimed that this was the second incident reported in the same building. In fact, an NDTV report said that the hospital did not have the mandatory fire safety clearance despite receiving four to five notices for NOC in the last six months. Bhopal Municipal Corporation Fire Services Chief K. S. Parihar told the channel that around 500 similar medical facilities were served notices for fire safety NOC in the past six months. Parihar further said that although firefighters reached the hospital within 15 minutes of intimation, the fire safety equipment installed at the hospital was outdated and not working. This claim was supported by attendants at the paediatric intensive care unit, who tried to douse the fire. Attendant Mohit Yadav reportedly said the fire extinguishers were not working.
On November 9, the National Commission for Protection of Child Rights (NCPCR) wrote to Chief Secretaries of all states and union territories requesting fire safety audits of all medical facilities for children. Chairperson Priyank Kanoongo asked all governments to submit a district-wise compliance report within 30 days.
Far from an overreaction, the call for such fire safety audits is long overdue for many states. Particularly in Gujarat, at least 163 hospitals do not have a valid fire NOC. On October 27, the state government filed an affidavit before the Gujarat High Court claiming "genuine difficulties" in the delays and challenges in implementing fire safety norms. The topic has become of considerable importance after the Shrey Hospital fire on August 6, 2020 that killed eight people recovering from Covid-19 in the ICU. Later in November 2020, another give Covid-19 patient died due to a hospital fire in Rajkot. In May 2021, another fire broke out in the ICU of the Bharuch Welfare Hospital killing 18 people.
Similarly, in Maharashtra, 10 people died in Ahmednagar's district hospital fire on November 6, 2021. Before that, at least 13 Covid-19 patients died during a fire in Virar hospital's ICU unit on April 23, 2021, and 10 people died after a fire broke out in Bhandup's Sunrise Hospital, Dream Mall on March 26, 2021.
Then specifically addressing the Kamla Nehru tragedy in a separate letter to State Chief Secretary Iqbal Singh Bains, Kanoongo demanded details of the last fire safety audit report of the building and information about the new hospitals where children have been shifted. He further requested an inquiry team composed of a senior administrative officer not from the Health or Medical Health department, Director General of Fire Services, Civil Defence and Home Guard department, senior officials from Public Works department and a senior police officer not below the rank of Inspector General.
Related:
10 dead in a fire at Ahmednagar hospital
Fire safety PIL: Guj admin blames staff shortages, logistical issues for lacunae
13 killed in private Covid hospital fire at Virar, Mumbai
Shrey Hospital Fire: Victims' families move court demanding CBI inquiry