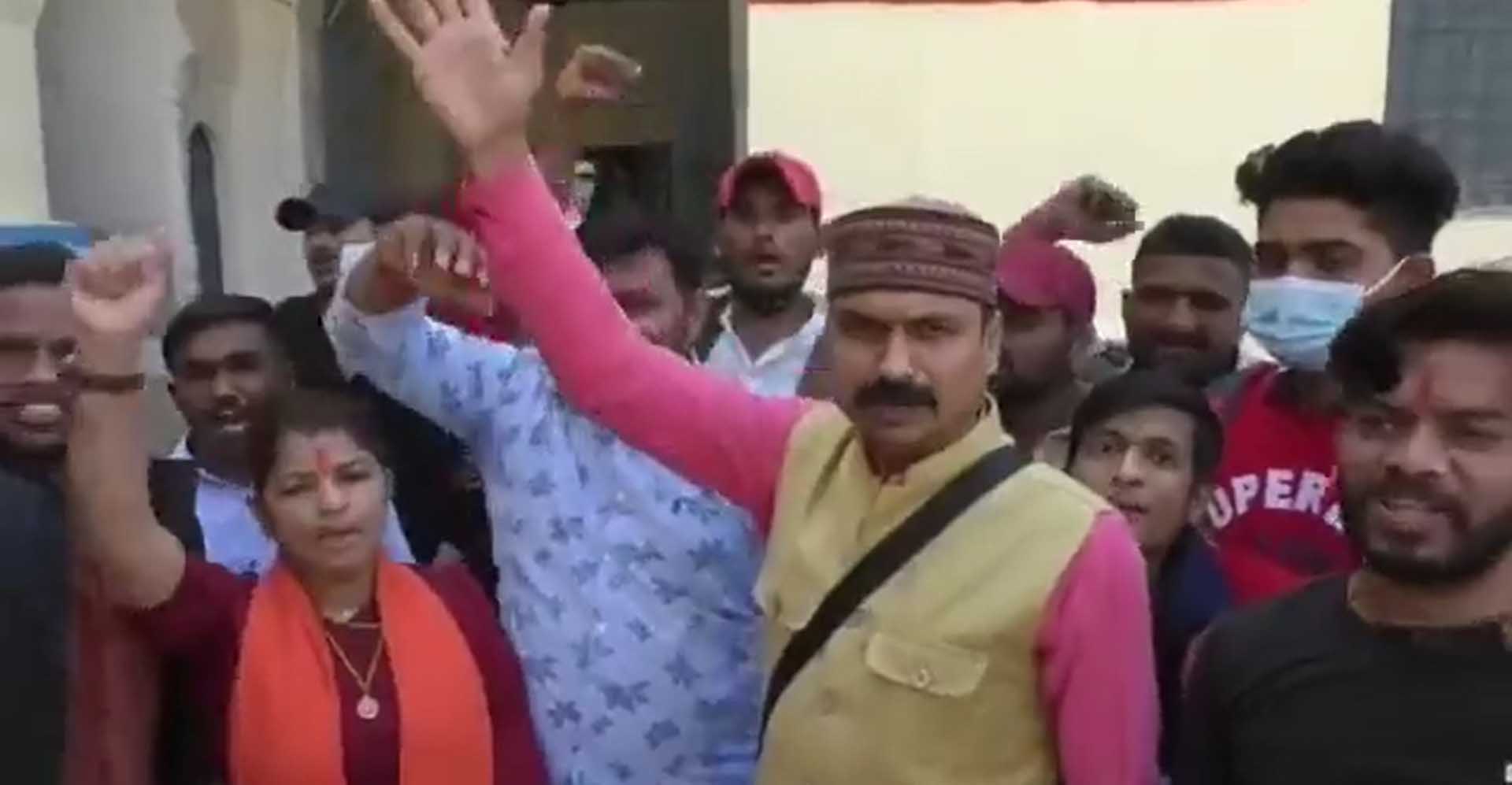 As Assembly elections continue, the hijab controversy continues to flare in different states of India. On February 14, 2022 a mix of various right-wing Hindutva groups assembled outside an autonomous post graduate government college and harassed two hijab-wearing students.
Members of Vishwa Hindu Parishad (VHP), Bajrang Dal and Durga Vahini recorded videos of two hijab-wearing students entering the college premises while taunting them for their "discipline". The goons then proceeded to shout "Jai Shri Ram" and "Vande Mataram" and threatened aggressive protests if all students did not start wearing saffron outfits from the next day.
Although they did give leave to the 'Naga Babas' or 'Naga Sadhus' (Naked Yogis) who belong to the Shaivite sadhus' sect. This ascetic group sadhus cover their bodies with ash and matted dreadlocks, resembling Lord Shiva, and renounce societal norms.
This is borderline harassment and eve teasing. Such incidents are spreading like wildfires across this country.

This is a incident of Madhya Pradesh.pic.twitter.com/mJmq8xbFPo

— عادل مغل ?? (@MogalAadil) February 15, 2022
The statement clearly shows that the goons were not protesting to ensure a religion-less environment in the college but only to censure the wearing of hijab. Yet College Principal Dr. D. R. Rahul decided to treat the matter as a question of religion and banned any religious clothing inside the premises.
According to the New Indian Express, the college administration also tried to track the students wearing the garment in question. However, they had already left the college. Later, the college issued a notice that said, "All students are informed not to wear any special attire like hijab pertaining to a specific community. All students must enter this shiksha ke mandir [temple of education] in decent [shaaleen evam sabhya] attire."
While the circular does not explain what accounts for a "decent" attire, the college toes the secular line by calling the institution a "mandir" or a temple of education, hinting at a pre-existent religious bias.
Further, another report by News18 says this is not the first controversy in the state concerning hijab in recent days. In Satna district, a girl was not allowed to take her college exam on February 12 because she was wearing a hijab. She was allowed to take the exam only after she wrote an undertaking on her admit card saying she will come to the college in uniform from then on.
Violence around the hijab row
Back in Karnataka, where the issue first took its form, the aggressions sprouted into all-out violence in some districts. According to the Hindu, the Shivamogga district had to issue Section 144 in the city after hundreds of students were caught in a conflict between two protesting groups on opposing sides of the hijab argument on February 8.
Before the incident, those people opposing the hijab protested outside the college campuses, while those supporting the hijab inside educational premises held a protest march. The two groups met at the B.H. Road near the Science Field and violence broke out as some protesters threw stones. At least seven students were injured. Later, a teacher suffered head injuries after a group of goons attacked him with iron rods in Bagalkot district, said the New Indian Express. The teacher was crossing the road when he was caught in the conflict.
According to the report, the state government declared a three-day holiday for all high schools and colleges to avoid any further unrest. Chief Minister Basavaraj Bommai appealed to all students, teachers and management of schools and colleges in a tweet to maintain peace and harmony.
Related:
Stop infecting college campuses with the communal poison: Indian Muslims for Secular Democracy (IMSD)
K'taka HC disallows wearing of any religious dress in class; denies interim relief to petitioners
UP professor throws Muslim girl out of class for wearing hijab!
Did Karnataka's Education Minister defend a mob that targeted a Muslim woman?
Hijab ban case: K'taka HC refers case to larger bench; denies interim relief to students
HateBuster: Right-wing gets egg on the face for using fake photo of Muskan