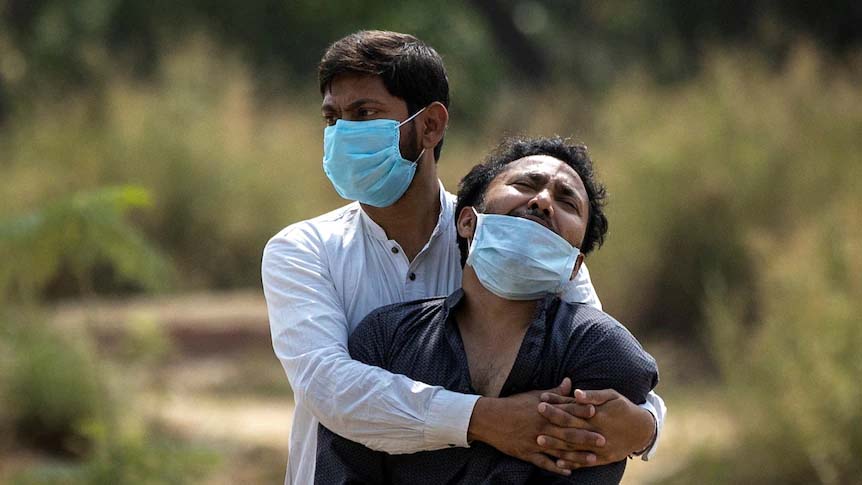 A man is consoled by his relative as he sees the body of his father, who died of COVID-19, Image: Reuters: Danish Siddiqui
Will union home minister, Amit Shah have cancelled his declared rallies today, on April 22, 2021, in Bengal – at Harirampur, Gazone and Durgapur Purba? Will he display basic wisdom, concern and consensus instead of an absolute arrogance marked by unbridled power, backed by money and muscle, obsessed by the bizarre longing to capture Bengal at any cost?
Will Prime Minister Narendra Modi cancel his four rallies slated to be held in one day in Bengal on April 24? Or, will he yet again repeat, with such glorious joy, oh, how he loves the crowds, during these deadly times when a super-spreader virus brings nothing but mass death and despair?
Will their party (and the CPM) kindly agree to push the last phase of the prolonged elections, to be finished at one go, as the Trinamool Congress has suggested earlier? It is not too late even now. Will they concede that this long phase of polling, gifted only to Bengal, apparently to help the BJP with the aid of a complicit and partisan Election Commission (EC), has been a monumental failure, in the backdrop of a deadly disease which the EC neither refused to see, recognise nor anticipate?
Will Modi ever regret his unbridled exultation at the crowds he witnessed in his rally recently in Bengal, even while the pandemic ravaged tens of thousands across the nation, cremations were being held in public parks and footpaths in UP, and electric crematoriums were at melt-down temperatures in his own home state – Gujarat?
So, what according to Modi are "micro-containment zones"? "Focus on micro-containment zones," he said at 8.45 pm on live TV just the other day. "I appeal to the people to come forward and help the needy to overcome this battle against Covid-19. I appeal to the youth to make small committees in their localities to spread awareness about Covid-appropriate behaviour," he said.
So, the people and the youth should all come forward, amidst death, dying and despair, and a collapsing health system; the onus lies on the people to protect themselves – they have been left to their fate! What about the prime minister, his home minister, his ministers, and his own formidable state machinery? Will they come forward please and offer an account of the dead and the suffering?
It was not just the election rallies (March and April 2021) that were the super-spreaders. Why did the prime minister, and his own chief minister in Uttarakhand, allow lakhs to collect at the Maha-Kumbh at Hardwar, for so many days? If this "event| too was not a super-spreader, what was it?
Does Modi have one iota of regret or the capacity for self-criticism? How can the prime minister of a democratic republic, in a public address to the nation, cajole the people towards self-sufficiency ( 'atmanirbharta'), urge extra precautions locally, when, he, himself, as a role model, has set the spiral for the pandemic to spread in rally after rally, and at the Kumbh? If this is not a glaring and brazen disregard for his position as the prime minister, then, it is, surely, nothing but an obsessive and pathological chase for unilateral power at all cost? This is presently being witnessed breathlessly in Bengal, come what may! It's like what we read of medieval conquerors and invaders doing in the distant past. If this is not a kind of reverse sickness, what is it?
People might be gasping for breath. People might not get their basic right to breathe, literally, because of the stark lack of oxygen cylinders, a shortage caused by indiscriminate hoarding; people might die due to the lack of medicine, medical treatment, or hospital beds; people might cry out loud on social media, bang their heads in abject helplessness, call up collapsed helplines; people might not get their vaccines which are now being sold in the open market for private corporate profiteers, so typical of this crony capitalist regime.
But, all these two men from at the helm, who happen to hail from the western Indian state of Gujarat want, is unbridled power and more power, more territory under their control. They have been forever in election mode.
The country can go damned. And all dissent will be crushed.
Do they realise that this is a democracy and not a totalitarian dictatorship – that this indeed is a 'National Crisis'? That too many people are dying and too many people are dead, and the entire health and governance infrastructure has collapsed. That this government at the Centre needs to be held accountable, and that the prime minister and his government — pumped up by a complicit media machine and manufactured propaganda–have totally failed the nation?
Even while death stalks the streets, homes, by-lanes, colonies and residential societies, ghettos and slums, overflowing hospitals with no beds, medicine, oxygen or vaccination, and millions of helpless citizens have been left to their unfortunate fate. How many more need to die for the prime minister and his union home minister to realise that it is an unprecedented crisis? That their one-dimensional power unleashed with a no holds barred, everyday arrogance, pettiness, hostility to all worthwhile suggestions or critical opinion, total disdain for pluralist democracy and federal principles, consensus, tolerance and dissent, even the conventions and protocol of the Indian Constitution, the politics of hate-filled communal polarisation, has pushed India to the brink – perhaps the worst case scenario currently in the entire world!
More than anything else, driven by the adrenalin of a sold-out and totally unethical media, and image industry, and a total disregard for public opinion or opposition views, including the views of chief ministers of various states and opinion leaders, they have proved to be, yet again, again and again, compulsive failures in terms of maximum or minimum governance, running amok with no impunity or accountability whatsoever. Look for instance at the manner the union health minister has replied to perfectly sane suggestions from the former Prime Minister, Manmohan Singh, a symbol of moderation, humility and decency. Look at the vicious manner in which other Modi's ministers –Smriti Irani and Ravi Shankar Prasad– went after Rahul Gandhi, who made perfectly logical suggestions about the pandemic, and which this government itself implemented soon after! Indeed, Rahul Gandhi had made intelligent suggestions even when the pandemic had started last year, but the entire BJP apparatus dismissed him with utter disdain. A government which refuses to even listen or talk to the opposition, can such a regime ever be called a democratic government?
Look at the manner they treat the chief ministers in a federal system, not replying to Mamata Banerjee on vaccines, disregarding appeals by Uddhav Thackeray and Ashok Gehlot, refusing to learn even one lesson from the successful Kerala model run by Kerala chief minister Pinarayi Vijayan, who is now supplying oxygen to neighbouring states and is in full control of the health infrastructure in his state. Compare that to the abysmal condition in the BJP-ruled states of UP, Madhya Pradesh — and the fake hyperbole of the so-called Gujarat model!
Modi must take a break and take a hard look at the social media. He will see that there is a total helpless and mass suffering stalking the entire Indian landscape, including among his own supporters and loyalists, including in the families of top politicians, doctors and frontline health workers, for this disease has been a deadly leveller. Even those working in cremation grounds have been rendered speechless, which offers a stark pathos.
In Hindi the only word that can describe the situation is: 'Hahakaaar'. And there is no literal translation of this word into English. The closest is the imagery in the painting called 'Scream' by Edvard Munch – a utter and totally helpless silence.
Modi shoild check out this notice put up in a private hospital in UP, among other hospitals, where one of his favourite followers rules with the iron hand of a totalitarian Hindutva. "After repeated request to the UP CM/Central Govt, we are not able to get enough oxygen supply. Hence we are requesting the family members of those patients who are on oxygen support; please take their patients to another centre for further management. We are extremely sorry for the inconvenience," said a notice at the Mayo Medical Centre in Lucknow. And this is an affluent locality. Modi and Adityanath surely know too well what is happening on the ground among the vast sections of the poor and voiceless in the slums and ghettos.
If past experience is any indicator, his silence will be eternally eloquent and inevitably masked, till another round of bogus rhetoric on an 8 pm (or 8. 45 pm) national television address. His words will have not an iota of basic practical vision, or application, no immediate relief or organised help for the people whatsoever, no disaster-management on a war-footing, no blue print to fight the mass crisis with the formidable government machinery. Even as the various rounds of thali bajao, taali bajao, diya jalaao and phool barsaao, have proved to be such a miserable farce.
Indeed, the only use that the state apparatus seems to be put to use is to clampdown, crackdown, use jackboots and draconian laws, jail and imprisonment for young scholars, academics, intellectuals and human rights activists, and apparently to capture electoral power, here, there, everywhere, by hook or crook.
Indeed, for how long can this country suffer this pathological megalomania and destructive narcissism amidst mass failure, mass tragedy, and, now, mass death and despair, across the spectrum. Are Narendra Modi and Amit Shah under the delusion that they are infinite and immortal? Perhaps, with another smart twist of the supine media and image industry and repressive apparatus, they imagine they can turn the entire national mood in their favour yet again. If they succeed, then no lesson of history will be sufficeth for them. History will continue to repeat, therefore, as eternal tragedy and nightmare. Our people will continue to suffer. And die.
Meanwhile, at the Delhi High Court, a bench of Justices Vipin Sanghi and Rekha Palli, have said categorically –and these word will be remembered –that the responsibility to ensure oxygen supply lies squarely with the central government and that it was speaking not only for Delhi but for the entire country. "Our concern is not just for Delhi, we want to know what the central government is doing with regard to oxygen supply across India," the bench said. Significantly, it said, "Beg, borrow or steal. Do you want to see thousands of people dying in the country? … It seems human life is not important for the State."