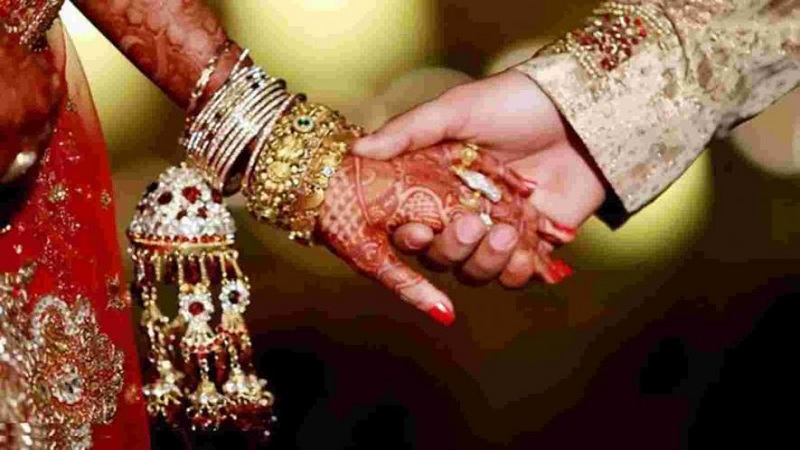 Image Courtesy: livelaw.in
On December 14, the Eknath Shinde led Maharashtra government issued a Government Resolution (GR) to the tune that a Committee headed by the state's Women and Child Development Minister and BJP leader Mangal Prabhat Lodha will gather "detailed information about couples in interfaith and inter-caste marriages and maternal families of the women involved if they are estranged. The Committee will also oversee district-level initiatives for women in such marriages who may be estranged from their maternal families so that assistance can be provided, if needed, the resolution stated."
The move clearly meant to police the private lives of individuals apart from stigmatising and targeting minority populations has drawn widespread criticism and opposition.
Many social organizations in the state have opposed this decision of the government calling it 'moral policing' and infringement of people's right to privacy. They have raised concern that this data will be misused to monitor potential inter-caste and interfaith marriages and to discourage the same with the apprehension that such couples could be harassed. They also state that the government is ignoring real issues being faced by women in the state and should instead focus on effective implementation of laws against domestic violence and crimes against women.
Maharashtra Mahila Parishad has stated that the government does not have the right to interfere in the lives of people and nor to discipline them in any manner. By forming this committee, the government is invading people's privacy and impinging their right to privacy. The letter points out that for any matrimonial dispute that may arise in interfaith or inter-caste marriages that may require counselling and other assistance, there are adequate grievance redressal mechanisms and organizations to provide the same. "By Collecting data, the government intends to target particular communities". The letter states that instead the government should look at why domestic violence is prevalent in those marriages which are arranged and where both families are in agreement over the match.
Stree Mukti Andolan Sampark Samiti in its letter has stated people who endorse democracy ought to oppose this resolution by the state government and the committee that is being sought to be formed. It further states that the GR is an insult to the Constitutional provisions which bestow individual freedoms upon adults, women and men alike. To fight the caste system and to prevent communal disharmony, inter caste and inter faith marriages are a way out and this has been endorsed by Dr Babasaheb Ambedkar as well.
In case people in such interfaith and inter-caste marriages are facing any issues, they are free to use the existing state machinery to redress the same. In order to ensure that laws relating to domestic violence and crimes against women are implemented effectively, the state needs to empower its agencies and create awareness about the same. The letter states that instead of doing this, the government is infringing people's constitutional and fundamental rights and freedoms. "in reality, this so-called 'platform' is a misuse of the system to invade people's privacy.
The letter has raised concerns that this data that will be collected will be used to monitor women and to shut any attempts at inter caste and inter faith marriages to keep the so-called "purity" of their castes and religions intact. The Samiti has termed this exercise of the Maharashtra government as 'moral policing' and one that has no legal sanction and has called for the cancellation of this GR. The letter states that Ministers wh9o have no idea about the real issues being faced by women have issued this resolution and they do not deserve to hold their post. This letter has been endorsed by Akhil Bhartiya Janvadi Mahila Sanghatna, Bhartiya Mahila Federation, Nari Samta Manch, Kagad Kach Patra Kashtakari Panchayat.
Political Opposition
The decision has also been opposed across party lines in the opposition. Samajwadi Party leader and Bhiwandi MLA Rais Shaikh has said that they will challenge the decision in court, "This GR is propaganda before elections. It is the concerned minister's personal beliefs that are reflected in the GR. This school of thought divides society," he said.
NCP leader Jitendra Awhad took to Twitter to express his dissent, "What's this rubbish of committee to check inter caste/religion marriages? Who is govt to spy on who marries whom? In liberal Maharashtra this a retrograde, nauseating step. Which way is progressive #Maharashtra heading towards. Stay away from people's pvt life. This is anti-constitutional and encroaching into fundamental rights and law commission has taken strong objection (sic)". He further said that the decision to marry anyone is a personal decision and the government cannot have a say in it. This will only strengthen the caste system, he added.
Congress Maharashtra spokesperson, Sachin Sawant said, "This decision is part of a political agenda of the state government. This amounted to putting a strain on the state administration at the cost of the taxpayers' money to further a political agenda".
About the Committee
The intention of the government is to "provide a platform for these women and their families to access counselling, and communicate or resolve issues." The Committee will also study policies at the Central and state levels, welfare schemes and laws regarding the issue.
On November 19, Minister Lodha had directed the State Women's Commissioner to set up a special squad to identify women who have married without support from their maternal families, and are estranged from them, and extend support and protection if needed. This was done in light of the murder of Vasai resident Shraddha Walkar in Delhi allegedly by her partner Aaftab Poonawala, reported Indian Express.
The Committee is assigned with the task to hold regular meetings with district officials on the issue and to review work on seven parameters, mainly to collect information on registered and unregistered intercaste and interfaith marriages; on such marriages that have taken place in religious places of worship; and on those that have taken place after elopement [of the couple]. Further, data will also be collected from the stamp duty and registrar offices; contact newly married women involved as well as their maternal families; find if they are in touch with each other; obtain the addresses of the women's maternal families in cases where they are estranged and contact the parents in such cases; and take the help of counsellors for parents who are "unwilling" [to resume contact], reported IE.
Background on Inter-Caste Unions
Maharashtra has had a long history of progressive thought that has backed such unions. Dr. Bhimrao Ambedkar's way of thinking about the evils of caste, community and gender discrimination, was evidenced in the Constitutional provisions and subsequent laws like the Special Marriages Act. During the colonial period, Babasaheb Ambedkar was in direct contact with the women who were acutely suffering of his own community and seen the realities of caste discrimination in day-to-day life as an insider belonging to the caste of untouchable community. He had made attempts to erase the stratification among the castes by promoting inter caste and inter community marriages, secularising the society we live in. He actually prescribed inter-caste marriage as the real remedy for the abolition of caste and for India to move towards a caste-less, equality driven society. Criminalising of every inter faith relationship awaiting the State's blessings, and discouraging assertion of women voices is against the Constitutional vision that Babasaheb dreamt of.
State incentives for inter-faith marriages:
Several states, including Maharashtra have been moving up the path of social reforms attempting to encourage the idea of a caste less society, one that Babasaheb envisaged to liberate men and women from the shackles of regressive notions and critical religious texts. The State of Maharashtra had planned to provide special concessions such as fee waiver to the children born out of inter caste and inter-religion marriages. In 2018, the Social Justice Minister of Maharashtra had said that the couples where spouses are from different religions or castes have to face various problems, including social boycott and the threat of honour killing and hence, besides other aspects, a law in place will focus on what kind of protection can be given to the couples who are facing such threat. Honour is in the attempt to achieve that glory by encouraging States to come up with incentives to encourage inter faith unions. The Act and the Ordinance aims to take ten steps backward against the spirit of national unity and fraternity.
The Right to Love campaign run by Sushant Asha and Abhijit K in Maharashtra, both journalists cum social activists, helps inter religious couples facing opposition to avail protection by police, legal help to get marriage registered, counselling to deal with the mental pressure and also in finding job opportunities. With such laws in place impinging on your free will and right to conscience, the significance of the work and efforts put in by such individuals becomes even more stark.
Related:
Three States have demanded caste census, says MHA
State has no business to know if a person has changed religion: Deepak Gupta former SC Judge
Uttarakhand further amends its 'anti-conversion law, maximum sentence up to 10 years