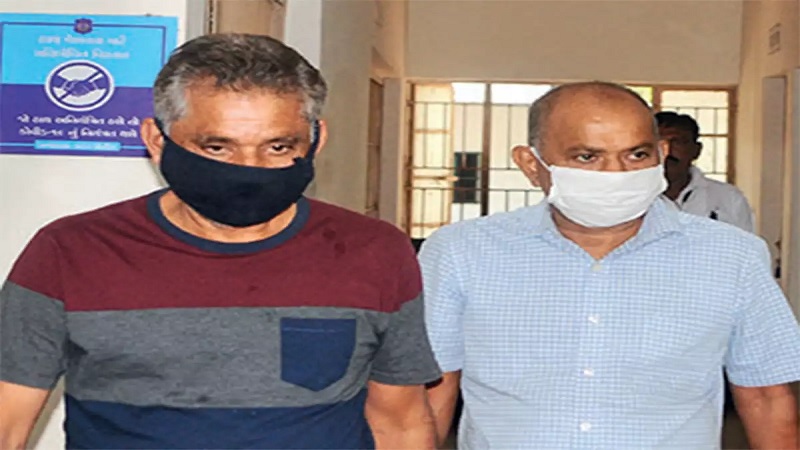 Image Courtesy:ahmedabadmirror.indiatimes.com
On Wednesday, the Ahmedabad Police filed a First Information Report (FIR) against Raman Patel of Popular Builders in connection with a case involving non-payment of salary. This is the fifth FIR filed against Patel since August 16, 2020, reported the Indian Express. Patel's sons Monang and Priyesh have also been booked in the case.
Six months ago, on August 16, 2020, Fizu Patel, wife of Raman's son Monang filed an FIR alleging domestic abuse, alleged assault and attempt to murder at the Vastrapur Police Station. Raman also faces four FIRs in matters related to land grabbing and cheating. In 2010, Raman and his brother Dashrath Patel had also been named in a Rs 100 crore land grabbing case in Surat.
It is not insignificant that the Patel brothers, Raman and Dashrath, were key witnesses for the CBI in the Sohrabuddin Sheikh fake encounter case.
Brief background:
Sohrabuddin Anwarhussain Sheikh was allegedly a criminal who extorted money from marble merchants. He hailed from Jharnia village in Madhya Pradesh and operated in Udaipur, Ahmedabad and Ujjain. He was alleged to have links with Sharifkhan Pathan, Abdul Latif, Rasool Parti and Brajesh Singh who were all members of the local organised crime network led allegedly by none other than Dawood Ibrahim.
On December 8, 2004, two gunmen fired at the Navrangpura, Ahmedabad office of Popular Builders, owned by brothers Dashrath and Raman Patel. Sohrabuddin Sheikh, Tulsiram Prajapati and some others were booked in the case. Sohrabuddin allegedly ran an extortion racket in cahoots with top policemen and they wanted to eliminate him. However, before the firing there was no case registered against him.
According to the CBI charge sheet, the firing was a part of a larger conspiracy to implicate Sheikh. The Patel brothers were also named as accused in the firing case that was investigated by the Ahmedabad Detection of Crime Branch (DCB) that was headed by DG Vanzara who was the Deputy Commissioner of Police at that time.
Sohrabuddin Sheikh was killed in what is believed to be a 'fake encounter' (extra judicial killing) by the Gujarat police in November 2005. On November 23 he was travelling in a bus from Hyderabad to Sangli with his wife Kausar Bi, when the members of the Gujarat ATS stopped the bus, made them alight and whisked them away, never to be heard from again.
On November 26, 2005 Sohrabuddin was gunned down by the police who accused him of hatching a conspiracy to kill 'an important leader' to spark communal violence. While his actual target was never actually disclosed, an impression appeared to have been created that it may have been then Gujarat Chief Minister.
DG Vanzara who was the ATS Chief at the time had said that a joint team of Rajasthan and Gujarat police were keeping watch near Narol circle on the outskirts of Ahmedabad when Sohrabuddin arrived on a bike. He refused to surrender and fired three shots at the police, who retaliated with gun fire.
Sohrabuddin's wife Kausar Bi also went missing on the same day as his 'encounter'. Sohrabuddin's brother Rubabuddin Sheikh then moved a habeas corpus petition in the Supreme Court demanding his sister-in-law Kauser Bi be produced before the court. But, even before any orders to the effect could be passed, the Gujarat government filed a report stating that Kauser Bi was dead and her body had been cremated at Ellol village in Gujarat on November 25, 2005. Gujarat Government counsel KTS Tulsi had submitted the report in a sealed cover before the Supreme Court.
Interestingly, Ellol is the village from where DG Vanzara hails. A year later on December 26, 2006, Sohrabuddin's close associate Tulsiram Prajapati was also killed in another police encounter in Banaskantha. This too was allegedly a staged 'encounter'.
The Patel brothers, Dashrath and Raman turned witnesses in the Sohrabuddin Sheikh fake encounter case when the CBI took over the case in 2010. The CBI report revealed several policemen were a part of an elaborate conspiracy to get Sohrabuddin embroiled in the shooting case, so he could later be implicated in the case of an alleged assassination plot against the 'important leader'. Their testimonies named several policemen including DG Vanzara, Abhay Chudasma, Rajkumar Pandian among others. Their testimonies also mentioned Amit Shah who was then the Gujarat Home Minister.
It was also revealed during the trial that Yashpal Chudasma and Ajay Patel engaged in the tutoring of witnesses. Patel allegedly conveyed a message to Raman Patel and Dashrat Patel that the contents of what they were to say in their deposition before CBI would be given to them in writing by DCP Abhay Chudasama, who is also an accused in the case. Both witnesses had multiple meetings with Patel and they managed to discretely record two such meetings.
The Patel brothers were not called to testify during the trial, which saw as many as 92 witnesses turn hostile. Presiding Judge Brijmohan Loya also died under mysterious circumstances. Eventually, all accused were acquitted.
Related:
Lack of Witnesses Protection Derailing Justice in Sohrabuddin case?