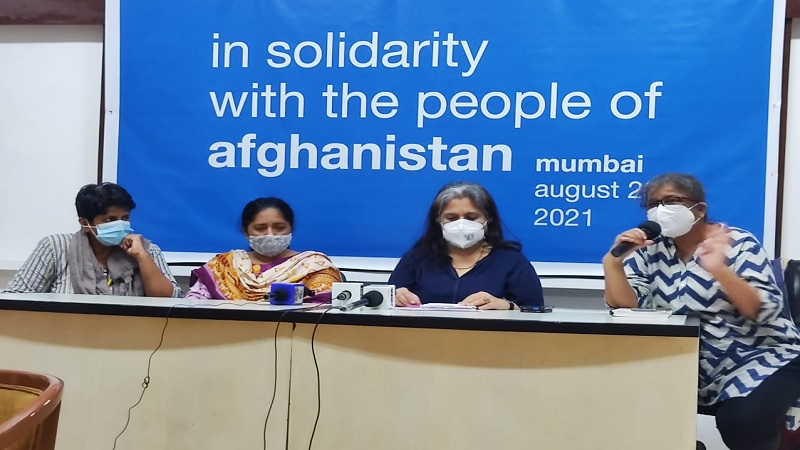 Renowned feminists, social activists of Mumbai, joined the nation-wide call to stand in solidarity with the citizens of Afghanistan, as they fight for Freedom and Democracy. In Mumbai, in response to a nationwide call for civil society to come together and demand justice of the people of Afghanistan, human rights and feminist organisations, namely Awaz-e-Niswaan, Bebaak Collective, Communalism Combat, Forum Against Oppression of Women, and SabrangIndia organised a solidarity meet held at the Press Club, Azad Maidan on August 23. The meeting, held in accordance with Covid-19 rules, was backed by scores of activists, social groups, and citizens collectives who followed it online.
"Mumbai for Afghanistan" was the call of the day. "Geo politics aside, the focus should not shift from the condition of Afghan women, children and citizens," said SabrangIndia co-founder and Editor, Teesta Setalvad. She recounted that the occupation of Afghanistan had been going on for decades, and the role of the United States cannot be ignored. The US, she said, had propped up the Taliban and the Mujahideen and them US then left "irresponsibly, without a legitimate transfer of power or dialogue with all stakeholders," adding that while some reports of local groups taking control back from the Taliban were tricking in, the concerns about freedom in democracy and especially the rights of Afghan women remained. She called on the government of Maharashtra, as well as the Union Government to stand in support of Afghan nationals who were in India. "Where refugees are concerned, we must speak up against discriminating on the basis of religion. The Indian Constitution does not discriminate," added Setalvad.
Saira Arab of Awaaz-E-Niswaan, expressed grave concerns about the fate of Afghan Women and children. "Their fundamental rights to education, and the right to work, are being snatched away and we must support them," she said.
Sandhya Gokhale of Forum Against Oppression of Women (known as Nari Atyachar Virodhi Manch in Hindi) also read out solidarity statements from various other activists that called on "all those who believe in fundamental rights to stand in solidarity with Afghan women, and against all kinds of oppression." Gokhale also raised concerns about the discrimination in offering relief to people fleeing Afghanistan saying that "humanitarian aid must not be offered on the basis of religion."
She said war was an 'industry' a "dhanda" for countries like the United States who have made profits from their investment in the military. "Who wins? Humanity lost, capitalism won" she said, adding, the nations who invested in wars "made a lot of money, even when people died." She asked what had been done for the Afghan citizens by the US that had stationed troops there for 20 years, "What did they spend on the women in Afghan villages?"
Feminist and Queer Rights activist, Chayanika Shah asked why the world was talking to Taliban and "not asking what the Afghan people want and need?" She warned that "considering the Taliban as the voice of Afghanistan" was wrong. She also flagged the growing Islamophobia and anti-Muslim pol propoganda in India and saying that it is the citizens who will have to come forward and counter it.
Teesta Setalvad amplified that call saying the Afghan situation should not be allowed to fuel Islamophobia, saying, "We should not let this turn into what we saw during the Tablighi Jamaat case in wake of the Covid-19 outbreak. We cannot vilify people of any religion." She highlighted that "there are many Muslim majority countries where minority rights are not trampled" adding that "demanding protection of minority rights does not mean support from hardliners like the Taliban. There are hardliners in every religion."
Hasina Khan of Bebaak Collective, reminded the media not to forget "how the need to defend women's bodies and honour has been used by right-wing regimes to justify totalitarianism.While we point fingers at the Taliban we should also look at other similar regimes and identify parallels across the world. What has been their track record?"
Chayanika Shah said, the nationwide call for demonstration to demand justice of the people of Afghanistan is seeing several women's rights groups come together "because we are familiar with how various regimes use women as pawns."
The eminent feminists and activists collectively called upon everyone to rise together in solidarity and empathy and lend support to Afghans, in their demand for justice.
Attached is a detailed National statement released today, and also a consolidated document with solidarity statements from Women's rights activists and other activists from Maharashtra including Ulka Mahajan, Pragya Daya Pawar, and a poem by Shyamal Garud.